San Mateo County MHSA (Prop 63)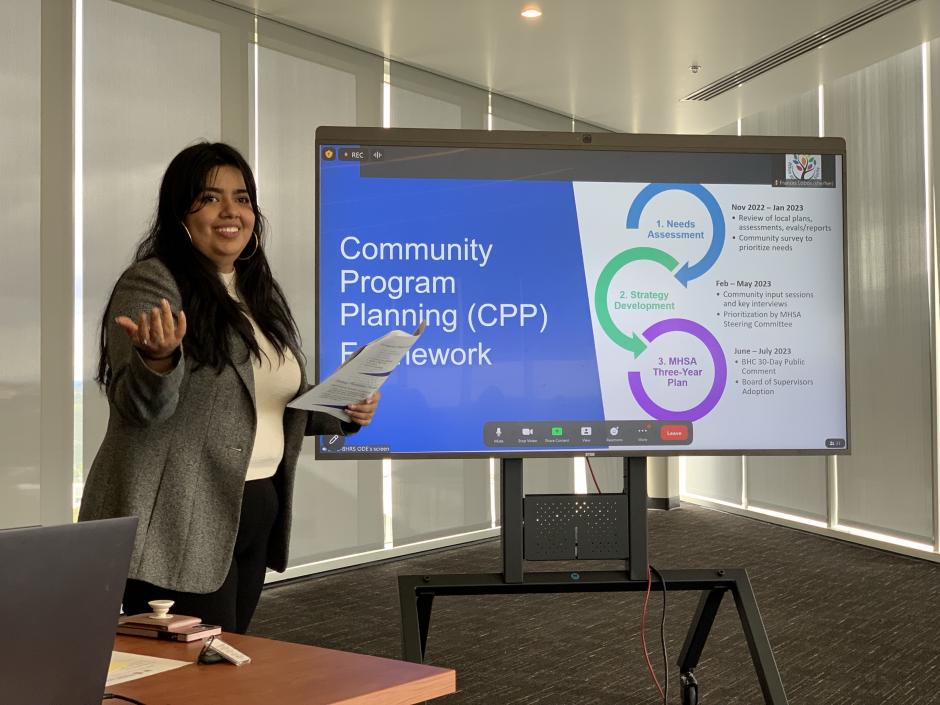 ​Sign up to receive e-mail updates for this page
The passage of Proposition 63, known since November 2004 as the Mental Health Services Act (MHSA), provides the first opportunity in many years for increased funding, personnel and other resources to support County mental health programs and monitor progress toward statewide goals for children, transition-age youth, adults, older adults and families.
The Act addresses a broad continuum of prevention, early intervention and direct service needs and the necessary infrastructure, technology and training elements that will effectively support this system. We are thrilled to have you as a visitor, and hope you will want to become involved in MHSA planning!
Announcements
MHSA Steering Committee Meeting
Attend the next MHSA Steering Committee meeting to hear about the Workforce Education and Training (WET) 10-Year Impact and Sustainability and the launch of a new MHSA Innovation funding cycle.  Learn about the guidelines for innovation programming and provide input on priorities for funding.   Materials for the meeting are provided below:
MHSA Steering Committee flyer for more details
MHSA Steering Committee Meeting
Friday, February 16, 2018
1:00pm -2:30pm 
Health System Campus, Room 100
225 37th Ave. in San Mateo 
Latest Evaluation Reports
We are excited to release the first year evaluation reports for three of our MHSA Innovation Programs: The Pride Center, Health Ambassador Program for Youth (HAP-Y) and Neurosequential Model of Therapeutics (NMT) in an Adult System of Care.  Additionally, our annual report on MHSA Outreach Collaboratives, the North County Outreach Collaborative (NCOC) and the East Palo Alto Partnership for Mental Health Outreach (EPAPMHO) is now available and posted below.
For the most current program-specific updates, which include MHSA funded programs, sign up to receive the BHRS e-journal, Wellness Matters and visit the BHRS Blog. The Community Service Areas (CSA) inform MHSA planning, visit the CSA webpage for updates.
If you have any comments or questions, please send them to mhsa@smcgov.org.
Steering Committee
The MHSA Steering Committee makes recommendations about the planning and services development process of MHSA. As a group, the MHSA Steering Committee assure that MHSA planning reflects local diverse needs and priorities, contains the appropriate balance of services within available resources and meets the criteria and goals established. View the current Steering Committee Membership list and the Roles and Responsibilities document for more details.
If you are interested in joining, please complete a Steering Committee Application:
Download the application and submit by email to mhsa@smcgov.org.
Planning 
MHSA planning, implementation and updates are on a Fiscal Year (FY) calendar July 1 – June 30. Counties are required to plan for and submit a Three-Year Plan and Annual Updates each year.   
Current Three-Year Plan Due: December 2017
Current Three-Year Implementation Phase: July 1, 2017 through June 30, 2020
Annual Updates Due: December 2017, December 2018, December 2019
Next Three-Year Planning Phase: January 2020 – April 2020
Next Three-Year MHSA Plan Due: December 2020

MHSA Issue Resolution Process 
An Issue Resolution Process (IRP) has been adopted to resolve specific MHSA issues related to: 
The Community Program Planning (CPP) process
Consistency between approved MHSA plans and program implementation
The provision of MHSA-funded programs and services
In San Mateo County, the Office of Consumer and Family Affairs (OCFA) manages service/treatment grievances for BHRS. The MHSA IRP is particularly focused on the planning and implementation processes.
How to Give Public Comment 
Check out the How to Give Public Comment quick tips- adapted from CAMHPRO's Delivering the ABC's of Advocacy training, camhpro.org
Evaluation
Outreach Collaboratives and Health Equity Initiatives
Harder+Company Community Research, was contracted to evaluate the MHSA Outreach Collaboratives, the East Palo Alto Partnership for Mental Health Outreach (EPAPMHO) and the North County Outreach Collaborative (NCOC), and develop an impact report for the Health Equity Initiatives.  Both reports are now available.
Prevention & Early Intervention Programs Evaluation
In July 2013, we set out to evaluate our Prevention & Early Intervention (PEI) programs to understand the impact these programs are having in terms of promoting mental health, reducing the risk of mental illness, and decreasing the severity and negative consequences associated with onset of mental illness. The first and second year report, for services implemented in fiscal years (FY) 2013 through 2015, are available.
Full Service Partnership Qualitative Evaluation
In 2015, the American Institutes for Research (AIR) conducted a number of analyses of the San Mateo County FSP Programs outcomes and a full report will be released soon. In the meantime, check out the FSP hospitalization and psychiatric emergency outcome report. Clients of San Mateo County's FSP Program had statistically significant decreases in psychiatric hospitalizations and emergency services according to this recent study. Reductions in use of psychiatric hospitalizations and emergency services may indicate that individuals' mental health status has improved and that they no longer require intensive care.
In 2014 our Full Service Partnership (FSP) programs were evaluated to understand how well FSPs are working from the perspective of administrators, providers and consumers/clients.
Full Service Partnership Evaluation Executive Summary – July 2014

PDF

Full Service Partnership Evaluation Full Report – July 2014

PDF
Statewide MHSA Evaluation Reports Released
MHSA Statewide Outcomes Report – Released March 2015

PDF

 by Steinberg Institute
Evaluation of California's Statewide Mental Health PEI Programs – Released February 2015

PDF

 by RAND Corporation
Evaluation of Statewide MHSA Community Program Planning (CPP) Practices  - Released 2014 by the MHSOAC
Plan and Components
MHSA Three-Year Plan & Annual Updates
Stay tuned for the updated FY 17/18 Annual report, Three-Year Plan and a  date for presenting to the Board of Supervisors for final approval.
Community Program Planning (CPP) Process
MHSA Three Year Plan FY 17/18 through FY 19/20
About 300 clients, families, advocates, community members and providers participated in a series of sessions to launch the MHSA 3-Year Planning process and to share their stories and public comments in support of 17 priority recommendations for potential MHSA funding. Materials are from the meetings, including the MHSA Steering Committee prioritization voting results are available below:
Here are some clips of public comments from our top three prioritized recommendations:
Ziomara Ochoa and Yolanda Novelo, Coastside CSA: Mobile mental health and wellness services to expand access to Coastside behavioral health clients and families
Kava Tulua, One East Palo Alto and Mary Bier, North County Outreach Collaborative: Expansion of culturally responsive resources and outreach strategies to effectively link high-risk, isolated and emerging cultural and ethnic groups to needed services
Bruce Adams and Mike Krechevsky, PREP San Mateo:  After-care services for early psychosis treatment alumni that includes booster sessions and re-engagement, maintenance and family navigator support
MHSA Three Year Plan FY 14/15 through FY 17/18
MHSA components
Community Services & Supports (CSS)
CSS activities focus on providing direct services and treatment to people of all ages living with serious mental illness. At least 51% of CSS dollars have to be spent on full service partnerships, which provide 24/7 wraparound services.
Previous Years:
Prevention & Early Intervention (PEI)
PEI activities target individuals of all ages prior to the onset of mental illness, with the one exception of programs focusing on early onset of psychotic disorders. Learn more about the Office of Diversity and Equity, the Stigma Free San Mateo County and Prevention & Recovery in Early Psychosis (PREP); three PEI funded programs. MHSA PEI funds the following Community Interventions for School Age and TAY programs:
Early Childhood Community Team – supporting social emotional development in child care settings by providing consultation to child care providers;
Seeking Safety – helping people attain safety from trauma/PTSD (Post Traumatic Stress Disorder) and substance abuse
Project SUCCESS – preventing and reducing substance use and abuse and associated behavioral issues among high risk, multi-problem adolescents
School-based Services – aligning mental health clinicians to four middle schools in San Mateo County to serve SED children
PEI Planning
The Mental Health and Substance Abuse Recovery Commission (MHSARC) held a Public Hearing and closing of a 30-day public comment period for the most recent PEI planning effort. Youth Mobile Crisis Support and Prevention was prioritized by a PEI Taskforce of of providers, community based agencies, clients and community members.  Meeting materials are posted below.  
Meeting #1 (10/27/17) – Meeting Materials / Minutes and Attendance
Meeting #2 (11/17/17) – Meeting Materials / Minutes and Attendance
Meeting #3 (12/8/17) – Meeting Materials / Minutes and Attendance
Priority Matri and Agreement Results
Previous Years
Capital Facilities & Information Technology (CF & IT)
CF&IT component funded eClinical Care, an integrated business and clinical information system (electronic health record) as well as ongoing technical support.
Housing
The MHSA Housing Program funds permanent supportive housing for individuals with severe mental illness and that meet the MHSA eligibility criteria as homeless or at-risk of being homeless. The Mental Health Association (MHA) of San Mateo County submitted a proposal to develop Waverly Place Apartments in North Fair Oaks community, which was reviewed and accepted by committee in February, 2014. Visit our MHSA Housing Program page for updates on this project.
Innovation (INN)
The MHSA Innovation Component allows counties to apply for funds for innovative projects. An Innovative Project is designed and implemented for a defined time period and evaluated to develop new best practices in mental health services and supports.
The Community Program Planning (CPP) process to develop the MHSA Three-Year Plan, 2014-2017, included generating ideas for innovative projects. The MHSA Steering Committee prioritized 5 Innovation Projects for possible funding, a Letter of Interest process further identified capacity and interest.  
In July 2016, three projects were approved by the state to move forward for implementation. To learn more about the 2016 MHSA INN projects, see the final Project Briefs below. 
Previous INN Project
From 2010 through June 2015, BHRS built on several emerging, innovative practices for the San Mateo County Total Wellness program.
Workforce Education & Training (WET)
WET programming includes training, education, programs and policies to assist in the engagement and selection of a diverse workforce that includes consumers, families, and community members and schools. Visit the BHRS WET website to learn more about the programs and services.
MHSA WET received one-time funding from MHSA for up to 10 years, which is ending in June 2018 for San Mateo County.  We are currently working with an independent contractor to develop a 10 year MHSA WET impact report and a sustainability plan for evaluation of the MHSA INN projects.  The planning process has begun and we will share updates as they become available.
Previous Years