Suicide Prevention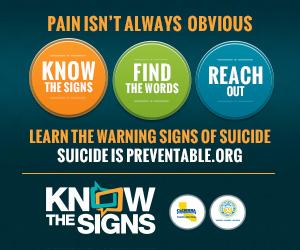 Suicide is preventable. You can be the one to help.
Most people having suicidal thoughts are in a temporary, serious crisis. You can be the one to provide the support and help they need by taking three steps: know the signs of someone who is having suicidal thoughts, find the words to have a direct conversation with them and reach out for help from the many county resources available to those in crisis and their loved ones.
Whether you are struggling with suicidal thoughts, or are concerned about a loved one who might be, you are not alone. The San Mateo County community stands together to support those who are struggling and guide them to the help they need.
For immediate help, you can reach out for 24/7 free confidential crisis support:
11/7 – San Mateo County Coroner's Office Annual Presentation
Join us for the San Mateo County Coroner's Office Annual Presentation! Throughout the year, the Coroner's Office investigates circumstances of sudden, unexplained, violent, and unnatural deaths, including suicide deaths, in San Mateo County.

The Coroner's Office is presenting to the San Mateo County Suicide Prevention Committee, covering topics including introduction to the Coroner's Office, death investigation process, death review teams, recent data and shared resources with descendants.
Date: Tuesday, November 7, 2023
Time: 1:30-3:30pm Pacific Time
Virtual Location: zoom.us/j/410362485
Flyer (PDF | PNG)
Please help us spread the word, as everyone is welcome to attend. Come grab a virtual seat and get informed!
What to Do in a Crisis
For emergencies that need an immediate response, call or text 9-1-1.
Refer to the guidelines for calling police during a mental health crisis to find out how to prepare and what to expect. Be sure to request a crisis intervention trained (CIT) officer.

In a crisis, you can also turn to the resources below.

1. Suicide Crisis Hotlines
Visit the 988 Suicide and Crisis Lifeline for additional phone/chat options (online chat, Spanish speakers, Veterans, deaf or hard of hearing or disaster distress line)

2. Psychiatric Emergency Services

San Mateo Medical Center
650-573-2662
222 West 39th Avenue, San Mateo, CA 94403

Mills-Peninsula Medical Center
650-696-5915
1501 Trousdale Drive, Burlingame, CA 94010S
See crisis services for additional resources and the related content section below.
How to Support Someone
Start the conversation
Simply asking "Are you okay?" or "I've noticed you've been feeling hopeless a lot lately" can open the door to a conversation about getting help.
Make it safe at home
The majority of people who survive suicide never attempt it again. Safely storing medicines and guns (if you own them) in the home removes the opportunity for someone to act.
Download this flyer to learn more about how suicide can be prevented with the help of family, friends, the community, and County services.
You or someone you know might not be thinking about suicide. However, you or someone you know may want a caring person to chat with about specific issues. See below for resources.
Make it safe at school
The Suicide Prevention Poster for schools is a tool that can be used to help faculty and staff remember the risk factors and warning signs of students at risk of suicide.
These posters are available from San Mateo County Behavioral Health and Recovery Services in partnership with the San Mateo County Office of Education free of charge and are presented to faculty and staff along with a brief training on how to identify at risk students and what to do when they have been identified.
Get trained to help others
Take one of the trainings listed in the Suicide Prevention Trainings section to learn how to identify warning signs and support someone considering suicide.
Suicide Prevention Trainings
COMMUNITY HELPER TRAININGS
To gain more in-depth knowledge on how to support someone who is considering suicide or at risk of suicide, you can explore www.suicideispreventable.org and/or take one of the following free, evidence-based community helper trainings.
Be Sensitive, Be Brave is a 2-hour foundational workshop that infuses culture and diversity throughout. There are two versions of the workshop – Be Sensitive Be Brave for Mental Health and Be Sensitive Be Brave for Suicide Prevention. More information at smchealth.org/general-information/be-sensitive-be-brave.
Mental Health First Aid is a 8 hour skills-based training course that teaches you how to identify, understand and respond to signs of mental health or substance uses signs or crises. The County offers two version of this workshop – Adult Mental Health First Aid and Youth Mental Health First Aid. More information at websites below.
Adult Mental Health First Aid (for adults helping adults): smchealth.org/general-information/mental-health-first-aid
Youth Mental Health First Aid (for adults helping youth ages 12-18): smchealth.org/general-information/youth-mental-health-first-aid
For more information, contact San Mateo County Suicide Prevention Committee Co-Chairs Sylvia Tang, She/Her/Hers (650-208-5799 | stang@smcgov.org).
Safe Messaging Training
A suicide prevention safe messaging training is offered annually. Participants will learn about responsible media reporting, how to engage the news media as partners in suicide prevention, and how to create effective suicide prevention materials and talking points. Target audience includes public information officers, social media managers or influencers, print media professionals (newspapers, magazines, journals, newsletters), broadcast media professionals (television, radio), journalists and student journalists and presenters/trainers who present on suicide and suicide prevention.

Information and materials is provided below of the most recent safe messing training.
Tuesday, March 1 | 2:00-3:30pm
Messaging Matters Annual Webinar
Presentation was by subject matter expert Stan Collins, Suicide Prevention Specialist with California Mental Health Services Authority Technical Assistance Team. Flyer attached.
Flyer
Slides: Introduction/Closing, Training
Recording
Tip Sheet
Suicide Prevention Month
September is Suicide Prevention Month (SPM), which includes National Suicide Prevention Week (September 4-10) and World Suicide Prevention Day (September 10). SPM aims to empower everyone in the community to prevent suicide.
Each year, the San Mateo County Behavioral Health & Recovery Services Office of Diversity & Equity and Suicide Prevention Committee publishes a Calendar of Events which promotes the SPM events broadly across local providers, partners and community in San Mateo County.

To stay tuned to 2024 Suicide Prevention Month, please consider joining the mailing list for the Suicide Prevention Committee by contacting the Co-Chair Sylvia Tang, She/Her/Hers (650-578-7165 | stang@smcgov.org).
Suicide Prevention Roadmap
To address the increased need for suicide prevention in the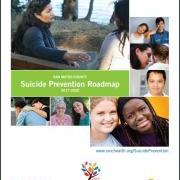 community, the Suicide Prevention Committee (further described in below section) developed the second Suicide Prevention Roadmap for San Mateo County. The Suicide Prevention Roadmap 2021-2026 is part of a larger vision to reduce suicide deaths, suicide attempts and pain associated with suicidal thoughts so that everyone in our community can realize healthy and meaningful lives. Both Executive Summary and Full Report are available to review and share widely.
The Roadmap builds off of the first Suicide Prevention Roadmap 2017-2020 and the California Striving for Zero Suicide Prevention Strategic Plan 2020-2025. There are many uses, and benefits of this Roadmap and we hope you can utilize it for one or more of the following ways:
Data to understand our local needs, best practices and inform local prevention efforts.
Education on how to approach, support and refer those who are at risk for suicide.
Resource directory of local suicide prevention programs and activities.
Opportunities to lead and/or collaborate that are guided by a comprehensive plan.
To stay informed and to get involved, you are welcome to join the San Mateo County Suicide Prevention Committee and contact Co-Chair Sylvia Tang, She/Her/Hers (650-208-5799 | stang@smcgov.org).
Suicide Survivors and Messages of Hope
San Mateo County is honored to work with suicide loss and attempt survivors in advancing suicide prevention work and spreading messages of hope, recovery and resilience. In this section, you will find suicide survivors' messages of hope in different artistic forms. We greatly appreciate their courage and passion to share.
Desirae Miller, San Mateo (Photovoice)
Ellen Darnell, Redwood City (Poem)
John Butler, Menlo Park (Video)
​Mia Hua, Redwood City (Short Story)
Tatiana Lyulkin, Burlingame (Photograph)
Vivian Valdez (Photovoice)
Some of the above art work was featured in our Suicide Prevention Roadmap 2021-2026.
Suicide Prevention Committee
The Suicide Prevention Committee (SPC) provides oversight and direction to suicide prevention efforts in San Mateo County. Led by the Office of Diversity and Equity at San Mateo County Behavioral Health and Recovery Services, the committee is comprised of suicide attempt survivors, suicide loss survivors, behavioral health providers, social service providers, local transportation agency staff, and other community members passionate about preventing suicide in our community.
The committee meets the 1st Tuesday of the month 1:30 to 3:30PM via Zoom. You can download key documents below
Committee Meeting Flyer

View Here

2023 Meeting Schedule

View Here

Last Meeting Minutes:

View Here

Next Meeting Agenda: Coming Soon!
Next Meeting Additional Documents: N/A

For more information or to get involved in the SPC or other suicide prevention efforts, please contact:
Sylvia Tang, MPP
Pronouns: She/Her/Hers
Co-Chair, Suicide Prevention Committee
Office of Diversity and Equity
San Mateo County Behavioral Health & Recovery Services
650-208-5799 | stang@smcgov.org
Additional Resources
By Region
County
Behavioral Health Community Education (Free)
Heart and Soul, Inc's Alternatives to Suicide Peer Support Group
National Alliance on Mental Illness Warm Line/Help Desk | 650-638-0800
Suicide Prevention Roadmap 2017-2020
Suicide Prevention Roadmap 2021-2026
StarVista's Crisis Hotline | 650-579-0350 | sanmateocrisis.org
StarVista Teen Text and Chat | 650-747-6463, M-F 4:30-9:30pm PST
#BeTheOne SMC Stigma Discrimination Reduction Campaign
San Mateo County Schools Suicide Prevention Protocol (San Mateo County Office of Education Safe and Supportive Schools)

State
California Mental Health Services Oversight & Accountability Commission Suicide Prevention Initiative
California Peer-Run Warm Line | Call/Text 855-600-WARM
California Suicide Prevention Program
Each Mind Matters Resource Center
Know the Signs (English)
Reconozca las Señales (Español)

National
#BeThe1To Campaign
American Association of Suicidology
American Foundation for Suicide Prevention
Centers for Disease Control and Prevention - Suicide Prevention
Injury Control Research Center for Suicide Prevention
National Action Alliance for Suicide Prevention (Messaging)
National Council for Suicide Prevention
National Suicide Prevention Lifeline
Substance Abuse and Mental Health Services Administration (SAMHSA)
SAMHSA's National Helpline | 1-800-662-HELP (4357)
Suicide Awareness Voices for Education
Suicide Prevention (MY3) App
Suicide Prevention Resource Center
Take 5 to Save Lives Campaign

Worldwide
International Association for Suicide Prevention
LivingWorks
World Health Organization – Suicide Prevention
By Population
LGBTQ+
The Trevor Project (LGBTQ Youth)

Older Adults
Center for Elderly Suicide Prevention
Friendship Line – Institute on Aging

Veterans
Department of Veteran Affairs – Suicide Prevention
Veterans Crisis Line

Youth/Students
Active Minds (College Students)
California Youth Crisis Line (Youth 12-24 & Families)
Directing Change Program & Student Film Contest
JED
ReachOut USA
The Trevor Project (LGBTQ Youth)
Your Life Your Voice (Youth and Families)
By Topic
Primary Care
Zero Suicide

Workplace
Workplace Suicide Prevention
For more info, email the San Mateo County Behavioral Health & Recovery Services Office of Diversity and Equity at ODE@smcgov.org.