Suicide Prevention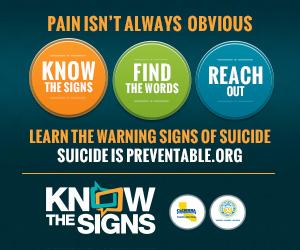 Suicide is preventable. You can be the one to help.
Most people having suicidal thoughts are in a temporary, serious crisis. You can be the one to provide the support and help they need by taking three steps: know the signs of someone who is having suicidal thoughts, find the words to have a direct conversation with them and reach out for help from the many county resources available to those in crisis and their loved ones.
Whether you are struggling with suicidal thoughts, or are concerned about a loved one who might be, you are not alone. The San Mateo County community stands together to support those who are struggling, and guide them to the help they need.
For immediate help, you can call the StarVista's 24/7 Crisis Hotline at 650-579-0350.
Hosted by The Office of Diversity and Equity
For 2021 September Suicide Prevention Month events and other details, please visit smchealth.org/suicide-prevention-month.
What to Do in a Crisis
For emergencies that need an immediate response, call or text 9-1-1.
Refer to the guidelines for calling police during a mental health crisis to find out how to prepare and what to expect. Be sure to request a crisis intervention trained (CIT) officer.

In a crisis, you can also turn to the resources below.

1. Suicide Crisis Hotlines
1-800-273-TALK (8255) – National Suicide Prevention Lifeline
650-579-0350 | sanmateocrisis.org – StarVista's 24/7 Crisis Hotline (San Mateo County)
​Text "BAY" to 741741
Teen Text Line: 650-747-6463 and Chat sanmateocrisis.org available Monday-Thursday, 4:30-9:30 p.m. PST
Visit the National Suicide Prevention Lifeline for additional phone/chat options (online chat, Spanish speakers, Veterans, deaf or hard of hearing or disaster distress line)

2. Psychiatric Emergency Services

San Mateo Medical Center
(650) 573-2662
222 West 39th Avenue, San Mateo, CA 94403

Mills-Peninsula Medical Center
650-696-5915
1501 Trousdale Drive, Burlingame, CA 94010S
See crisis services for additional resources and the related content section below.
How to Support Someone
Start the conversation
Simply asking "Are you okay?" or "I've noticed you've been feeling hopeless a lot lately" can open the door to a conversation about getting help.
Make it safe at home
The majority of people who survive suicide never attempt it again. Safely storing medicines and guns (if you own them) in the home removes the opportunity for someone to act.
Download this flyer to learn more about how suicide can be prevented with the help of family, friends, the community, and County services.
You or someone you know might not be thinking about suicide. However, you or someone you know may want a caring person to chat with about specific issues. See below for resources.
Make it safe at school
The Suicide Prevention Poster for schools is a tool that can be used to help faculty and staff remember the risk factors and warning signs of students at risk of suicide.
These posters are available from San Mateo County Behavioral Health and Recovery Services in partnership with the San Mateo County Office of Education free of charge and are presented to faculty and staff along with a brief training on how to identify at risk students and what to do when they have been identified.
Get trained to help others
Get certified in Mental Health First Aid by taking a free 8-hour public education training to help you identify and respond to mental health crises. Adult Mental Health First Aid and Youth Mental Health First Aid classes are available in English and Spanish. For more information visit smchealth.org/bhrs/ode/CommunityEd or contact Sylvia Tang at (650) 578-7165 or stang@smcgov.org
Suicide Prevention Month
September is Suicide Prevention Month (SPM), which includes National Suicide Prevention Week (September 5-11) and World Suicide Prevention Day (September 10). SPM aims to empower everyone in the community to prevent suicide.
For 2021, San Mateo County and partners are promoting the theme of statewide theme of Supportive Transitions: Reconnect, Reenter, Rebuild. To learn more about this theme and associated resources at https://www.suicideispreventable.org/prevention-kit.php.
Each year, the San Mateo County Behavioral Health & Recovery Services Office of Diversity & Equity and Suicide Prevention Committee publishes a Calendar of Events which promotes the SPM events broadly across local providers, partners and community in San Mateo County.

For updates and details on upcoming free (or low cost) SPM events, please visit smchealth.org/suicide-prevention-month.
Suicide Prevention Roadmap
To address the increased need for suicide prevention in the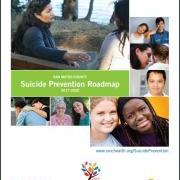 community, the Suicide Prevention Committee (further described in below section) developed the very first Suicide Prevention Roadmap for San Mateo County. The 2017-2020 Suicide Prevention Roadmap offers prevention tools for community partners including behavioral health professionals, clients/consumers and family members, and community advocates and agencies. The first iteration of the Roadmap outlines programs, strategies and future plans for suicide prevention in San Mateo County.
From about October 2019 through September 2020, SPC will conduct the 2020-2025 San Mateo County Suicide Prevention Strategic Planning process. San Mateo County's suicide prevention strategic plan will build off of the 2017-2020 Suicide Prevention Roadmap and California Suicide Prevention Strategic Plan. This strategic plan will also be shaped by public health frameworks and community input. Community input was collected by phone, email, survey and online forum. More details on the forum below. The final Roadmap is planned to be released in September 2021.
Suicide Prevention Committee
The Suicide Prevention Committee (SPC) provides oversight and direction to suicide prevention efforts in San Mateo County. Led by BHRS, the committee is comprised of suicide attempt survivors, suicide loss survivors, behavioral health providers, social service providers, local transportation agency staff, and other community members passionate about preventing suicide in our community. The committee meets the 1st Tuesday of the month 1:30 to 3:30PM via Zoom (see 2021-2022 Meeting Schedule for meeting schedule details). For more information or to get involved in the SPC or other suicide prevention efforts, please contact:

Sylvia Tang, MPP
Pronouns: She/Her/Hers
Co-Chair, Suicide Prevention Committee
Office of Diversity and Equity
San Mateo County Behavioral Health & Recovery Services
650-578-7165 | stang@smcgov.org

Zena Andreani, AMFT
Pronouns: She/Her/Hers
Co-Chair, Suicide Prevention Committee
Star Vista Crisis Intervention & Suicide Prevention Center
650.339.5803 | zena.andreani@star-vista.org
2017-2020 Suicide Prevention Roadmap
Additional Resources
By Region
County
Behavioral Health Community Education (Free)
National Alliance on Mental Illness Warm Line/Help Desk | 650-638-0800
Suicide Prevention Roadmap (2017-2020)
StarVista's Crisis Hotline | 650-579-0350 | sanmateocrisis.org
StarVista Teen Text and Chat | 650-747-6463, M-F 4:30-9:30pm PST
Stigma Free (Be the One) San Mateo County
San Mateo County Schools Suicide Prevention Protocol (San Mateo County Office of Education)

State
California Peer-Run Warm Line | 1-855-845-7415
California Suicide Prevention Program
Coordinate a Suicide Prevention Activity in Your Community (Each Mind Matters)
Each Mind Matters Resource Center
Know the Signs (English)
Reconozca las Señales (Español)

National
#BeThe1To Campaign
American Association of Suicidology
American Foundation for Suicide Prevention
Centers for Disease Control and Prevention – Violence Prevention
Injury Control Research Center for Suicide Prevention
National Action Alliance for Suicide Prevention (Messaging)
National Council for Suicide Prevention
National Suicide Prevention Lifeline
Substance Abuse and Mental Health Services Administration (SAMHSA)
SAMHSA's National Helpline | 1-800-662-HELP (4357)
Suicide Awareness Voices for Education
Suicide Prevention (MY3) App
Suicide Prevention Resource Center
Take 5 to Save Lives Campaign

Worldwide
International Association for Suicide Prevention
LivingWorks
World Health Organization – Suicide Prevention
By Population
LGBTQ+
The Trevor Project (LGBTQ Youth)

Older Adults
Center for Elderly Suicide Prevention
Friendship Line – Institute on Aging

Veterans
Department of Veteran Affairs – Suicide Prevention
Veterans Crisis Line

Youth/Students
Active Minds (College Students)
California Youth Crisis Line (Youth 12-24 & Families)
Directing Change Program & Student Film Contest
JED
ReachOut USA
The Trevor Project (LGBTQ Youth)
Your Life Your Voice (Youth and Families)
By Topic
Primary Care
Zero Suicide

Workplace
Workplace Suicide Prevention
For more info, email the Office of Diversity and Equity at ODE@smcgov.org.