Safe Waste Disposal: Used Oil and Filters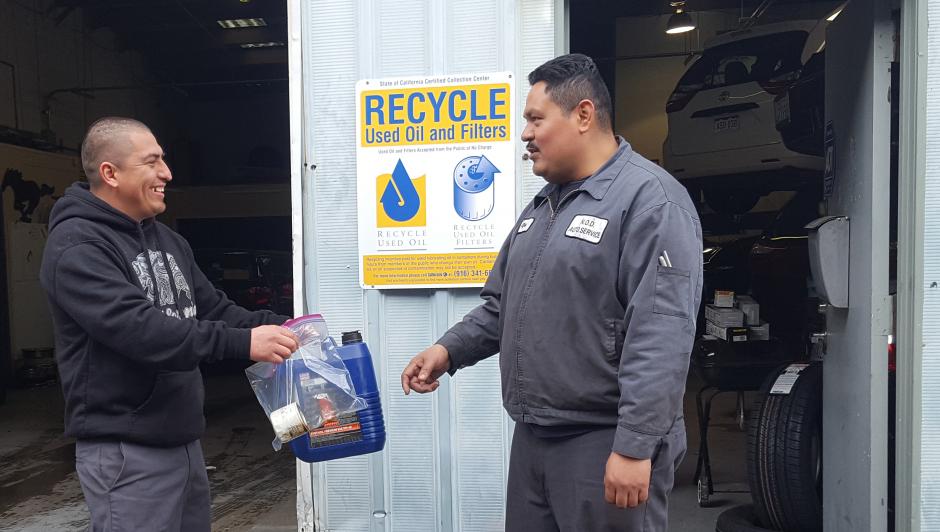 There are two easy and free options to safely dispose of your used motor oil and filters together in San Mateo County.
Stay updated on used motor oil & filter recycling information and locations.
Check Your Number – Reduce Oil Change Frequency
Save time, money, and the environment by changing your used motor oil and filter less often. Visit checkyournumber.org to see how far your car can go between oil changes.
Recycle at a Collection Center
Prepare for Safe Recycling
Collect used oil in a clean, non-breakable plastic container that has a screw-on cap.
Place used oil filter into a plastic bag and seal tightly.
Call the collection center to verify hours and limitations.
Deliver used motor oil and filters to the collection center. Always give used motor oil and filters to a staff member.
Recycle at the Curb (Single-Family Homes)
Contact your local waste hauler for limitations and proper containers accepted:
GreenWaste Recovery, Inc.
Kunz Valley Trash and Recycling
Recology San Mateo County
Recology of the Coast
Recology San Bruno
Republic Services of Daly City
Republic Services of Half Moon Bay
South San Francisco Scavenger
Other Bay Area Used Motor Oil Recycling Programs
Find curbside and collection center options outside of San Mateo County.
Business Owners – Become a Certified Used Oil Collection Center
If you own or operate an automotive parts retail shop, service or repair shop, gas station, or auto dealership and are interested in becoming a Certified Collection Center please visit CalRecycle or call (650) 372-6252.
Recicle su aceite y filtros de motor
Varios locales aceptan el aceite y filtros usados de motor sin costo alguno. Cada local acepta hasta 5 galones. Llame antes de llevarlo para asegurarse que los tanques no esten llenos.
Si tiene más de cinco galones u otros productos tóxicos, tales como solventes, pesticidas y herbicidas, productos de limpieza o pintura, también pueden aprovechar del Programa de Recolección de Productos Toxicos del Condado de San Mateo. Llama al (650) 363-4718 para hacer una cita gratis.