Animal Licensing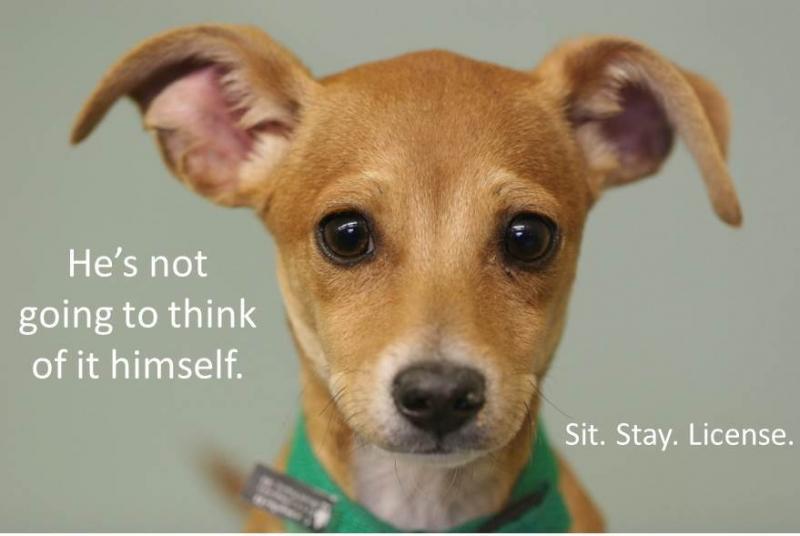 The best protection for your pets is licensing and vaccinating against rabies. Licensing your pets is the quickest way to be reunited if they get lost or injured. The County maintains a tracking system of licensed animals in case of a bite or rabies exposure.

Licensing also increases the likelihood of finding an aggressive animal or an animal that has been exposed to rabies, and that helps to reduce the number of people who must receive the post-exposure rabies vaccine after a bite.
Licensing is easy and affordable and the fees also help provide shelter, food, and emergency medical care for lost pets.
Dog & Cat Licensing
Dog licensing is required in all cities, towns, and unincorporated areas of San Mateo County. Although it is recommended that you license your cat, licensing is required in Brisbane, Belmont, Hillsborough, Millbrae, San Mateo, Redwood City, and unincorporated areas of the County. Dogs and cats must be licensed by 4 months of age or within 60 days of acquiring the animal. New residents of the county must license their dog or cat within 60 days.
To apply for a license, you will need a copy of your pet's rabies certificate, copy or proof of your pet's spay/neuter status, and proof of your pet's age. For more information on licensing requirements, please visit PetData, call (866) 925-5906, go to PetData's Contact Us page.
License online
Apply for a license online and submit copies of your pet's rabies certificate, proof of spay/neuter (if applicable), and age on PetData's website.
License by mail
To apply by mail, download the Animal License Application. Send your application, copy of rabies certificate, copy of proof of spay/neuter (if applicable), age documentation, and payment to: San Mateo County Animal Licensing c/o PetData, Inc., P.O. Box 141929, Irving, TX 75014-1929.
Customers with Disabilities
Please call (650) 573-3482 or (650) 573-2395 to make an appointment with one of our staff members if you are unable to utilize the lobby elevator to reach our suite on the second floor. An appointment will be scheduled and we will assist you at your vehicle.
License in person
To apply in person, please visit one of the locations below and bring copy of rabies certificate, copy of proof of spay/neuter (if applicable), and age documentation to:
Fee Schedule
| | | | | |
| --- | --- | --- | --- | --- |
| | Dogs (Unaltered) | Dogs (Altered) | Cats (Unaltered) | Cats (Altered) |
| One-Year License | $50.00 | $20.00 | $15.00 | $7.00 |
| Three-Year License | $145.00 | $55.00 | $45.00 | $17.50 |
| One Year License for People 60+ | $18.00 | $9.00 | $7.00 | $5.00 |
| Three Year License for People 60+ | $54.00 | $23.00 | $21.00 | $11.25 |
| Replacement Tag | $8.00 | $8.00 | $5.00 | $5.00 |
Service Dog Designation
The Service Animal designation in San Mateo County is in compliance with the US Department of Justice's definition of Service Animals. The County designates animals as Service Animals when they have been individually trained to do work or perform physical tasks for people with disabilities. Service Animals are working animals, not pets. The work or task a dog has been trained to provide must be directly related to the person's disability.
The Service Dog Identification Tag Application should be completed and submitted to: San Mateo County Animal Control & Licensing, PO Box 5127 Redwood City, CA 94063.
Please note that dogs whose sole function is to provide comfort or emotional support do not qualify as Service Animals under the American Disability Act (ADA), and San Mateo County therefore does not designate or recognize these animals as such.
Additional resources to help answer questions regarding Service Animals:
Commonly Asked Questions about Service Animals in Places of Business
ADA 2010 Revised Requirements
A Guide to Disability Rights Laws
Pet Partners website
Rabies Vaccination Exemption Requests
State and local ordinances require licensing of all dogs (and cats in some cities) as a means of rabies control. In some instances, there may be a medical reason preventing the administration of the rabies vaccine due to the health of the animal. Review San Mateo County's rabies exemption policy.
This annual request must be made by your veterinarian using the Rabies Vaccination Exemption Request Packet.
For timely approval, please ensure the packet is complete with the following:
1-page State of California "Rabies Vaccination Certificate - Exemption from Canine and Feline Rabies Vaccination form
1-page San Mateo County Rabies Vaccination Exemption Supplemental Request form
Your pet's microchip number
Medical records relevant to the exemption request (no more than five pages)
Note: Your annual licensing fees are due on the expiration date of the last vaccination your pet received. During the review process of your Rabies Vaccination Exemption Request, you should pay your licensing fee on or prior to its due date to avoid the late penalty.