Electronic Reporting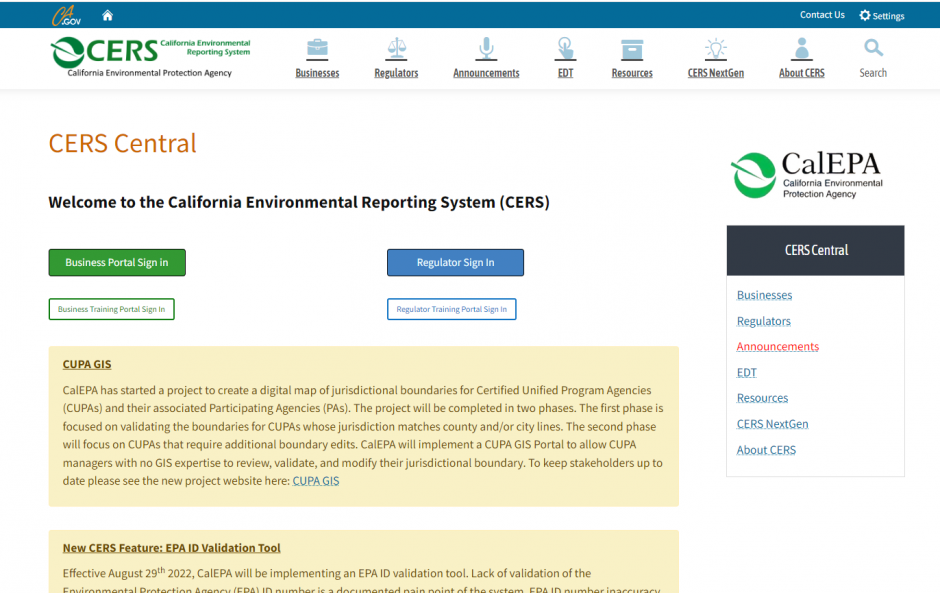 Electronic Reporting
Electronic submission of the Hazardous Materials Business Plans (HMBPs) and Underground Storage Tank (UST) information is required (AB 2286, Feuer) by submission via the California Environmental Reporting System (CERS) established by CalEPA. Historically, San Mateo County businesses had two options for electronic submissions: the San Mateo County Environmental Health Services Public Portal (EHS Portal) and CERS.
The EHS Portal is now set to "read only" and will no longer allow new electronic submissions. To submit your HMBP or other electronic forms, you will need to do so via CERS. Past submission data has been uploaded from the EHS Portal to CERS. Please contact your district inspector if this is not the case.
Please note: If you are a consultant, you must submit the Electronic Reporting Lead User Authorization Form or other proof of authorization before being allowed to access a facility on CERS.
Steps to Get Started
If needed, create a CERS account by going to "CERS Central" and selecting "Business Portal Sign In." Then, select the option to "Create New Account." Follow the instructions on the "Create Your CERS Account" screen.
If you have previously submitted an HMBP using the EHS Portal, you will have an existing facility record and CERS ID. Click "Request Access to an Existing CERS Business" to search for your facility/business.
Review your search results to determine if your facility or business is shown and select the "Request Access…" link. Otherwise, select the "My Facility Not Shown" button and "Add New Business to CERS" option.
Wait for your district inspector to review and approve the business access request.
Complete and submit your CERS electronic submission.
For immediate assistance, contact your district inspector.
CERS Instructions
Instructions on how to use CERS to create and submit your forms are available on the CERS Help Page.
Some useful documents on the CERS Help Page to get your submission started include:
Training and Assistance
For assistance by phone or video, contact your district inspector. You may also be able to schedule an appointment at our office located at 2000 Alameda de las Pulgas, Suite 100, San Mateo, CA 94403.
FAQs
What is electronic reporting?
AB 2286 (Feuer) was passed in 2008 requiring all regulated facilities to electronically enter their data into the statement information system known as the California Environmental Reporting System (CERS) effective January 1, 2018.
Does submittal of electronic files such as PDFs via email constitute electronic reporting?
No. Electronic reporting means that a business uses CERS to enter and submit required information. For multi-jurisdictional businesses, please see the information provided on the CERS business web page.
If I use CERS, will this meet all electronic reporting requirements?
It depends. If you only complete items marked as required by CERS, some of the data required for an HMBP in Title 27 of the California Code of Regulations and the California Health and Safety Code Chapter 6.95 may be omitted. If you use CERS, EHS requires an Emergency Response Plan, Employee Training Plan , and a Site Map to be completed and uploaded to CERS for a complete HMBP submittal.
How will electronic reporting help businesses and agencies?
Electronic reporting will allow:
Regulated facilities to more easily update existing information.
Emergency response agencies real-time access to current data.
Federal, state, and local agencies and regulators to have more efficient access to current data.
Reduced file space, paper waste, and data entry time.
How do I get started if I have businesses in multiple county jurisdictions (both inside and outside of San Mateo County)?
CERS is the only option for managing electronic submissions when you have businesses located in multiple county jurisdictions.
What if I don't have internet access?
Local public libraries offer free internet access. Contact your local library for information regarding computer availability and internet access.
More questions?
Call (650) 372-6200 or email smcupa@smcgov.org. For more information about the HMBP Program, visit smchealth.org/hmbp. For more information about the UST Program, visit smchealth.org/cupa/ust.