Report a Problem: Housing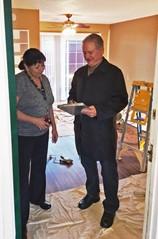 Rent Relief:
California COVID-19 Rent Relief Program
California COVID-19 Rent Relief Program status for San Mateo County residents
Property Owners and Managers – Prevent Housing Violations
PRESENTATION: PREVENTING THE MOST COMMON HOUSING VIOLATIONS
On March 29, 2023, the San Mateo County Environmental Health Services' Housing Inspection Program gave a presentation on Preventing the Most Common Housing Violations, in support of safe and healthy properties ready for housing inspection. The webinar highlighted the County's five most common rental housing violations and best practices to prevent them. The presentation is accessible here.
Address common housing violations before your next inspection.
For additional information on the Housing Inspection Program please review the Housing Inspection Program Packet.
Sign up to receive important housing program email and/or text notifications
Tenant Resources
To file a complaint about:
Leaking roofs
Faulty plumbing
Inadequate heating
Substandard electrical problems
Pests (including rodents and cockroaches)
Mold
Lead
In these places:
Rental properties (apartment buildings of 4 units or more)
Hotels, motels, bed and breakfasts
Mobile home parks (within unincorporated San Mateo County)
Organized camps
Employee housing
Detention facilities
Call (650) 599-1112 or use the Online Complaint Form. Environmental Health Services can only respond to complaints made about the above places.
If you reside within the City of San Mateo or the City of San Carlos, contact your local Code Enforcement Department directly for more information on registering a complaint.
City of San Mateo Code Enforcement: (650) 522-7150
City of San Carlos Code Enforcement: (650) 802-4100
Complaints concerning Housing Authority, HUD, or Section 8 should be directed to the San Mateo County Department of Housing at 650-802-3300.
If you'd like to file a complaint about a townhome or condominium, contact the owner, HOA, or obtain legal advice.
Healthy Home Resources
Pests need water, food, and shelter to live, just like you. Explore what you can do to get rid of them and prevent them from invading your home.
Reducing moisture prevents and reduces mold growth. Your first action is to address the source of the moisture, which causes mold.