Novel Coronavirus Updates & Resources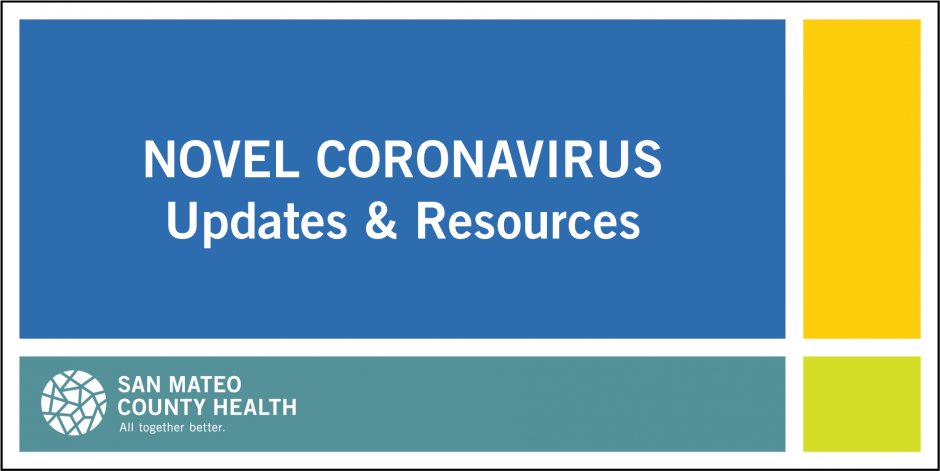 Update on Novel Coronavirus (COVID-19)
February 27, 2020: The CDC has transferred one positive case of a repatriated patient to San Mateo County. We will not be releasing any further details at this time.
The latest information on COVID-19 from the CDC is here:
Información del CDC en español:
https://www.cdc.gov/coronavirus/2019-ncov/index-sp.html
來自CDC的西班牙語信息:
https://www.cdc.gov/coronavirus/2019-ncov/index-Chinese.html
Statement from the Health Officer
I share the concerns of the Centers for Disease Control and Prevention (CDC): we all need to be prepared for COVID-19 to spread within the United States. Our lives may be significantly disrupted by the measures needed to respond to a global pandemic. A pandemic is a global occurrence of an infectious disease. A pandemic is a disaster with unique characteristics. The two most important differences between a pandemic and other disasters are that the whole world is going through this disaster at the same time and people may become fearful of other people. The current COVID-19 outbreak clearly has the potential to turn into a severe pandemic. This is a difficult message to share, but it is important to recognize how difficult the times ahead may be.
County Health continues to work with the federal Centers for Disease Control and Prevention (CDC) and our state and local partners to manage testing and monitoring of persons who have been exposed to COVID-19. But our focus is changing from a containment strategy to one of community mitigation—taking steps to lessen the impact of the disease. County Health and our public and private partners are increasing our ability to respond and are planning for a sustained response to COVID-19. I advise that individuals, schools, business and all other sectors of our community take immediate steps to be prepared. Now is the time for you to prepare.
How the world operates during a pandemic is different from how the world operates normally. This is not business as usual. With a pandemic comes significant disruption to supply chains (the process of how things get from where they are made to where they are used), transportation, and travel. Even if the disease is not spreading in our area, we may face difficulty obtaining the goods and services we are accustomed to, public events may be cancelled, and our ability to travel might be restricted.
San Mateo County Health continues to advise that the steps to prevent the spread of flu will also guard against the spread of COVID-19: cover your cough and sneeze, wash your hands frequently, avoid shaking hands and touching your face with unwashed hands, and if you are not feeling well or are experiencing cold, flu, or other symptoms, contact your primary care provider and stay home from school or work.
Here are the most important things for you to consider to improve your personal and organizational preparedness:
What matters most is how households, neighborhoods, community groups, businesses, and other organizations prepare. What does that mean? Preparedness equals self-sufficiency. Government will help where it can, but it may have a limited ability to respond directly due to the scale of the disruptions.
Individual and community preparations should focus on three tasks—reducing each person's chance of getting sick (see both individual and more general public health recommendations below), helping households with basic survival needs during a pandemic, and minimizing and coping with larger disruptions in how the normal day-to-day world works.
All businesses and other organizations should now review their continuity of operations plans for how they will operate if their employees are unable to work and how they will interact with members of the public and prepare to implement these plans soon.
All medical facilities and providers should review their surge plans for how to handle increased numbers of patients and be prepared to implement.
Getting ready for a pandemic is largely about preparing for possible shortages. In a pandemic, supply chain disruptions are inevitable, but are also unpredictable.
Since it contains vital supplies, a good start is to make sure your earthquake kit is up to date and ready to go. Of course, having supplies beyond the typical earthquake kit is a good idea. What you decide to have on hand is based on your individual and family situation.
One likely shortage will be medications. You should attempt to obtain a couple of months supply for your critical meds.
If you have other critical supply needs, you should conserve them and stock up on them now.
Now is also the time to think about how you will care for loved ones at home if they or you are sick and how you would limit spread within the family.
Frequent and appropriate hand-washing is far from a perfect solution, but it's easy, under your control, and has no significant downside.
Like washing your hands, wearing a surgical mask may help a bit but you need to know that surgical masks don't offer much protection when they are worn by people who are well. They are most helpful when worn by those who are already sick, so that they are less likely to transmit the disease to others. Surgical masks are already in short supply and should be prioritized for use in health care settings.
You should use a barrier, such as a paper towel or tissue, to touch commonly touched surfaces, such as bathroom door handles or elevator buttons.
I am not asking for implementation of the activities below at this time, and the implementation of these activities is not imminent, but these are the types of activities we may need to implement in the future:
Social distancing—staying at least 6 feet away from all other people and avoiding shaking hands—will be important
School closings present a particularly vexing social distancing dilemma but may be necessary to protect public health. These closings may be extensive and extended.
Event/mass gathering cancellation
Extensive increase in the amount of remote working or teleworking.
Under all circumstances, stop touching you face, eyes, nose, or mouth with your unwashed hands.
Rationing (a process of prioritizing distribution and use) of critical supplies may need to occur.
To get ourselves through the hard times that may be coming, your community may need volunteers. Think now about the skills you have and how can you help your community.
Other public health interventions that have been used with some effect in other countries include commandeering of both real estate or personal property, conscription, curfew, and cordons. It is unlikely that these interventions would be used here due to practical considerations.
Scott Morrow, MD, MPH
San Mateo County Health Officer
February 27, 2020
Novedades acerca del Novel Coronavirus (COVID-19)
Los Centros para el Control y la Prevención de Enfermedades (CDC por sus siglas en Inglés) han transferido al condado de San Mateo uno de los pacientes recientemente repatriados y cuyo test para detectar el virus ha resultado positivo. Por el momento no compartiremos ningún otro detalle al respecto.
Información actualizada por el CDC sobre el COVID-19 puede ser accedida aquí:
https://www.cdc.gov/coronavirus/2019-ncov/index-sp.html
Mensaje del Oficial de Salud de nuestro condado
Concuerdo con la advertencia del CDC: debemos prepararnos para la posible propagación del COVID-19 en los Estados Unidos. En caso de pandemia, nuestra cotidianidad puede resultar significativamente afectada por las medidas que serían necesarias para responder adecuadamente. Hablamos de "pandemia" cuando una enfermedad contagiosa se propaga por todo el mundo. Las pandemias se diferencian de otros tipos de desastres globales en dos modos específicos: 1) en una pandemia, el mundo entero se ve afectado al mismo tiempo; y 2) debido a la naturaleza contagiosa de la enfermedad, las personas pueden sentirse temerosas de otras personas.
El brote actual del COVID-19 tiene potencial para transformarse en pandemia. No es tarea sencilla ofrecer este mensaje en estos términos, pero es importante reconocer que el futuro puede depararnos momentos difíciles.
El Departamento de Salud del condado continúa colaborando con los Centros para el Control y la Prevención de Enfermedades (CDC), el estado de California, y otros colaboradores locales para el testeo y monitoreo de personas que han sido expuestas al COVID-19. Pero teniendo en cuenta la situación actual, nuestro enfásis, que se centró inicialmente en contener la propagación de la enfermedad, debe ahora enfocarse en tomar medidas para mitigar los efectos de la enfermedad.
El Departamento de Salud del condado, así como nuestros colaboradores públicos y privados, estamos fortaleciendo nuestra habilidad para responder a las necesidades de la comunidad, y nos encontramos preparando nuestras organizaciones y recursos para responder de modo continuo y sostenido a lo que el futuro nos depare.
Recomiendo a cada persona, a cada escuela, al sector comercial y a todos los sectores de nuestra comunidad que tomen medidas inmediatas para estar preparados para lo que pueda ocurrir. El momento para prepararse es ahora.
Durante una pandemia, el mundo entero funciona de modo muy diferente a lo normal, y es posible que ocurran disrupciones de bienes y servicios, de transportes, y de viaje, aún en áreas no directamente afectadas por la enfermedad.
El Departamento de Salud del condado de San Mateo recomienda que se tomen las mismas precauciones para prevenir la propagación del COVID-19 que las que se toman para evitar la propagación de la gripe: cubra su boca cuando tose o estornude, lave sus manos con frecuencia, evite dar la mano y tocar su cara antes de lavarse las manos, y si no se siente bien o está experimentando síntomas de resfrío, gripe, o otros síntomas, consulte a su médico y evite ir al trabajo y/o a la escuela.
He aquí algunas recomendaciones generales para el público y para el sector comercial:
El grado de preparación de cada familia, de cada organización, de cada vecindario y de cada grupo en la comunidad es de gran importancia. Por supuesto que el gobierno proveerá todo el apoyo que pueda; pero si la disrupción es muy grande, la preparación individual será crítica.
La preparación tanto individual como comunitaria debe centrarse en tres tareas básicas: 1) minimizar la posibilidad de contraer la enfermedad; 2) apoyar a cada hogar con las necesidades básicas de supervivencia en caso de pandemia; 3) y minimizar y planear cómo se sobrellevarán las potenciales disrupciones de la vida cotidiana.
Sector comercial y otras organizaciones: revisen sus planes para garantizar la continuidad de operaciones en caso de que sus empleados no puedan presentarse a trabajar, y prepárense para implementar esos planes rápidamente.
Proveedores de servicios de salud y centros de atención médica: revisen sus planes para responder a un incremento potencial en la demanda.
Prepararse para una pandemia es similar a prepararse para la posibilidad de una escasez de bienes y servicios a distintos niveles. Durante una pandemia, el flujos de bienes y servicios puede interrumpirse inesperadamente, por lo cual es importante estar preparado.
Un paso en la dirección correcta es asegurarse de que su paquete de emergencia en caso de terremoto esté completo y actualizado.
Trate de conseguir una reserva de por lo menos dos meses de cualquier medicación que usted o su familia necesiten frecuentemente.
Evalúe su necesidad de bienes y servicios críticos, administre los que tenga con precaución y consiga adicionales a modo de reserva.
Haga planes de contingencia en caso de que usted o alguien en su familia se enferme, y para evitar contagio.
El lavado de manos frecuente no es una solución perfecta pero ayuda, y es fácil.
El uso de máscaras protectoras es efectivo si la máscara es usada por personas que ya se han enfermado, porque ayuda a evitar el contagio. El uso de máscaras por parte de personas sanas no ofrece una protección significativa. Además, ya hay escasez de máscaras, y priorizar su uso en centros de salud es la opción más sensata.
Utilice una toalla de papel u otro material similar para evitar tocar superficies utilizadas por muchas otras personas, tales como los picaportes de las puertas y los botones de los elevadores.
A continuación listaré una serie de actividades cuya implementación no estoy recomendando en este momento, ni creo que la necesidad de su implementación sea inminente, pero quiero mencionar de todos modos porque es posible que estas medidas sean necesarias en el futuro:
Distancia física: mantenerse a no menos de 6 pies de distancia en relación a otras personas y evitar dar la mano.
Cierre de escuelas.
Cancelación de eventos masivos.
Incremento significativo en trabajo remoto/tele-trabajo.
Evitar por completo tocarse la cara, los ojos, la nariz, y la boca sin antes lavarse las manos.
Racionamiento de bienes y servicios críticos.
Colaboración comunitaria: en tiempos difíciles, todos nos necesitamos unos a otros. Es posible que nuestra comunidad necesite voluntarios. Reflexione acerca de sus habilidades y capacidades, y de qué manera puede ponerlas al servicio de la comunidad.
En algunas circunstancias, algunos otros países han utilizado intervenciones de salud pública que han tenido algún efecto positivo: conscripción, toque de queda, acordonamiento, expropiación de bienes personales e inmuebles. La posibilidad de utilizar algunas de estas estrategias en nuestro condado es remota.
Scott Morrow, MD, MPH
Oficial de Salud del Condado de San Mateo
27 de febrero de 2020