Health Equity Initiatives: Diversity and Equity Council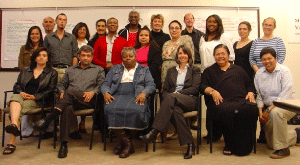 Hosted by The Office of Diversity and Equity
The Diversity and Equity Council (DEC) is a guiding body that works to embrace diversity, eliminate health disparities and advance equity in San Mateo County. We coordinate, inform, support, advocate and consult with Behavioral Health and Recovery Services and its communities.
The Diversity and Equity Council started as the Cultural Competence Committee over ten years ago. The first meeting was held in a tiny room at Hillcrest. Since then, we've had the opportunity to discuss cultural competence in our work through networking, training (sponsoring or hosting), facilitation, film viewings and just getting together.
The Diversity and Equity Council is committed to supporting community advocates throughout the County. It provides
a space for collaboration and guidance for the Health Equity Initiatives
a forum for cultural competence questions from community-based organizations
a hub of information and resources for community members committed to advancing equitable behavioral health care.
The DEC continuously works to support equitable behavioral health services for all community members in San Mateo County.
If you are passionate about diversity, cultural competence and equity issues, contact the Diversity and Equity Council co-chairs, Brenda Nuñez (Brenda.Nunez@star-vista.org) and Frances Lobos (FLobos@smcgov.org)
The DEC meets the first Friday of every month from 11:00am to 12:30pm. Meetings currently taking place virtually.