A Year in Review
2017 Behavioral Health & Recovery Services Highlights
As in previous years, we have identified ten highlights for 2017. Narrowing the list is never easy, however this list provides a snapshot of some of the new and continuing developments for BHRS in the past year. We would like to recognize all of the people ­­— clients, family members, staff, partners and community members — whose passion, commitment and hard work every day, transformed these ideas into action. The following highlights are listed in no specific order of priority.
County's First Pride Center
June 1 marked the historic grand opening of the county's very first Pride Center, located at 1021 S. El Camino and 11th Ave. in San Mateo. The center combines direct behavioral health services, such as counseling, peer support and case management, with community support and services. The center is a safe space and welcomes everyone.
The Pride Center recently hosted a Transgender Day of Remembrance Candlelight Vigil to honor the 25 transgender people who lost their lives to anti-trans violence this year. Along with a dialogue series and support groups for transgender and gender nonconforming individuals, the Pride Center offers support in creating additional safe spaces for those who need them.
The Pride Center is a collaboration with Behavioral Health and Recovery Services, funded through the Mental Health Services Act. The Center is operated by five partner organizations: StarVista, Peninsula Family Service, Outlet of Adolescent Counseling Services and Daly City Partnership. See more on the Pride Center and the Pride Initiative. Read more about the Pride Center opening.
First County To Implement Drug Medi-Cal Organized Delivery System
On February 1, San Mateo was one of the first California counties to implement the Drug Medi-Cal Organized Delivery System (DMC ODS), dramatically expanding the substance use disorder treatment services available to Medi-Cal beneficiaries. The DMC ODS is the culmination of many years of dedicated effort by our leaders, community partners and staff.
Our county now has 25 facilities which are certified to provide DMC services, up from just two facilities a few years ago. The Access Call Center now screens and refers individuals seeking help for substance use services. The Alcohol & Other Drug (AOD) residential treatment team evaluates and authorizes individuals for residential treatment.
In the first seven months of the program, the team evaluated 428 individuals for residential treatment and partnered with Service Connect, Pathways, and the Integrated Medicated Assisted Treatment team to complete residential treatment evaluation in-custody, in the emergency department and in the field.
AOD case managers coordinate care and help connect individuals to substance use treatment, physical and mental health services, and medication addiction treatments.
See page one of the March 2017 issue for more on the DMC ODS.
New BHRS Director and Youth Deputy Director
In September, Steve Kaplan retired as director of BHRS after 12 years. Our new director is David A. Young PhD, MPH. David joined us with more than 30 years of diverse experience in the behavioral health nonprofit and private sector arenas, including most recently as Chief Clinical Officer for Sagesurfer, a behavioral health technology company, and the Executive Director of San Francisco Region at Edgewood Center for Children and Families.
David has been getting to know our programs and staff over the past couple of months. He has been visiting our clinics, programs and partners to learn more about the many services we provide and better understand how our how services are currently delivered, support real time problem solving, and ensure that everyone feels empowered to make the changes needed to improve our services for our clients, their families and other stakeholders.
In February Toni DeMarco, MFT, became the new Deputy Director of Children/Youth Services following Paul Sorbo's retirement. Previously, Toni spent 18 years working for BHRS in numerous capacities, making significant contributions in many different areas including being a leader in trauma informed care, advocating for and implementing the Neurosequential Model of Therapeutics, spearheading our work with Child Welfare around the Katie A. coordination of care, as one of the founders of the Pride Initiative, and as a strong proponent for staff work-life balance.
Suicide Prevention and Threat Assessment Protocols Introduced to Schools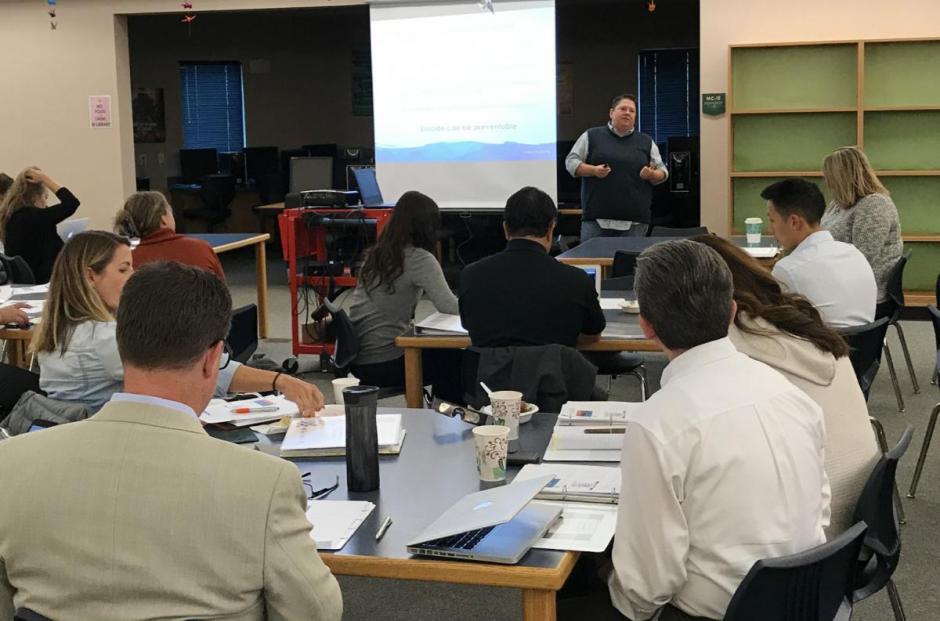 A coalition of local leaders in schools, mental health, crisis intervention, law enforcement and government are utilizing Measure K funds to prevent suicide in our schools and community. This unprecedented effort includes a Suicide Prevention Protocol and Threat Assessment Protocol that help school staff identify and help students who may be in crisis.
The $15.6 million in funds invested by the Board of Supervisors since 2013 have yielded tangible results in prevention and early intervention. Nearly 2,000 individuals have been trained in Youth Mental Health First Aid.
Last fall, BHRS and the San Mateo County Office of Education completed over 30 trainings on the Suicide Prevention and Threat Assessment Protocols. They trained representatives that included administration, counselors, mental health and wellness staff and law enforcement from all 24 school districts in the county, as well as a handful of our private and parochial schools. Community based organizations and public agencies that work closely with the schools have taken part in the trainings.
As part of the Suicide Prevention Protocol, faculty wide training is available, along with suicide prevention posters, funded by Measure K. As of last fall, 59 schools countywide are receiving full faculty suicide prevention training. For more on how San Mateo County is providing help and hope to youth in crisis, see this report.
Waverly Place Apartments to Provide Supported Housing
The Mental Health Association (MHA) along with San Mateo County community members and officials celebrated the long-awaited Waverly Place Apartments groundbreaking in May. The housing development at 105 Fifth Ave, in the North Fair Oaks area of Redwood City includes 15 supported housing units for individuals with severe mental illness.
MHA has built and rehabilitated properties to create homes for people with mental illness since 1946. Supportive housing is community-based housing that is affordable to clients on a permanent basis, provides all the rights and responsibilities of tenancy, and is accompanied by appropriate and voluntary social services.
In one of the highest cost of living counties, ensuring that our clients have a safe, stable and affordable place to live is critical for their recovery. Waverly Place is funded by many sources, including the Mental Health Services Act and San Mateo County's Measure K. See the MHSA update for a summary of the MHSA funded housing units awarded since 2006.
Lived Experience 2.0 Peer & Family Action Summit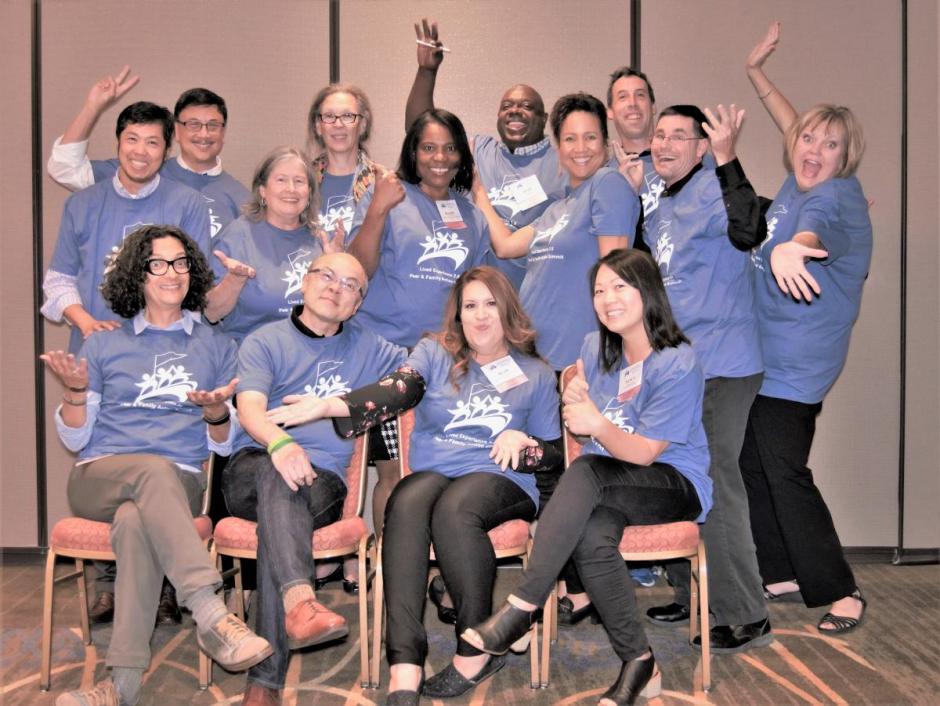 Consumers and family members, peers working in the system and allied behavioral health services providers came together in October at the Lived Experience 2.0 Peer and Family Action Summit to help define the role that consumer and family members will play in the county's design and delivery of services, as well as its vision of recovery and wellness.
In partnership, BHRS, the Office of Consumer and Family Affairs, the Office of Diversity and Equity, the Peer Recovery Collaborative (Heart & Soul, Inc., California Clubhouse and Voices of Recovery), National Alliance on Mental Illness (NAMI) San Mateo County and the Peninsula Conflict Resolution Center all began the process of charting a path towards expanding the role of peers, consumers and family members in the delivery of mental health and substance use services.
Themes around accessibility, inclusion, education and training, career paths and advocacy emerged. Breakout groups from the summit agreed to convene over the next year to help BHRS define the role that consumer and family members will play in the delivery of whole person-centered care over the next three to five years. Read more about the summit.
Health Equity Initiatives: A Ten-Year Review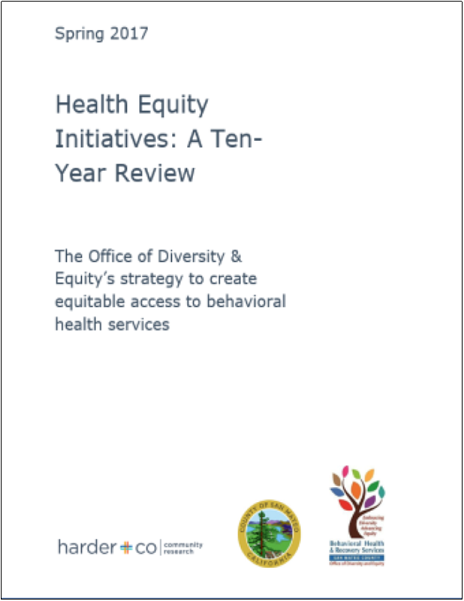 In July the Office of Diversity and Equity presented their impact report, Health Equity Initiatives: A Ten-Year Review. The report showcases the efforts and accomplishments of BHRS' investment in health equity by developing the eight Health Equity Initiatives (HEI's) and sustaining the Diversity and Equity Council. The HEI's play a critical role in prevention, community outreach and engagement.
Funded by the Mental Health Services Act, these initiatives connect providers, clients and community members who together work towards improving and expanding culturally sensitive access to and treatment of behavioral health services for under-served communities. They also support BHRS' efforts to foster inclusiveness into its policies and practices. The report estimates that thousands of individuals and families across San Mateo County have benefited from the efforts of the HEIs.
For more information about the Health Equity Initiatives and to view the Ten-Year Impact Report, visit www.smchealth.org/hei. Read the original article here.
Health System Launches Whole Person Care Pilot
The whole person care (WPC) initiative pilot launched in January 2017 aimed at improving quality of care, access and efficiency, within five years for the WPC target population. WPC pilot funds were awarded to establish the culturally competent patient engagement, activation, care management and support strategies necessary for complex Health System "high utilizers," those who uses the emergency room more than four times per year, facing substantial barriers to connect with needed medical, behavioral health, social and housing services.
In its first year, WPC has built the capacity of many existing programs, including the expansion of Integrated Medicated Assisted Treatment services to those with opiate addiction, which will roll out this year. See the full update on the Whole Person Care Pilot.
New HealthRIGHT 360 Clinic Opens in East Palo Alto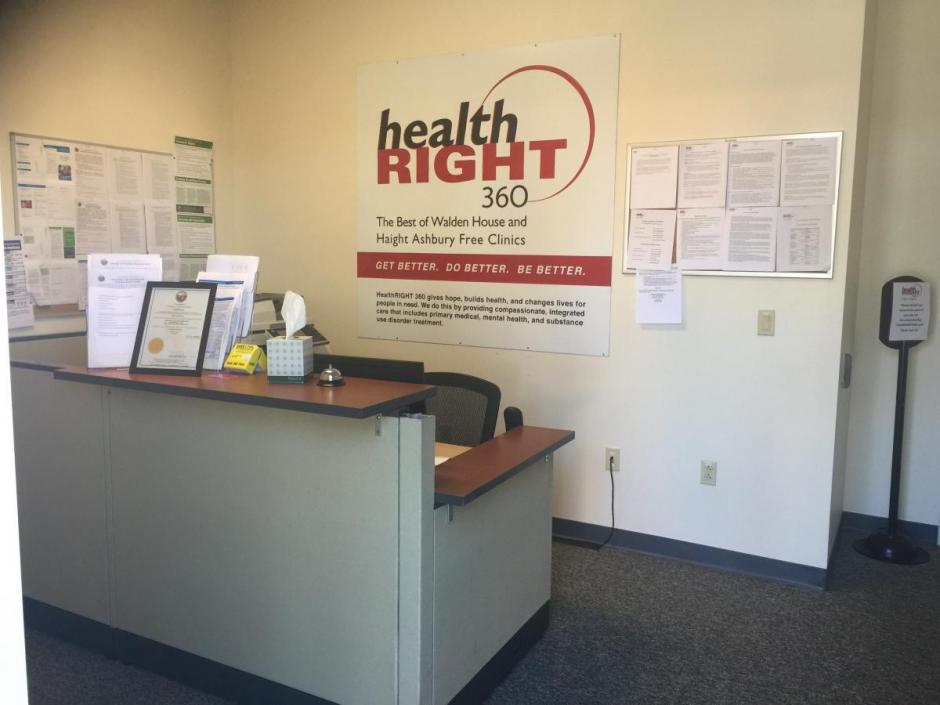 HealthRIGHT 360 (HR360) recently launched its new East Palo Alto (EPA) outpatient program, Engaging Positive Actions, located at 2396 University Avenue. The program strives to provide underserved youth with substance use disorder treatment and mental health support.
HealthRIGHT360 provides individual and group therapy using culturally sensitive, trauma informed and evidence-based practices. They also offer crisis intervention and case management services. Individuals with life affecting issues, youth with incarcerated parents and those involved with the juvenile criminal justice system are all welcome at the facility.
For more information, check out the Engaging Positive Actions webpage or call (650) 383-2200. See the full article.
Serenity House Respite Center Breaks Ground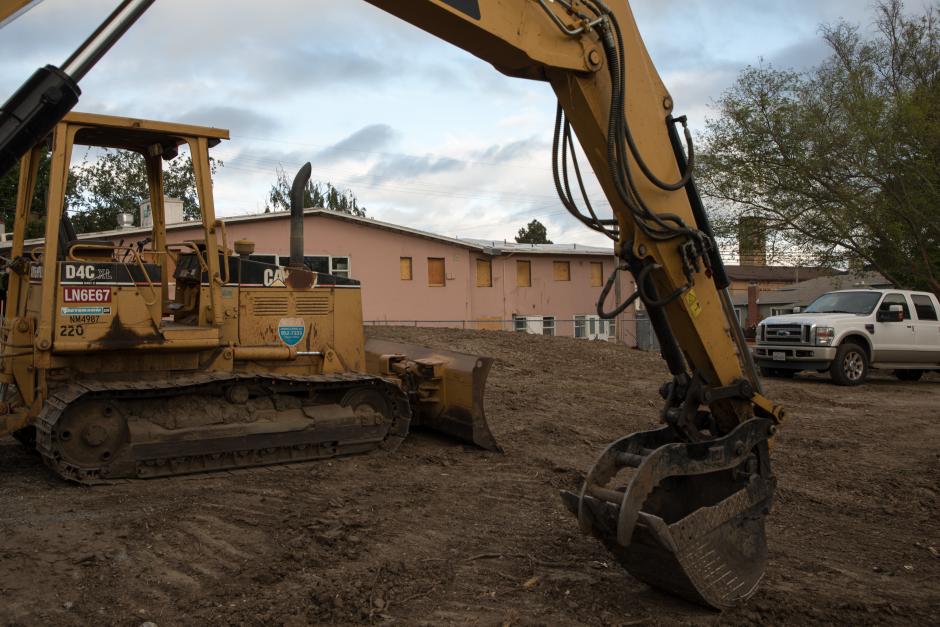 Renovation began February 6 on the Serenity House respite center located on the northwest end of the Medical Center campus at 3701 Hacienda Street in San Mateo.
Serenity House will be operated by HealthRIGHT 360 and provide 24-hour care and respite for up to 10 individuals age 18 and over who are experiencing destabilization due to mental health symptoms. Individuals who do not pose an immediate danger to themselves or others will be stabilized in a home-like setting for approximately 10 days, which will offer case management, brief individual and group therapy, medication management and family support.
Renovations for this facility are funded by Measure K, a countywide, voter-approved sales tax to support essential County services and to maintain or replace critical facilities, and funds awarded to BHRS by the California Investment in Mental Health Wellness Program Grant. Construction on this project has been delayed, but the opening is planned for 2018. Stay tuned for more information.