County's First LGBTQ+ Pride Center Officially Opens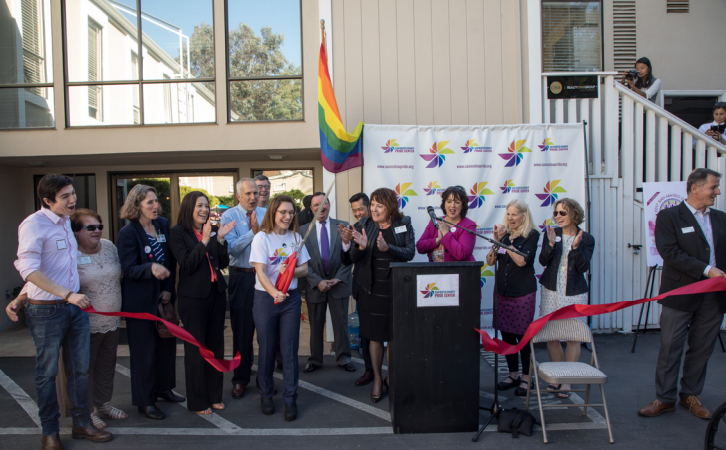 Nearly 500 LGBTQ+ community members and allies gathered in San Mateo County this past June 1st to celebrate the historic grand opening of the county's very first Pride Center. A sense of community, joy and hope was palpable amongst the crowd, which spanned multiple cultures and generations.
The newly opened Pride Center, located at 1021 S. El Camino and 11th Ave. in San Mateo, combines direct behavioral health services, such as counseling, peer support, and case management, with community support and services.
The center is a safe space and welcomes everyone. During the ceremony, former Assemblymember Rich Gordon shared his heartfelt gratitude and excitement for the Center's opening. "I never thought the day would come that I would see the gay pride flag flying on El Camino Real," said Gordon. "This is where I was raised, at a time and a place where if you were gay, the only role that you had was in the closet. We've come a long way in 69 years."
The celebration included dynamic speakers including Pride Center staff Andres Loyola, who performed a bilingual spoken word poem. Health System Chief Louise Rogers also took a moment to acknowledge the PRIDE Initiative members who began the advocacy for LGBTQ+ people in San Mateo County a decade ago.
The Pride Center was made possible through a decade of strategic organizing and advocacy led by the Office of Diversity and Equity (ODE), PRIDE Initiative members and other individuals who recognized the gaps in services and health inequities of LGBTQ+ communities throughout San Mateo County. The opening sent a clear message that the health and wellbeing of the LGBTQ+ population is a priority for San Mateo County. "Together, we are powerful, and have the ability to overcome hate and oppression as long as we are bold, take risks and stand in solidarity, centering the voices of the most harmed amongst us until each one of us is honored, seen, heard, valued and loved," said Pride Center Program Director, Lisa Putkey.
The Center's first month was busy with their 30 Days of Gay Pride Month celebration. Their calendar was packed with community-based events including the 5th Annual San Mateo County Pride Celebration: Still We Rise, a Pulse Night of Remembrance (in partnership with Skylawn), and the county's first Queer Prom on June 17th. The Pride Center is a collaboration with Behavioral Health and Recovery Services, funded through the Mental Health Services Act. The Center is operated by five partner organizations: StarVista, Peninsula Family Service, Outlet of Adolescent Counseling Services, Daly City Partnership and Pyramid Alternatives.