Smoke-Free Housing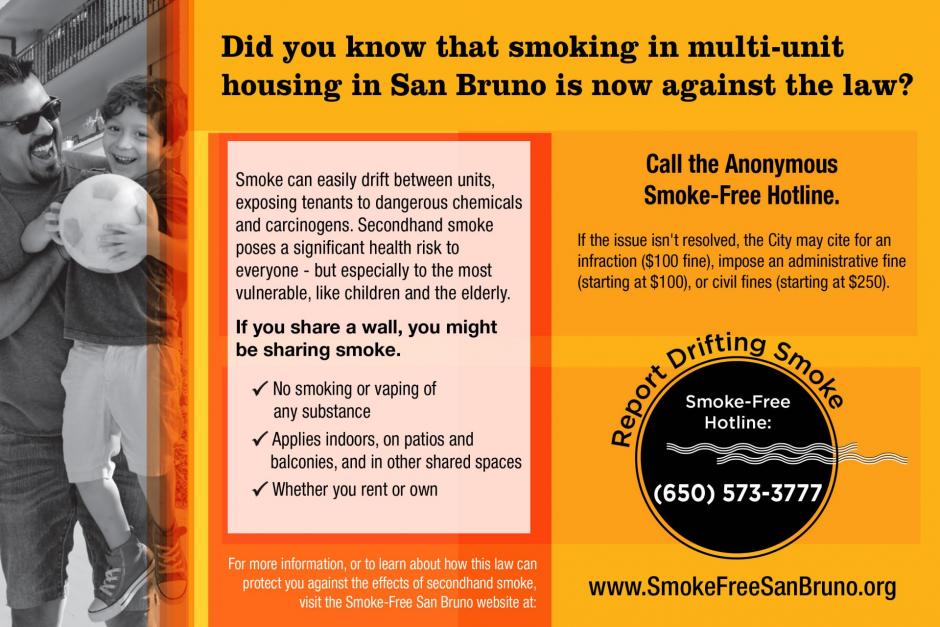 Drifting smoke in multi-unit housing (such as apartments and condos) is a danger to children and families. While the number of current smokers in our community continues to decrease, many residents are still exposed to secondhand smoke every day. This is why the San Mateo County Tobacco Education Coalition (TEC) educates tenants about what steps they can take if smoke is drifting into their unit. At the same time, TEC works with landlords to educate them about the benefits of developing smoke-free policies for the apartment or condo buildings they own.
Call the Smoke-Free Hotline: (650-573-3777) to learn more about how you can help protect children and families from toxic secondhand smoke in their homes, and click here for more information about TEC.
Resources for Tenants
Resources for Landlords
Property owners and managers are increasingly adopting smoke-free policies in their properties. In addition to improving the health of current and future tenants, there are a variety of financial and public safety reasons to adopt smoke-free policies. Recent surveys show that 82% of all renters would prefer to live in a smoke-free building (Center for Tobacco Policy and Organizing, 2008). Increasingly, renters are coming to appreciate smoke-free living and consider it a valuable amenity for their families. Because going smoke-free is completely legal and well within the rights of the property owner, everyday an increasing number of properties are transitioning to a healthier, safer, and more economically viable smoke-free status. Civil code section 1947.5 (sometimes known by its bill number, SB 332) allows landlords to make their properties 100 percent smoke-free. For more information on landlords' rights to make properties smoke-free, click here. There are several key reasons why landlords may wish to adopt smoke-free policies:
Better health for tenants
High market demand for non-smoking units
Reduced rehabilitation costs for vacated units
Decreased tobacco litter on the premises
Potentially lower fire insurance costs due to lessened fire risk
Steeply reduced chance of building fires
Reduced complaints when all tenants know the smoking policy
Decreased liability related to fire and health impacts
In recent years, a rapidly expanding number of communities in California have explored and adopted smoke-free housing ordinances. From the earliest adopters (City of Belmont in San Mateo County and City of Calabasas in Los Angeles County), a growing movement toward smoke-free housing protections has been seen. In recent years in San Mateo County, Daly City, Brisbane, Burlingame, Foster City, Half Moon Bay, Millbrae, Pacifica, Redwood City, San Bruno, San Carlos, San Mateo, South San Francisco, and Unincorporated San Mateo County have adopted protections for multi-unit housing residents by requiring smoke-free common areas and individual units in multi-unit housing. Given the high market demand for smoke-free housing and the increasing focus on secondhand smoke as a major contributor to chronic health conditions such as asthma, lung disease, and heart disease, it is likely that the list of local smoke-free housing policies will continue to grow.
Reporting a Multi-unit Housing Smoking Violation
Residents can contact the Tobacco Prevention Program (tobaccoprevention@smcgov.org or 650-573-3777) anonymously if there is a need to report a multi-unit housing smoking violation.
Guidelines for tenants addressing a drifting smoke issue
Are you experiencing drifting smoke in your home from another apartment or condo? If you have struggled to resolve this issue and to protect the health of your family, we are here to help. We believe everyone has a right to breathe fresh air at home, and we can help with resolving the problem.
There are generally several steps that we recommend tenants take. It is always best to resolve the problem in the simplest way possible, so we ask that anyone who is struggling with a neighbor's smoke try the following possible solutions. You may be surprised how a simple solution can successfully protect you and your family:
Talk to the person smoking. If you can identify who is creating the smoke, let them know that it is drifting into your apartment or condo, that you are concerned about the possible health effects, and gently request that they take their smoking outdoors to a designated place away from the building.
Talk to your landlord and/or write a letter. We recommend discussing the issue with your landlord. They don't live in your apartment or condo and will not know about the problem unless you mention it to them. Ask them about any smoking policies in your building and request that they speak to your neighbor about the issue. Tell the landlord details about how the smoke affects you and is harmful to your health. Ask them for a specific solution, such as having the person smoking go outside.
Document the smoking. Write down what a typical day in your apartment or condo is like regarding the secondhand smoke exposure. Many people state "the smoking is happening around the clock" or something similar, but it's helpful to be more specific. How many times a day does your neighbor smoke? What does this specifically look, feel, and smell like? Where do you think the smoke is coming from? What time of day do you notice it? What does it smell like? What physical reactions do you or your family have to the smoke?
Contact San Mateo County Health. We are here to promote the health and well-being of the community. We will work with you to help resolve the secondhand smoke problem.
Contact your City Council. In some cases, tenants suffer secondhand smoke exposure and are unable to find a resolution with their landlord and neighbor. Cities can adopt smoke-free multi-unit housing ordinances to protect all residents living in multi-unit housing from experiencing secondhand smoke.
Consider legal action. Legal action is a last resort. The Tobacco Prevention Program cannot provide legal advice or support for legal action. As you can imagine, legal action is costly and very time-consuming, and generally, we can find a better solution. That said, documenting each step of the process you take to resolve a secondhand smoke issue will benefit you no matter what course of action you take.
If you have questions or need some help getting started, contact the Tobacco Prevention Program: (650) 573-3777 or tobaccoprevention@smcgov.org.
San Mateo County Smoke-free Multi-unit Residence Ordinance Summary
San Mateo County's Regulation of Smoking in and Around Multi-unit Residences applies to all multi-unit residences (i.e. condos, apartment buildings, etc.) in Unincorporated Areas of the County, and multi-unit residences owned or leased by San Mateo County.
Smoking is prohibited in all units and in any unenclosed and enclosed common area or any other area of a multi-family dwelling or multi-unit residence, and within 30 feet of any operable doorway, window, opening, or ventilation system (see section 4.97.030 in the ordinance for additional details).
Smoking is allowed in designated smoking areas that are unenclosed and clearly delineated areas. These areas must be at least 30 feet in any direction from any operable doorway, window, opening or other vent into an enclosed area, areas primarily used by children, and unenclosed areas used for physical activities (i.e. playgrounds, swimming pool, school campuses, etc.). These areas also have to have a clearly marked perimeter and signage (i.e. smoking permitted signs), receptacles for tobacco waste, and be clear of tobacco litter (i.e. cigarette butts, JUUL pods, etc.).
These smoking restrictions apply to cigarettes, little cigars, cigarillos, cigars, hookah pipes, other pipes, electronic cigarettes (i.e. vapes), and any other substance containing tobacco leaf (see section 4.97.020 in the ordinance for additional details).
"No smoking" signs should be posted on the outside of each enclosed building or unenclosed area where smoking is prohibited. These signs are not required to be placed inside any unit of a multi-unit residence.
Violation of this smoking ordinance can lead to a fine of $100 - $500. Receiving more than three violations within one year can lead to a misdemeanor charge (see section 4.97.090 in the ordinance for additional details).
Smoking violations can be reported anonymously to the San Mateo County Tobacco Prevention Program: (650) 573-3777 or tobaccoprevention@smcgov.org
Residents seeking to comply with the requirements of this ordinance shall not be intimidated or harassed for doing so, and no person shall intentionally or recklessly expose another person to smoke in response to that person's effort to achieve compliance. It is unlawful for a landlord or another person to take any retaliatory action against a resident for reporting a multi-unit housing violation.
Summary of Residents' Rights
Residents have a right to report multi-unit housing smoking violations without any retaliatory action against them from a landlord or another person. More information about residents' rights and obligations can be found here.
Links to Other Multi-unit Housing Smoking Ordinances