Cigarette Butt Litter Reduction Program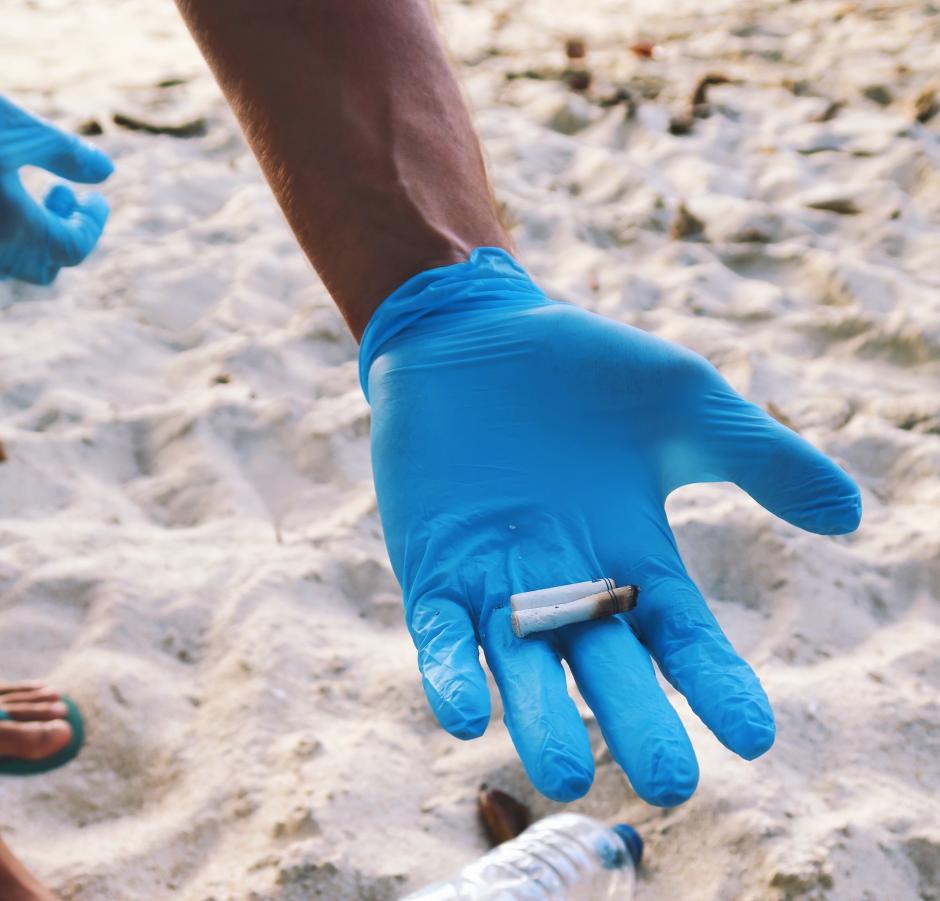 Do you smoke cigarettes? Take our 1-minute survey and receive a free reusable pocket ashtray and a $5 gift card while supplies last.
Cigarette butts that are dropped or flicked away as litter can easily be blown or washed into storm drains that lead directly into waterways without filtration. In addition to being unsightly, cigarette butts never disappear because they are made of plastic and do not biodegrade. They are toxic to marine and freshwater wildlife.
The Cigarette Butt Litter Reduction Program was launched to reduce this toxic litter to protect the community and wildlife. The Program recognizes and provides resources to residents and businesses who partner with the County to reduce cigarette butt litter, and helps champion Coastal Cleanup Day, an annual event that picks up over 22,000 butts per year. Cigarette butts have consistently been the #1 item picked up on Coastal Cleanup Day for many years. More information on the resources this Program offers is provided below.
Be a Cigarette Butt Litter Leader
Join us in the battle against butts – sign up to become a cigarette butt litter leader and take action to reduce cigarette butt litter in your community.
Request and give free pocket and auto ashtrays to friends and family who smoke to remind them to bin their butts.
Help pick up these tiny, toxic pieces of litter by participating in litter cleanup events, like Coastal Cleanup Day. Links to local organizations with routine clean up events can be found at the bottom of this page.
Host your own cleanup event, and borrow an 11ft tall cigarette butt litter banner flag (see images here) to help raise awareness on the issue.
Call or text (650) 388-2096, or email pollutionprevention@smcgov.org if you see a cigarette butt litter hot spot area in need of attention.
Ask your favorite business to become a Cigarette Butt-Free Business.
Spread the word about cigarette butt litter to others. Many people do not realize cigarette butts are litter.
Do You Smoke Cigarettes?
Take our survey and receive a free reusable pocket or auto ashtray.
Request a free pocket ashtray and auto ashtray – take these portable receptacles with you on all your outings.
Recycle your butts at a drop-off location hosted by Pacific Beach Coalition.
Be a Cigarette Butt Litter Leader (see above for details).
Kick butts goodbye for good with these resources to help you quit:

Call the California Smoker's Helpline at 1-800-NO-BUTTS
Businesses
1. Become a Cigarette Butt-Free Business.
2. Request free pocket ashtrays to distribute at your place of business.
3. Provide receptacles and cessation resources for customers and employees who smoke.
THANK YOU to all of the Cigarette Butt Litter Leaders and Butt-Free Businesses!
Join a Local Cleanup
Meet up with a local organization below to pick up cigarette butts and other litter in San Mateo County year-round.

Daly City
Top of the Hill Improvement Association | Intermittent

Redwood City
Pride and Beautification Committee | Earth Week – April

San Mateo
City of San Mateo Team Up to CleanUp | Intermittent

San Mateo County Coast
Pacific Beach Coalition | Saturdays every month
Rotary Club of Half Moon Bay | Second Sunday of every month
SeaHugger | Saturdays every month
Surfrider | One Saturday every month
Additional Information