Help Quitting Tobacco
Congratulations on taking the first step to quitting smoking!
This might be the most important step you ever take to care for yourself. You can quit, and we can help.
See the bottom of this page for a list of programs that can support you as you work toward a smokefree life.
Quitting tobacco use is not easy, but is well worth the effort. Cigarettes and other tobacco products are specifically designed to be highly addictive. In addition, cigarettes have entered every aspect of American culture from films and advertising to fashion and music. Luckily, everyday, more and more people are taking the huge step to improve their quality of life by quitting smoking.
There are many tools that can help you stop smoking. Experts agree that the more support a person has, the better the chances they will be smokefree for life. In general, it is recommended that the individuals who would like to quit smoking attend a telephone or group program that will help them develop a plan to quit. These programs are specially designed to help you create a life after cigarettes. They help people who smoke set a quit date, deal with difficult situations such as spending time around other people who smoke, rebound after slips and relapse, and embrace physical health through exercise and diet that support quitting.
Medications that fight cravings and nicotine replacement therapy products (like nicotine patches, gum, and lozenges) can also help with the physical addiction to tobacco products. Most insurance companies, including Medi-Cal, cover nicotine replacement therapies.
There are many resources available online to assist you in your quit attempt, but we recommend that you seek the support of local tobacco quit classes or Kick It California. It is also important to seek assistance from your medical provider so they can support you.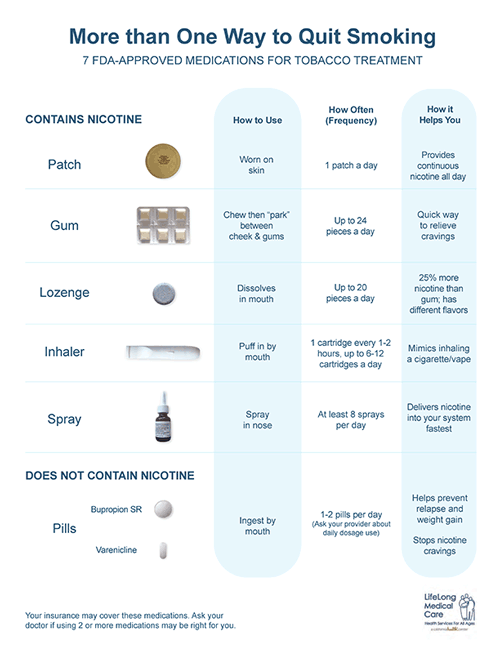 Resources