Drop-Off Locations for Used Motor Oil and Filter Recycling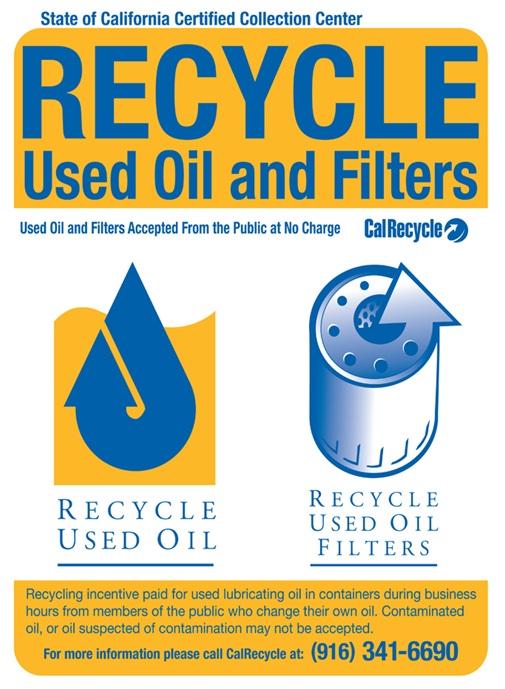 STEPS FOR RECYCLING AT A COLLECTION CENTER
See our map and list by City for over 50 used oil and filter drop-off locations in San Mateo County and choose the one most convenient for you.
Call the drop-off location prior to bringing your used oil and filter to verify hours and limitations.
Collect used oil in a clean, non-breakable plastic container that has a screw-on cap.
Place used oil filter into a plastic bag and seal tightly.
Deliver used motor oil and filters to the collection center. Always give used motor oil and filters to a staff member.
Never abandon used oil or filters outside of the business when the shop is closed. This is illegal.
IMPORTANT INFORMATION ABOUT CONTAMINATED OIL
Atherton
Recycle at the curb (single-family homes)
Belmont
Belmont Shell Auto Care
2000 Ralston Ave.
(650) 592-3637
Spiteri's Auto Service, Inc.
292 Old County Rd.
(650) 593-4758
Wheel Works
120 El Camino Real
(650) 339-7511
Brisbane
Recycle at the curb (single-family homes)
Burlingame
Recycle at the curb (single-family homes)
Colma
Recycle at the curb (single-family homes)
Daly City
ATECH Auto Repair
5975 Mission St.
(415) 337-5425
Auto Zone
6212 Mission St.
(650) 755-5145
DAS Auto Service
1118 Hillsdale Blvd.
(650) 731-8500
O'Reilly Auto Parts
5 Skyline Plaza
(650) 994-2650
O'Reilly Auto Parts
7283 Mission St.
(650) 755-8890
SpeeDee Oil Change (used oil only, no filters accepted)
1600 Sullivan Ave.
(650) 755-8777
Wheel Works
5 Skyline Plaza
(415) 349-7968
Wynn's Motors
1216 Hillside Blvd.
(415) 341-2593
East Palo Alto
AutoZone
2160 University Ave.
(650) 321-7221
Foster City
Hillsdale Arco Auto Repair
880 E. Hillsdale Blvd.
(650) 349-1849
Half Moon Bay
Ox Mountain Landfill
12310 Highway 92
(650) 713-3623
Pillar Point Harbor
1 Johnson Pier
(650) 726-5727
Hillsborough
Recycle at the curb (single-family homes)
Menlo Park
M & R Automotive
1281 El Camino Real
(650) 325-3900
Oil Changer
944 Willow Rd.
(650) 321-9041
Sharon Heights Shell
125 Sharon Park Dr.
(650) 854-3400
Millbrae
AutoZone
320 El Camino Real
(650) 697-3504
Firestone Store
1201 El Camino Real
(650) 871-9096
O'Reilly Auto Parts #2581
1200 El Camino Real
(650) 583-0443
Pacifica
Recology of the Coast (Pacifica residents only)
1046 Palmetto Ave.
(650) 355-9000
Oil Changer
2880 Skyline Blvd.
(650) 355-7233
Sanford Firestone
705 Hickey Blvd.
(650) 355-1154
Pescadero
Pescadero Transfer Station-Allied Waste
Bean Hollow Rd. @ Artichoke
(650) 879-0729
Redwood City
AutoZone
901 El Camino Real
(650) 556-1684
Boardwalk Auto Center
1 Bair Island Rd.
(650) 364-0100
Firestone Store
1458 El Camino Real
(650) 364-1900
Jiffy Lube
640 Whipple Ave.
(650) 369-8067
O'Reilly Auto Parts
2411 El Camino Real
(650) 368-2831
Oil Changer
2762 El Camino Real
(650) 366-5394
Toyota 101
386 Convention Way
(650) 365-5000
Toyota Scion Specialist
61 Willow St.
(650) 363-1290
Towne Ford Sales
1A Bair Island Rd.
(650) 366-5744
V&V Bros RVs and Trailers
1020 – A Hansen Way
(650) 556-1096
Wheel Works
2411 El Camino Real
(650) 260-7932
Woodside Auto & Tire
333 Woodside Rd.
(650) 363-0460
San Bruno
Jiffy Lube
1580 El Camino Real
(650) 588-3970
Recology San Bruno (San Bruno residents only)
101 Tanforan Ave.
(650) 588-3970
SpeeDee Oil Change
801 El Camino Real
(650) 588-3970
San Carlos
Jiffy Lube
1030 El Camino Real
(650) 594-1688
Max Motors
945 American St.
(650) 594-0410
O'Reilly Auto Parts
1272 El Camino Real
(650) 595-5112
Pep Boys
1087 Old County Rd.
(650) 632-1522
Perfect Lube
1792 El Camino Real
(650) 593-4758
Shoreway Environmental Center
333 Shoreway Rd.
(650) 802-8355
San Mateo
AutoZone
3880 S. El Camino Real
(650) 372-0535
Big O Tires
2160 El Camino Real
(650) 212-2446
Chevron Oil Stop
2009 El Camino Real
(650) 572-8000
H & D Auto Repair
1471 E Third Ave.
(650) 342-8818
Jiffy Lube
2517 S. El Camino Real
(650) 349-7222
Jiffy Lube
407 S. Delaware St.
(650) 344-8243
O'Reilly Auto Parts
2640 S. El Camino Real
(650) 349-1275
O'Reilly Auto Parts
400 S. Norfolk St.
(650) 344-2448
Reeds Service Center
1641 Palm Ave.
(650) 341-6675
Wheel Works
2640 El Camino Real
(650) 935-4352
Wheel Works
521 South B St.
(650) 918-5064
South San Francisco
Blueline Transfer Station
500 E. Jamie Ct.
(650) 589-4020
N.O.D. Auto Service
442 Victory Ave.
(415) 988-7557
O'Reilly Auto Parts
1059 El Camino Real
(650) 589-8102
O'Reilly Auto Parts
3541 Callan Blvd.
(650) 827-9081
O'Reilly Auto Parts
88 S. Linden Ave.
(650) 822-5193
Shiva Auto Repair
118 S. Spruce Ave.
(650) 225-0600