Where to Recycle Fluorescent Lights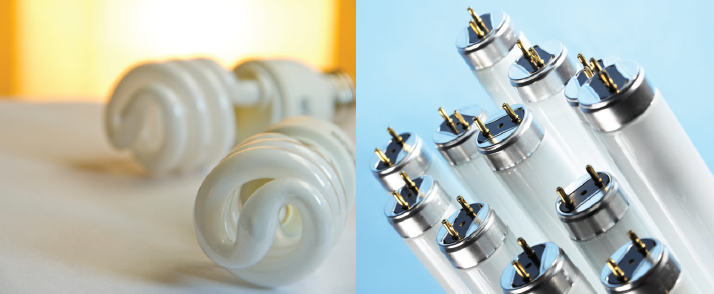 Fluorescent lights save electricity and are a good choice for energy conservation. However, all fluorescent lights contain a very small amount of mercury sealed within the glass tubing. This means the lights are toxic and can't be put in the trash.
Drop Where You Shop
Some local businesses that sell fluorescent lights will take used ones back from their customers for proper disposal. Since this service is voluntary, participating stores change.
Below are a list of current locations San Mateo County Environmental Health Services partners with that take back all sizes of fluorescent lights from residents, including compact fluorescent lights (CFLs), U-shaped and tubes up to 8 feet. Be sure to call the store for hours of operation and limits accepted before heading out.
Daly City
Home Depot
303 E Lake Merced Blvd
(650) 755-0178
East Palo Alto
Home Depot
1781 E Bayshore Road
(650) 462-6800
Pacifica
Recology of the Coast Recycling Yard
1046 Palmetto Ave
(650) 355-9000
San Bruno
Lowe's
1340 El Camino Real
(650) 616-7800
Recology San Bruno Transfer Station
101 Tanforan Avenue
(650) 583-8536
San Mateo
Home Depot
2001 Chess Dr.
(650) 525-9343
South San Francisco
Blue Line Transfer Inc.
500 E Jaime Ct.
(650) 589-4020
*Home Depot, IKEA, and Lowe's accept CFLs ONLY in very small quantities from residents.
**Outdoor Supply Hardware accepts CFLs and fluorescent tubes in very small quantities from residents.
Other Recycling Options

Curbside Collection
If you live in Daly City, Colma, Half Moon Bay, Portola Valley, or Woodside in a single-family home, you can place compact fluorescent bulbs (CFLs) only in a zip-top bag on top of your recycling bins on garbage day. U-shaped and tube lights are not accepted curbside.
San Mateo County Household Hazardous Waste (HHW) Program
Make a household hazardous waste appointment if you have other hazardous products to dispose of in addition to fluorescent lights. Only 10 fluorescent lights are allowed per appointment.
What if the Lights Break?
San Mateo County recommends these cleanup procedures, based on State and Federal EPA guidelines.
Open a window and leave the room for 15 minutes or more.
Cleanup the broken fragments.

On a hard surface: Carefully scoop up the fragments and powder with stiff paper or cardboard and place them in a sealed plastic bag. Use disposable rubber gloves if available, do not use bare hands. Wipe the area clean with damp paper towels or disposable wet wipes and place the towels or wipes in the plastic bag. Do not use a broom to clean up the broken bulb on hard surfaces.
On a rug or carpet: Do not use a vacuum cleaner! A vacuum will spread the mercury over a large area, resulting in ineffective cleanup and health risks. Instead of vacuuming, wear latex gloves and carefully clean up the fragments following the steps above for hard surfaces. Sticky tape (such as duct tape) can be used to pick up small pieces and powder.

Place all cleanup materials and bulb in a second sealed plastic bag. Place the first bag in a second sealed plastic bag. Wash your hands after handling.
Make an appointment to take the bag to a County Household Hazardous Waste Event. Call (650) 372-6200, or make an appointment online at smchealth.org/hhw.