Mental Health Services Act Update
Prop 63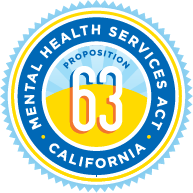 Assembly Bill (AB) 114 Update
Most MHSA funding must be spent within three years or counties are required to return unspent funds to the State of California Department of Health Care Services (DHCS). AB 114 legislation allowed Counties to submit a plan by July 1, 2018 for spending their respective funds that were subject to reversion since the inception of MHSA. A total of $4,256,155 was determined reverted as of July 1, 2017 and reallocated back to San Mateo County for AB 114 planning. Reallocated funds must be spent in the same component originally allocated to; the following is a brief summary of the San Mateo County AB 114 Plan allocations:
$3,832,545 was allocated to Innovation to pilot technology based-interventions that support behavioral health and wellness and are intended to increase access to mental health care, promote early detection of mental health symptoms and predict the onset of mental illness.
$423,610 was allocated to Workforce, Education and Training (WET) to fund the WET plan through FY 17/18 for workforce staffing, trainings for system transformation (e.g. cultural humility, trauma-informed care, sexual orientation and gender identity data collection, recovery 101, etc.), trainings by/for consumers and family members, and behavioral health career pathways. The plan also includes implementation of targeted recommendations from the 10-Year WET Impact & Sustainability Report released February 2018.
The final AB 114 Reversion Plan was presented to the Mental Health and Substance Abuse Recovery Commission (MHSARC) on May 2, 2018 for a 30-day public comment period. On June 6, 2018, the MHSARC conducted a public hearing and voted to close the public comment period with the recommendations to submit the AB 114 Reversion Plan to the Board of Supervisors for approval. The complete AB 114 Plan is available on the MHSA website, smchealth.org/mhsa.
MHSA Innovation Plan – Technology Interventions
A focus on technology-based interventions was prioritized for the AB 114 Reversion funding for the Innovation component given the following:
Unmet need – as part of the 2014-17 MHSA three-year planning and Innovation project planning process, technology-based interventions were prioritized to support three target communities: 1) isolated adults, 2) transition age youth and 3) monolingual Spanish and Chinese speaking communities. Due to capacity and challenges with the technology vendor's ability to pilot their apps with more acute BHRS clients, we did not pursue formal approval for the projects.
Opportunity – Los Angeles and Kern Counties proposed a collaborative approach to counties statewide to bring technology-based solutions to behavioral health. Specifically, a Technology Suite of mobile apps was being developed that can include peer chat and digital therapeutics, virtual evidence-based therapy using an avatar and utilization of passive smartphone data for early detection and intervention.
San Mateo County will join the County Behavioral Health Technology Innovation Collaborative, which will allow for technology interventions that are adapted to meet unique San Mateo County community needs. By joining the collaborative, San Mateo County is agreeing to contribute to a statewide pool of funds to CalMHSA, a Joint Powers of Authority, which will serve as a fiscal intermediary and in a project management role to facilitate contracting and technology development, support a shared evaluation, and maximize outreach and marketing.
In an effort to ensure the technology interventions are meaningful, accessible and relevant to San Mateo County, a comprehensive stakeholder engagement process was initiated in April and continued through May. On May 2, 2018, the MHSARC opened a 30-day public comment and on June 6, 2018 conducted a public hearing and closed the public comment period making a recommendation to the Board of Supervisors to approve the San Mateo County plan. The complete MHSA Innovations Plan is now available on the MHSA website, smchealth.org/mhsa.