Community Input Shapes MHSA Spending
Mental Health Services Act Planning Process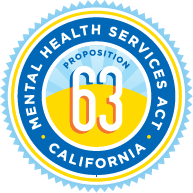 What is the Mental Health Services Act?
The Mental Health Service Act (MHSA) passed in 2004 with the vision of transforming behavioral health systems to provide state-of-the-art, effective, culturally responsive services that promote recovery, wellness and resilience. These MHSA funded services should be accessible to individuals with severe mental illness, children with serious emotional disorders and their families, and individuals at risk for behavioral health issues. MHSA imposes a 1% tax on personal income over $1 million, translating to an average of about $25.5 million for San Mateo County annually over the last five years, through fiscal year 2016/17.
How are MHSA Funds allocated in San Mateo County?
While each county can exercise some discretion to use the funds to meet the unique needs of their community, MHSA requires that money first be allocated to the following program categories which target different aspects of mental health services, each with its own set of guidelines and rules. Below shows the allocation for FY 16/17: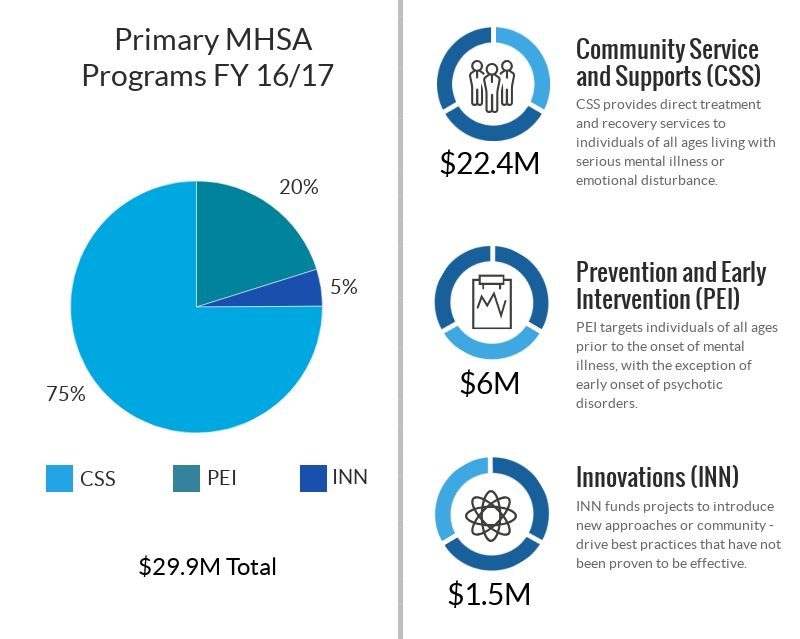 Types of Services Funded by Programs
Community Services & Supports - funds direct services to individuals with mental illness, such as the Full Service Partnerships provided through Telecare, Caminar and Mateo Lodge.
Prevention and Early Intervention - funds efforts to recognize the early signs of mental illness, reduce stigma and improve early access to services. These dollars have funded services such as San Mateo County's Crisis Hotline, Health Equity Initiatives, Suicide Prevention Committee and Mental Health First Aid training.
Innovation - is earmarked for projects that allow counties to develop new approaches to improve the quality of services and increase access among underserved communities. Total Wellness, San Mateo County Pride Center, Health Ambassador Program for Youth and the Adult System of Care Neurosequential Model of Therapeutics were all created with the support of Innovation funds and are increasing access to our services. Innovation funds provide the opportunity for counties to deliver inventive, customized solutions.
MHSA dollars are leveraged virtually everywhere in San Mateo County's BHRS system and community network of care.
See a full list of the San Mateo County MHSA funded programs and activities for FY 17/18.
Funds Subject to Three-Year Reversion
Funding for the primary MHSA components above are subject to a three-year reversion period, meaning that if the funds are not spent within three years of receipt, counties are required to return them to the state's mental health services fund, where they will be redistributed among counties in future years. All of San Mateo County's MHSA funds have been allocated and are scheduled to be distributed over the next three years, with the exception of Innovation funds (see below).
Stakeholder and Community Input Guides MHSA Spending
The process for determining how these funds are spent is deliberate and inclusive. Under current state law, the local mental health agencies must comply with a number of requirements to ensure that their spending is appropriate.
For example, state law requires each local mental health agency to prepare a three-year plan that details how it will use MHSA funds. Following a period for public review and comment by community stakeholders, the local mental health agency's county board of supervisors must approve its plans. Thus, it can sometimes take several months to complete the entire process.
Counties must first conduct an in-depth stakeholder process, known as the Community Program Planning process, to assess needs, develop strategies to meet them and determine their prioritization.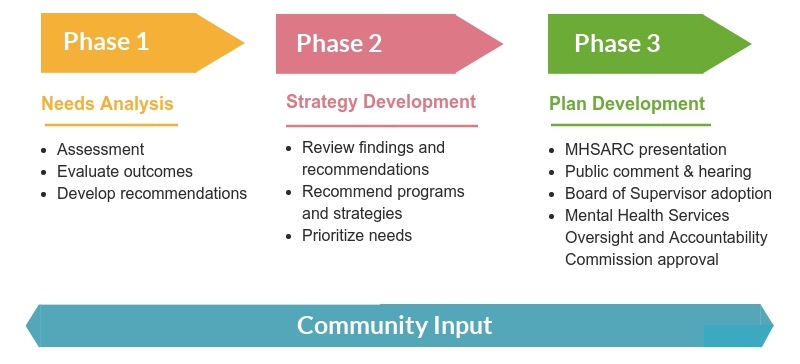 In San Mateo County, the assessment begins with gathering information through forums and town halls, from key stakeholders such as clients, family members, community members, providers and partners. The findings are presented to the MHSA Steering Committee and stakeholders, which then develop strategies to address the needs and gaps in services. The strategies are prioritized by the MHSA Steering Committing through a formal prioritization process.
The final plans are presented to the Mental Health and Substance Abuse Recovery Commission (MHSARC), who initiate a 30-day public comment period. Finally, the Board of Supervisors approves the plans and we can start putting that money to good use. In the years since MHSA implementation, we've learned that this thorough stakeholder input process takes time.
Innovation Funds Involve Longer Approval Process
Innovation funds however, are subject to an additional layer of approval, which means an even lengthier process. A call for innovative ideas is issued, requesting interesting and inventive ideas from agencies and community members. These ideas are prioritized by the MHSA Steering Committee, fleshed out into full proposals and then sent through the Mental Health and Substance Abuse Recovery Commission (MHSARC) for a 30-day Public Comment period, the Board of Supervisors for approval and the Mental Health Services Oversight and Accountability Commission (OAC) for final approval. If the proposal is rejected by the OAC, we must adjust the plan and go through the local approval process again – all while the three year-reversion clock continues to tick away. See the complete, step by step process.
If that all sounds a bit complicated, it's because it is. As noted in the recent state audit, a lack of state oversight and communication has made this process difficult for counties to understand- let alone the public.
While the state has not yet developed a process to recover reversion dollars, many counties have been left with funds that are technically subject to reversion – in particular, Innovation dollars – due to the lengthy approval process. Here in San Mateo County, a little over $3.8 million in Innovations funds are currently subject to reversion.
New Legislation Allows Utilization of Funds Subject to Reversion
Fortunately, recognizing the need for change in the approval and spending process, the State has introduced legislation enacting a one-time allowance for counties to spend funds subject to reversion. The legislation allows counties to submit a plan by July 1, 2018 to spend these funds by June 30, 2020. It also includes adjustments to streamline the approval process moving forward, including delaying the start time for the reversion clock to commence upon approval of a plan by the state, rather than when the funds are received.
While the oversight process has lacked clarity up until now, this development is encouraging. Setting the reversion time frame to begin only upon approval of plans will help us plan for the expenditure of funds within the designated time frame.
Innovations Fund to Pilot Technology Based Interventions
Given a local stakeholder prioritization of technology innovations in San Mateo County, we are looking to invest the $3.8M in Innovation funds that are subject to reversion in a statewide County Behavioral Health Technology Collaborative, which will bring technology-based solutions across the State of California, including:
Peer chat and digital therapeutics.
Virtual evidence-based therapy using an avatar.
Utilizing passive smartphone data for early detection and intervention.
A thorough stakeholder input process on these technology innovations commenced in April 2018, and a plan proposal will be presented to the Mental Health and Substance Abuse Recovery Commission on May 2 for a 30-day public comment period before submission to the Board of Supervisors for approval. Attend an MHSA Innovation Community Input Forum or learn more about the process on the MHSA webpage.
San Mateo County will continue to meaningfully engage clients, families and diverse underserved community voices in order to deliver effective services to the community.
Learn more about San Mateo County's MHSA program.