ReFuel Your Fun Program
The ReFuel Your Fun (RFYF) Program was created by the California Product Stewardship Council (CPSC) in collaboration with local government agencies and partners with the goal of reducing the use and improper disposal of single-use 1 lb. propane cylinders and their associated safety, environmental, and economic impacts. In 2017, Environmental Health Services adopted the RFYF Program in San Mateo County.
Find a retailer or outdoor 1 lb. cylinder recycling cage near you or your favorite recreational area.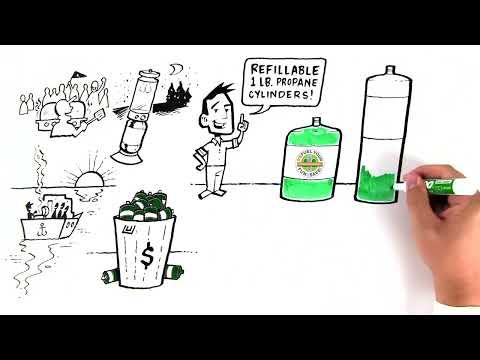 The Problem: Single-Use 1 lb. Propane Cylinders
While single-use 1 lb. propane cylinders are convenient, they are often improperly disposed of and pose serious safety risks, environmental harm, and high monetary costs to the County and residents.
Safety risks: Single-use propane cylinders are dangerous. "Empty" containers often contain a small amount of flammable gas, posing a danger to San Mateo County's sanitation workers due to the risk of explosion and resulting fires. This high risk also makes it very expensive for San Mateo County facilities to recycle and dispose of propane cylinders properly.
Environmental harm: Because of limited, expensive recycling and disposal options, empty cylinders are often discarded improperly in landfills, household trash, recreational areas, campsites, on the roadside, or in recycling containers. Additionally, it can be extremely dangerous for residents to attempt to refill their single-use cylinders, rendering them useless after all propane has been used up.
Cost: Single-use cylinders are expensive! 80% of the price you pay for a cylinder is for the packaging alone. For San Mateo County's campers, backpackers, BBQ-lovers, and general outdoor enthusiasts, the additional cost for the packaging adds up immensely over time.
Inconvenient Disposal: Single-use 1 lb. propane cylinders can be challenging to dispose of properly. Few locations accept 1 lb. propane cylinders and discarding cylinders in your solid waste bin is prohibited unless cylinders are empty and punctured (see below for instructions on how to safely prepare your empty, punctured 1 lb. cylinders for curbside pickup).
Learn more about how to dispose of used propane tanks and other hazardous waste here.
The Solution: Reusable 1 lb. Propane Cylinders
Increase safety: Sanitation workers will receive fewer propane cylinders to handle and process, reducing the accompanying risks of explosion and fire.
Reduce waste: In contrast to having to dispose of a 1 lb. single-use cylinder after just a few hours of usage, each reusable cylinder can be refilled for up to 10 years. This will greatly reduce the number of used propane containers ending up in our landfills, recycling centers, and the environment.
Save money: The initial cost of a reusable cylinder is ~$20 with refill (~$2/fill) and exchange options available. Single-use cylinders costs ~$5 and cannot be reused.
Find Your Nearest Refill and Exchange Retail Locations
Reusable Options: Transition and choose reusable! Purchase a 1 lb. propane cylinder from one of the retailers below and get it filled if purchased empty. This map also shows participating retailers across the country.
*Please be advised due to supply chain issues, cylinders may not be in stock. It is highly advised to call ahead of time to check inventory.
| City/Company | Address | Phone | Notes |
| --- | --- | --- | --- |
| San Carlos | REI | 554 El Camino Real | (650) 508-2330 | Sells empty cylinders |
| Redwood City | Sport's Basement | 1119 Industrial Road | (650) 421-7440 | Sells full cylinders, exchanges empty cylinders |
| La Honda | La Honda Country Market | 8865 La Honda Road | (650) 508-2330 | Sells full cylinders, exchanges empty cylinders |
| Loma Mar | Loma Mar Store and Kitchen | 8150 Pescadero Creek Road | (650) 879-0203 | Sells full cylinders, exchanges empty cylinders |
| Pescadero | Costanoa KOA | 2001 Rossi Road | (650) 879-7302 | Sells empty cylinders, refills empty cylinders |
| Pescadero | Pescadero Alliance | 1999 Pescadero Creek Road | (650) 879-0232 | Sells empty cylinders, refills empty cylinders |
| Woodside | Skywood Trading Post | 17287 Skywood Blvd. | (650) 851-0914 | Sells full cylinders, exchanges empty cylinders |
Find Your Nearest Disposal Locations
Local disposal locations:
Free outdoor collection cages: CPSC updates this map with recreational areas that offer free outdoor cage disposal of 1-lb propane cylinders.
Curbside option: Empty and punctured single-use cylinders can be disposed of in your curbside solid waste bin. It is essential to ensure that your cylinder is entirely empty and punctured before disposing of it.
Follow these guidelines for safe preparation:
Completely empty the cylinder by taking a stove or other compatible appliance outdoors, attaching the cylinder, and burning off any remaining gas. Keep the valve open after the flame has gone out to ensure any residual vapors escape.
Next, use the sharp, triangular point of a can opener against the cylinder's bottom rim to puncture it.
Become a Business Partner
The ReFuel Your Fun Program needs your business to help make reusable 1 lb. cylinders easy for residents to access. Help the program expand by:
Selling reusable 1 lb. cylinders – become a Flame King retailer or Little Kamper exchange partner.
Offering refill services – if you already have propane on-site, you can purchase the Flame King adapter to refill customers' cylinders.
Offering exchange services – join Little Kamper's Exchange Program.
Learn more about how to participate as a retail/refill/exchange location.
Contact Us
For questions or guidance about Environmental Health Services' RFYF business partner program or to request a presentation or site visit for your organization, book an appointment or contact the Program Coordinator, Emilie Dirck, at edirck@smcgov.org, (650) 464-7079.