2020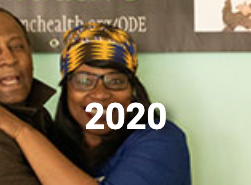 Mental Health Services Act Innovation Social Enterprise Filipino Mental Health Initiative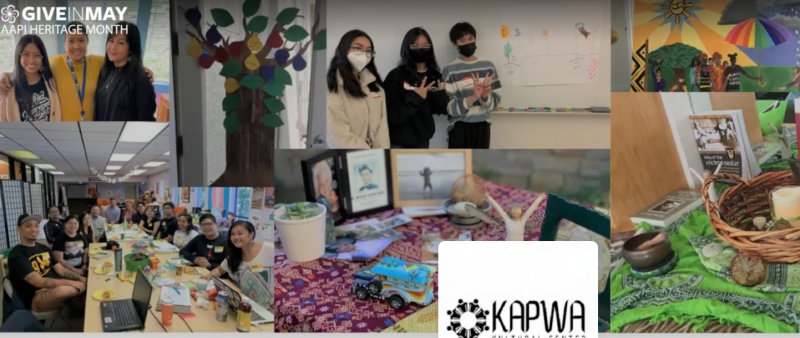 In San Mateo County, the City of Daly City has the highest concentration of Filipino/a/x Americans of any municipality in the United States, making up 32% of the population. Yet, there is limited published research on mental health challenges impacting Filipino/a/x Americans and even less literature on promising practices, especially those focused on adolescent youth. The Filipino Mental Health Initiative (FMHI), which is a collaborative of community-based partners, county staff, clients, family members and community stakeholders developed an innovation project proposal to address this need. The Innovation Project proposes a Cultural Arts and Wellness Social Enterprise Cafe for Filipino/a/x Youth that offers youth development, culturally specific educational/expressive arts engagement, and mental health programming on site. We are excited and thrilled that on August 27, 2020, California's Mental Health Services Oversight and Accountability Commission (MHSOAC) approved this San Mateo County Innovation Proposal. The entire project is rooted in cultural values of Kapwa ("togetherness") and Ginhawa ("total wellness") and the understanding that cultural identification is a key protective factor for youth. We believe this program will be an asset to our community and work to inform innovative care models in other areas.
See https://www.smchealth.org/health-equity-initiatives for more information.
Behavioral Health & Recovery Services' (BHRS) Office of Diversity and Equity, and COVID Response Report for BHRS/San Mateo County Health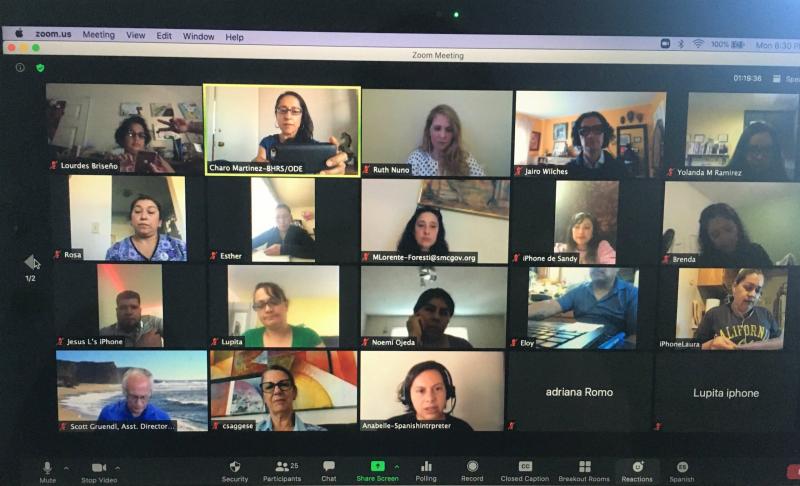 During the pandemic, the Behavioral Health & Recovery Services' (BHRS) Office of Diversity and Equity (ODE) came together with community, partnering agencies, our Health Equity Initiatives (HEI) and our workforce to offer a multitude of supports to our San Mateo County communities. One of the first things we did was convert our trainings, events, and courses to virtual platforms. This assisted in continuing to provide information and resources without any pause. Additionally, we worked quickly to provide remote interpretation services to our workforce. This was crucial in continuing care and providing behavioral health services to those we serve.
Our Health Ambassador Program hosted several online events in Spanish, such as "Familia y Bienestar Durante COVID-19" (Family and Wellness during COVID-19) and further supported our County COVID-19 response by assisting individuals in connecting to services and providing information and support during vaccination events. Our Health Equity Initiatives(HEI) also took the lead early on in providing care to our marginalized communities. Specifically, we saw collaborative events, such as the Diversity and Equity Council hosting four Community Town Hall Events; the creation of COVID-19, Race and Mental Health Public Service Announcements by our Chinese Health Initiative (CHI), Filipino Mental Health Initiative (FMHI), and Pacific Islander Initiative (PII), with each initiative gathering community input to inform our County-wide pandemic recovery efforts.
Each HEI also initiated their own events that brought culturally informed strategies and information to our work. For example, our African American Community Initiative (AACI) included COVID-19 resources and support at their yearly Black History Month event; our CHI created Xenophobia Post Cards that were translated to address community stress during the early months of the COVID-19 pandemic. Also, a coping with xenophobia virtual 6-week workshop for community members was held, and CHI supported a resolution denouncing xenophobia and anti-Asian sentiment. The FMHI began a series called Kapwa Soul Session to offer a safe and healing space to connect with others and provide tools to assist in coping during the pandemic. The Latino Collaborative (LC) supported virtual events to provide COVID-19 prevention information to our Spanish- speaking community members, and our Native and Indigenous Peoples Initiative (NIPI) supported community healing via virtual medicinal drumming/healing events. Additionally, our PII engaged in community outreach efforts to provide valuable resources and information about COVID-19 prevention. Our PRIDE Initiative (PI) supported a County-wide survey to learn about the impact of COVID-19 on our LGBTQ+ community, and our Spirituality Initiative (SI) came together to support virtual events for our Faith leaders and created a Faith Leaders vaccination support sign-off letter.
These are only a few of our ODE efforts that led to additional resources to support our workforce, partners, and community members. For example, these efforts led to a Community Priority List regarding the impact of COVID-19 in our communities, the creation of a Wellness While Physical Distancing Document and Mental Health Resource Cards, technology supports (phones, tablets, training sessions), creation of a COVID-19 response guide on community resources and much, much more.
Diversity Equity Council and Partners Race and COVID-19 Town Halls + other efforts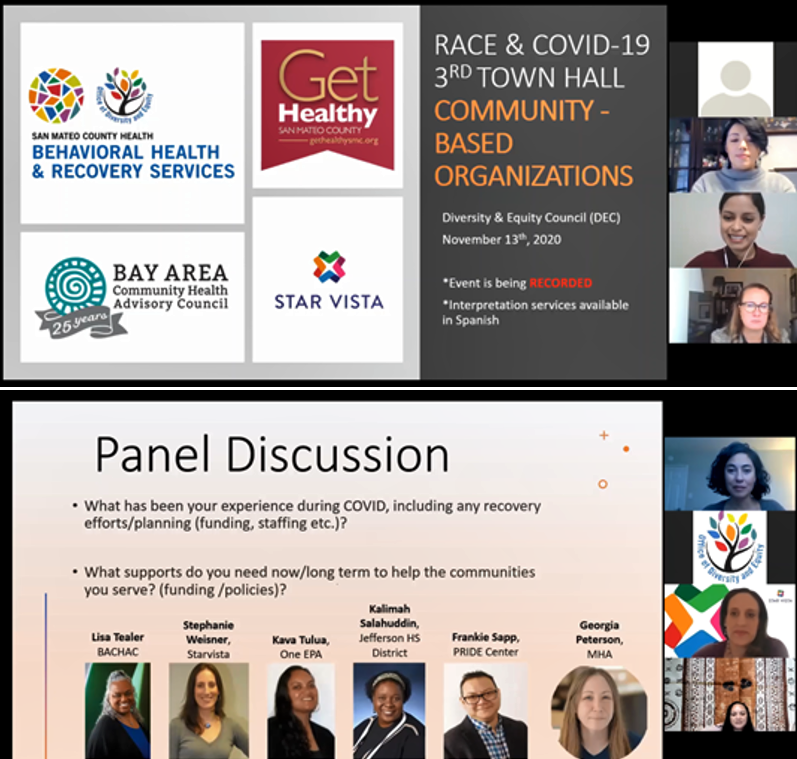 In 2020, San Mateo County Health Behavioral Health & Recovery Services' (BHRS) Office of Diversity and Equity (ODE), in collaboration with valuable partnering agencies and Health Equity Initiatives, sponsored four Race and COVID-19 Community Town Halls. The Town Halls focused on sharing County information and efforts to assist our communities during the pandemic, obtaining community input about the impact of COVID-19, building community relationships to increase collaboration, hearing from our partnering agencies on how they have been impacted, and learning from our valued communities about what their experience has been and how we can best support their needs. The Town Halls resulted in the creation of a Frequently Asked Questions document and a Community Priorities List, obtaining digital supports for our communities (tablets, phones, education resources and supports), creating Mental Health Resource Cards, assisting in distributing Personal Protective Equipment, reporting needs and community concerns to our larger San Mateo County COVID-19 recovery groups, hosting specific Facebook Lives on identified areas of needs, and most importantly, lifting the voices of those we serve, our partners, our workforce, and our larger community members.
San Mateo County approved first Indigenous Peoples' Day Resolution (Native Indigenous Peoples Initiative Initiated 10 years ago)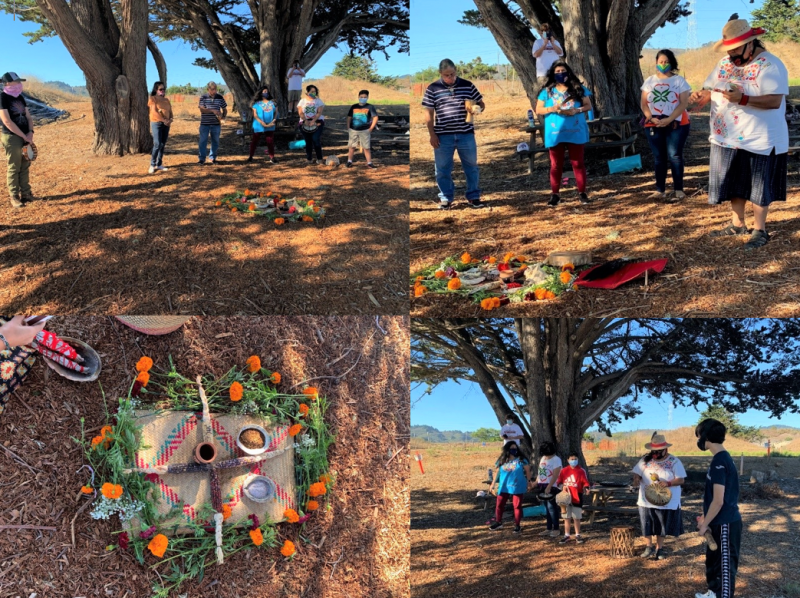 On October 12, 2020, San Mateo County (SMC) recognized its first Indigenous Peoples' Day. Our Native and Indigenous Peoples Initiative (NIPI) recognizes our SMC Board of Supervisors and our County Manager and Supervisor Carole Groom for initiating the proclamation to recognize Indigenous Peoples' Day. NIPI began collaborating with the San Mateo County Youth Commission several years prior to make this recognition possible. NIPI's mission is to bring about a comprehensive revival of the Native American and Indigenous community in San Mateo County through awareness, health education, and outreach which honors culturally appropriate traditional and healing practices. One of our objectives is to engage in outreach efforts in the community. Their work not only focuses on those who identify as Native American and Indigenous, but also increases cultural responsiveness and awareness with the non-native individuals who may interact or work with Native American and Indigenous communities. Recognizing and celebrating Indigenous People's Day will allow San Mateo County to be an ally, acting in solidarity with Native Americans and Indigenous communities throughout the San Francisco Bay Area.
Completed San Mateo County's first Community Stigma Baseline Survey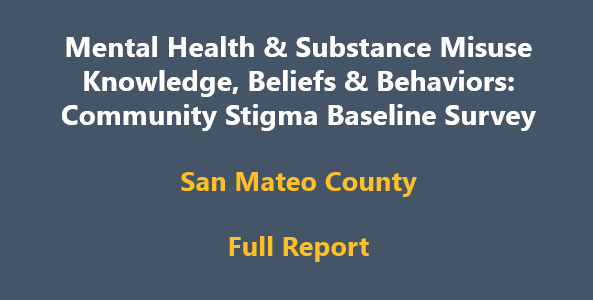 Many (if not all of us) know someone facing a mental health or substance misuse issue. However, many people do not get the help and treatment they need because of the stigma around these issues and the fear that others will judge them.
While we know stigma is a major barrier, how pervasive is such stigma in our San Mateo County community? Are our current stigma reduction programs reducing this stigma over time?
To answer these questions, the San Mateo County (SMC) Behavioral Health & Recovery Services' (BHRS) Office of Diversity and Equity (ODE) launched and completed San Mateo County's first Community Stigma Baseline Survey around mental health and substance misuse knowledge, beliefs, and behavior. The ODE commissioned an independent research firm, Strata Research Inc., to implement a baseline survey among San Mateo County residents who were at least 18 years of age. This 15-minute survey was completed by 450 residents in SMC during March 2020. This survey built off the statewide mental health stigma survey conducted by the RAND Corporation.
The Executive Summary and Full Report have more information on key findings, each domain, differences by demographics (e.g., age, gender, race/ethnicity) and general information about the survey.
See https://www.smchealth.org/sites/main/files/file-attachments/s19713_smc_stigma_baseline_full_report_05_rv2.pdf?1616216764 for more information.
Other key events in 2020
The Behavioral Health & Recovery Services (BHRS)' Office of Diversity and Equity (ODE) hosts its first ever Facebook Live, resulting in more community events of this nature. ODE updated our BHRS Language Access policy to better reflect the needs of our workforce and those we serve. The Mental Health and Substance Abuse Recovery Commission unanimously voted for a person-centered Strike Incident Message that was recommended by our Suicide Prevention Committee.