Communicable Disease Reporting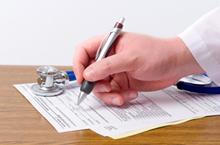 The Communicable Disease Control Program staff works around the clock to receive and respond to communicable disease reports.
Medical providers and public health professionals are legally required by Title 17 (Section 2500) of the California Code of Regulations to report suspected, lab-confirmed and clinical diagnoses of specific diseases and conditions within specified time frames. Additionally, anyone in charge of any type of school is also required to report these diseases (Section 2508), as are Laboratories (Section 2505).
Why report?
The primary objectives of disease surveillance are:
To protect the health of the public
To determine the extent of morbidity within the community
To evaluate the risk of transmission
To intervene rapidly when appropriate, to control and prevent the spread of disease
Reporting forms
Confidential Morbidity Report (CMR) Forms
Communicable Diseases/Sexually Transmitted Diseases (CD/STD) CMR
COVID-19 CMR
Tuberculosis (TB CMR)
Department of Motor Vehicles (DMV CMR)
Animal Bite Report Form
Meaningful Use
San Mateo County Health coordinates with providers who are in the process of trying to meet Stage 1 Meaningful Use requirements for Public Health reporting objectives. The Public Health aspects of the requirements are for transmission of immunization data, syndromic surveillance data, and electronic laboratory data.
Syndromic surveillance: This is under development. For more information contact Scott Morrow, Health Officer, at smorrow@smcgov.org or (650) 573-2519.
Immunization data: The web based California Immunization Registry (CAIR) receives data directly from providers and provides confirmation of successful test messages for meaningful use. This State site contains the contact information for the Bay Area regional technical support person for CAIR who can coordinate with you for use of the CAIR system. If you need further information from San Mateo County, contact Scott Morrow, Health Officer, at smorrow@smcgov.org or (650) 573-2519 or Robyn Ziegler, San Mateo County Health Immunization Coordinator, rziegler@smcgov.org or at (650) 573-2878.
Electronic laboratory and other reportable disease data: California Reportable Disease Information Exchange (CalRedie) receives data directly from providers and provides electronic acknowledgement of receipt for meaningful use. Insert link to their site. Contact Scott Morrow, Health Officer, at smorrow@smcgov.org or (650) 573-2519. To be set up to use the CalRedie system, contact the Communicable Disease Control Program at SMCCDControl@smcgov.org or 650-573-2346.
For a list of contact people for Public Health meaningful use with other California counties, visit CDPH Health Information Exchange Toolkit
Electronic Reporting of Notifiable Diseases through CalREDIE
California Reportable Disease Information Exchange (CalREDIE) is the California Department of Public Health's (CDPH) communicable disease reporting and surveillance system of record. The system is web-based and PHIN-compliant and it is used by state and local public health officials and healthcare providers. As of today, 95% of California local health jurisdictions are using CalREDIE in some capacity.
The CalREDIE Provider Portal allows healthcare providers to electronically submit Confidential Morbidity Reports (CMRs) directly to their local health department via the HTTPS secure interface. The Provider Portal can be used for all Title 17 communicable diseases that are required by law to be reported to the local health department. Case information is accessed by the local jurisdiction immediately for review and investigation. This timely reporting option provides real-time assessment of potential outbreaks and unusual disease patterns. Highlights of the Provider Portal include: easy point and click navigation; printable receipt to use as a record of the report; ability for the provider to view previously submitted reports; ability for the provider to generate reports of all submissions; and the ability for the provider to upload and store additional paperwork or files when submitting a report.
Interested providers can submit a Provider Portal account request via the CalREDIE Account Request Portal.
Failure to report or delay in reporting
Delay or failure to report communicable diseases has contributed to secondary transmission in the past. Under the California Code of Regulations, Title 16 (Section 1364.10), failure to report a communicable disease is a misdemeanor punishable by a fine of not less than $50 nor more than $1,000, or by imprisonment for a term of not more than 90 days, or both. Each day the violation is continued is a separate offense. The Medical Board of California has made failure to report in a timely manner a citable offense under the California Business and Professions Code (Section 2234), "Unprofessional Conduct."
Reportable Diseases and Conditions
List of legally reportable diseases and conditions (Section 2500)
Laboratory reporting list (Section 2505)
Unusual/other conditions for which we request reports:
Outbreaks
Severe Staphylococcus aureus infection (ICU/death) in a previously healthy person
An increase in a common syndrome occurring out of season (i.e. many cases of
influenza-like illness in summer)
An unusual age distribution for common diseases (i.e. many cases of chicken-pox
illness among adult patients who are expected to be immune to varicella)
Useful numbers
The Communicable Disease Control Program receives clinician and laboratory reports of legally reportable diseases and conditions. For all other reporting, concerns, and for clinical services, call the numbers below:
211: Dial 211 for free, confidential 24/7 help and access to local community services. Operators speak more than 150 languages
Animal Bite Reporting: Peninsula Humane Society 650-340-8200
Bat Concerns: Peninsula Humane Society 650-340-8200
Dead Bird & Squirrel Testing for West Nile Virus: CDPH 1-877-WNV-BIRD
HIV Testing Services: San Mateo County Test Van 650-619-9125
Influenza Hotline: San Mateo County 650-573-3927
Mosquito Control Problems: San Mateo County Mosquito & Vector Control District 650 344-8592
Needlestick Hotline (Consultation for clinicians, post-exposure prophylaxis hotline):
1-888-448-4911
Restaurant Sanitation Complaints: San Mateo County Environmental Health 650-372-6200
Sewage Leak: San Mateo County Environmental Health 650-372-6200
Sexually Transmitted Disease/HIV Testing and Reporting 650-573-2346
Suspected Food Poisoning Reporting: San Mateo County Environmental Health 650-372-6200
Suspected Human Trafficking: National Human Trafficking Resource Center 1-888-3733-888
Travel Immunizations: SFO International Airport Clinic 650-821-5601 (call ahead for an appointment!)
Tuberculosis (TB) Reporting: San Mateo County TB Control 650-573-2346
Unsanitary Living Conditions: San Mateo County Environmental Health 650-372-6200