San Mateo County Public Health Reporting Guidelines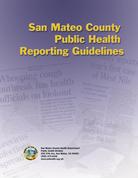 Healthcare providers are required to report communicable diseases, child or elder abuse, and other situations that are a threat to the well-being of San Mateo County residents.
The reporting guidelines and forms in this manual consolidate information on what to report, as well as when, how, and why. Public Health uses the data from the reports to respond to specific situations, to identify and track health problems, to develop local health policy and programs, and to report our findings back to you.
Thank you for helping us identify, control, and prevent outbreaks of serious illnesses in our community and improve the overall health of the public. Please contact Public Health at 650-573-2346 if you have questions. Updates to documents are noted below.
COVER PAGE, INTRODUCTION, AND TABLE OF CONTENTS
Cover Page
Introduction
Table of Contents
SECTION ONE: REPORTABLE DISEASES
SECTION TWO: SPECIFIC INFECTIONS AND CONDITIONS
SECTION THREE: SELECTED COMMUNICABLE DISEASES
SECTION FOUR: OTHER REPORTABLE CONDITIONS
SECTION FIVE: QUICK GUIDE FOR REPORTING
COMPLETE REPORTING GUIDELINES IN ONE DOCUMENT
View/Download Complete Reporting Guidelines - 109 pages, 6.39 MB