COVID-19 Vaccination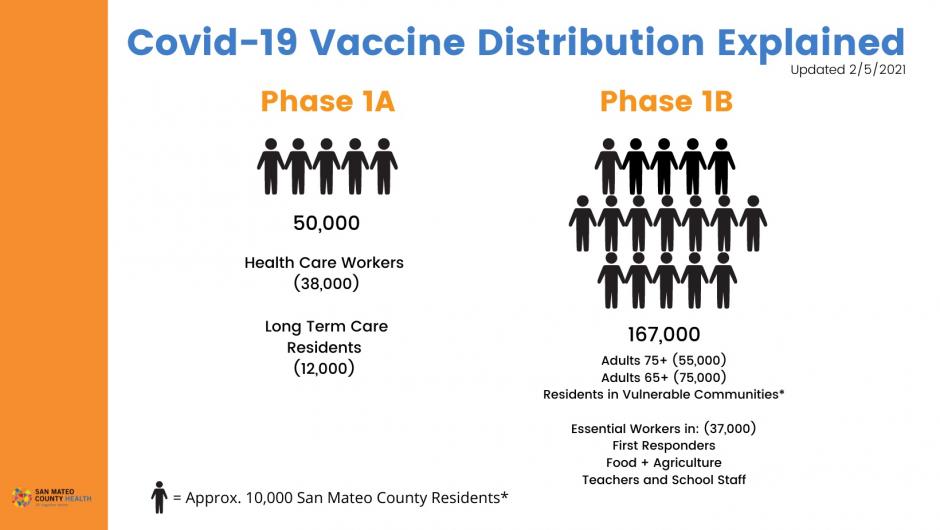 update: January 27, 2021
Vaccinating Phases 1A & 1B
As we await additional doses of vaccine, in keeping with the State's recently updated guidance, San Mateo County Health has begun to vaccinate priority 75+ and 65+ residents who receive medical care through our clinics and supply vaccine to our partners. We continue to vaccinate eligible Phase 1A health care workers and long-term care residents, as the supply of vaccines allows.
We are following State guidance about the prioritization of groups in Phase 1B, as the supply of vaccine continues to be very limited. The State's phases and tiers of vaccine recipients are outlined here.
County Health supports healthcare organizations in San Mateo County in expanding vaccine appointments to the population aged 65 and over as vaccine supply allows. Read the health advisory here. Check with your health care provider to learn if their supply of vaccine allows them to be able to offer vaccination to ages 65+.
Read San Mateo County Health's Phase 1a Vaccination Guidelines
Most San Mateo County residents will receive the vaccine from their primary care provider. Contact your health care provider for the most accurate and up to date information about when and how you can expect to receive the COVID-19 vaccine.
Blue Shield
Blue Shield members can visit blueshieldca.com/coronavirus and the Vaccine FAQ's for the latest info on vaccine priorities.
Kaiser
Kaiser members can visit kp.org/covidvaccine for the latest info on vaccine priorities and how to get a vaccine when you meet state criteria. You can also call the 24/7 recorded message hotline at 1‑855‑550‑0951 (available in English and Spanish) for regular updates. Members will receive email updates on the vaccines by registering on kp.org. For more information, visit kp.org/coronavirus.
If you're a health care worker, please complete an e-visit.
If you're age 75 or older, Kaiser will contact you directly as vaccine supply becomes available and will provide you with instructions on how to make an appointment.
San Mateo Medical Center
San Mateo Medical Center patients can click here for the latest information on how to get a vaccine when you meet the state's criteria. Patients who are over the age of 75 will be contacted by their primary care clinic as soon as the vaccine is available. Updates will be posted on the SMMC website.
Stanford Health
At this time, established 65+ patients (those who have been seen in the last 3 years) with Stanford Health Care may schedule a vaccination via MyHealth or by calling 650-498-9000.
Residents of Santa Clara County and San Mateo County over the age of 65 can be vaccinated at Stanford Health Care's locations at 2585 Samaritan Drive in San Jose, or Arrillaga Center at 341 Galvez Street in Stanford. Stanford Health Care may announce additional locations for patients who reside in these counties.
Health care workers who work in San Mateo, Santa Clara, Contra Costa or Alameda Counties or are patients of Stanford Health Care. Healthcare workers are not required to be established with Stanford to be eligible for appointments.
Due to frequent updates and expanding eligible populations, Stanford encourages patients to visit its website for the most up-to-date information.
Sutter / PAMF
Blue Shield members can visit blueshieldca.com/coronavirus and Vaccine FAQ's for the latest info on vaccine priorities. If you have selected Sutter Health as your system of care (which includes Palo Alto Medical Foundation) the website to the Sutter vaccine appointment system is www.sutterhealth.org/covid-vaccine and the phone number is (844) 987-6115. They are currently taking appointments for healthcare workers and patients over the age of 75.
Uninsured Residents
For residents without health insurance but who do have a health care provider (including patients at San Mateo Medical Center), please contact your health care provider.
For residents who do not have a provider and would like to enroll in a health plan, please click here. Health insurance is available regardless of immigration status, through a combination of Federal, State, and County programs. Call (650) 616-2002 to speak to an enrollment counselor.
Veterans
Veterans need to be enrolled with the VA in order to receive the vaccine. The VA Palo Alto is offering the Pfizer Vaccine to any VA Health Care Eligible Veteran who is 75 or older. Appointments are required (No Walk-ins). Veterans 75+ are asked to call the scheduling line at 650-496-2535 to secure an appointment.
The following links provide additional information:
Who Will Be Able to Get a COVID-19 Vaccine?
Eventually there will be enough vaccine for everyone who lives in San Mateo County, and we are laying the foundation now to make access as easy as possible. Because initial vaccine supplies will be limited, the federal government has created guidance, which California has further detailed for who will receive the vaccine and in what order.
Equity in Vaccine Distribution
San Mateo County and the state of California have made equitable distribution a key priority of local vaccine distribution. In these early phases of targeting healthcare workers and long term care residents and older adults, we are reaching the diverse residents and workers who are shouldering the highest risk of exposure. We will fully follow the State's prioritization in the early phases. In this prioritization, it's important to acknowledge that health care workers are defined by the CDC's Advisory Committee on Immunization Practices (ACIP) as paid and unpaid persons serving in health care settings; including janitorial staff, those transporting patients, and other staff who may be missed without careful consideration for an equitable approach.
Read more about our focus on equity in vaccine distribution.
How Does the Vaccine Get to People?
San Mateo County Health has partnered with the hospitals, clinics, and care facilities throughout the county to ensure they are positioned to be able to administer the vaccine to their staff/residents and now patients and members.
The majority of vaccinations in San Mateo County will be done by health care organizations. When organizations cannot vaccinate directly, a county partner will do so.
Who Will Be Next?
After health care workers and long term care residents, California has provided guidance to vaccinate older adults and some identified essential workers in Phases 1B (see the State's vaccine website here). These residents are most vulnerable and critical to our daily existence and are at highest risk of becoming infected, severely ill, or spreading COVID-19. See a graphic here.
Get Vaccine Updates / Notified When You Are Eligible
Sign up here to receive vaccine related updates, including notification from San Mateo County Health when you are eligible for the Covid-19 vaccine. This notification system is meant as an interim strategy as the State of California assembles a statewide Covid-19 vaccine notification system called MyTurn, which is scheduled to launch later in February.
Seeking Qualified Medical Volunteers
If you are licensed medical professional and would like to volunteer with vaccine distribution, please sign up via this form.