Community Service Areas
Community Service Areas (CSA) bring community members together to improve the lives of those affected by mental health and/or substance use conditions by strengthening the collaboration and coordination of services within each area. The CSAs are organized into six regions within San Mateo County to help reach people in the most meaningful ways.
Community Service Areas Make a Difference
Focus on wellness and recovery, empowering the community, family and individual.
Provide culturally sensitive and holistic access, services and supports.
Build on strengths and values unique to each community.
Coordinate services between primary care, mental health and substance use treatment to support clients' total health and wellness.
Offer same day assistance and easy, convenient access to services.
Seek ways to continuously improve the quality of mental health and substance use services in the community.
Community Advisory Committee
Each CSA is guided by a Community Advisory Committee. The Committee includes community members and service providers from diverse backgrounds who bring different perspectives to our work—such as education, health care, law enforcement, and faith-based and community based organizations. BHRS clients and family members make up the majority of the Committee.
The Committee's goal is to help individuals and families with or at-risk of mental health and/or substance use conditions access the services and supports they need in their community.
Get Involved
We need people who want to make a difference and help direct mental health and substance abuse efforts in your community.
Contact the Community Service Area Manager in your area to find out how you can participate in your local Community Advisory Committee.
Stipends are available for consumers and family members who participate on the Consumer Advisory Committee.
More Info
Download the brochure in English, Spanish, Chinese, Tagalog or
Russian for more information about the CSA's.
Community Service Areas Managers
Northwest CSA
Daly City, Pacifica, Colma
"Supporting a Vibrant Community Through our Collective Strength"
Planning Workshop - 6/20/14 Report Out
CSA Manager: Tim Holechek
Ph: (650) 301-8656
Email: tholechek@smcgov.org
Northeast CSA (coming soon)
Brisbane, South San Francisco, San Bruno, Millbrae
CSA Manager: Doug Fong
Ph: (650) 301-8620
Email: dfong@smcgov.org
Coastside CSA
Half Moon Bay, La Honda, Pescadero
"People, Planning, Progress…Coastside"
Planning Workshop - 11/8/13 Report Out
CSA Manager: Ziomara Ochoa
Ph: (650) 599-1040
Email: zochoa@smcgov.org
Central CSA
Burlingame, Hillsborough, San Mateo, Foster City, Belmont
"Live Better Together, Wellness for All"
Planning Workshop - 6/14/13 Report Out
CSA Manager: Pernille Gutschick
Ph: (650) 372-8586
Email: pgutschick@smcgov.org
South CSA
San Carlos, Redwood City, Woodside, Atherton, West Menlo Park, Portola Valley
"We are Working Together Everywhere"
Planning Workshop - 3/15/13 Report Out
CSA Manager: Diane Dworkin
Ph: (650) 372-6134
Email: ddworkin@smcgov.org
East Palo Alto CSA
East Menlo Park, East Palo Alto
"Creating Hope Out of Struggle."
Planning Workshop - 2/28/14 Report Out
CSA Manager: Carlos Morales
Ph: (650) 421-5186
Email: cmorales@smcgov.org
Background on BHRS
Redesign In early 2012, the Behavioral Health and Recovery Services (BHRS) Division engaged in a series of discussions with stakeholders to share its evolving thinking regarding how behavioral health services might be delivered in San Mateo in a shifting healthcare context. The Affordable Care Act (also known as health care reform) represents a paradigm shift for health services in the United States, with a much more integrated approach to the health and well being of individuals. This new philosophy embraces a holistic view that places high value in care coordination and integration, prevention and early intervention, data-driven interventions, cost control, quality improvement, and better outcomes. BHRS leadership continuously considers ways to improve the quality of behavioral health services and the way it is delivered in San Mateo. In 2012, the Division hosted "listening sessions" with stakeholders, offering some ideas at a highly conceptual stage about the future of behavioral health services.
Director's Message
Steve Kaplan, BHRS Director, introduces the conversation and the ideas in play in the video below. (Be sure you have the volume on your PC turned up. Click the bottom right corner of the frame to view the video in full screen).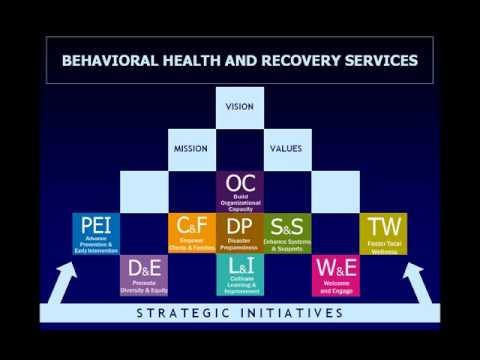 See the November 2012 Redesign Update from Steve Kaplan – after a weeklong "3P Planning Workshop" was held to conceptualize how the CSAs would work.
Resources
Listening Session Feedback
See the High level summary report – to get a sense of the themes that emerged during all listening sessions.
Frequently Asked Questions