School Share Table Program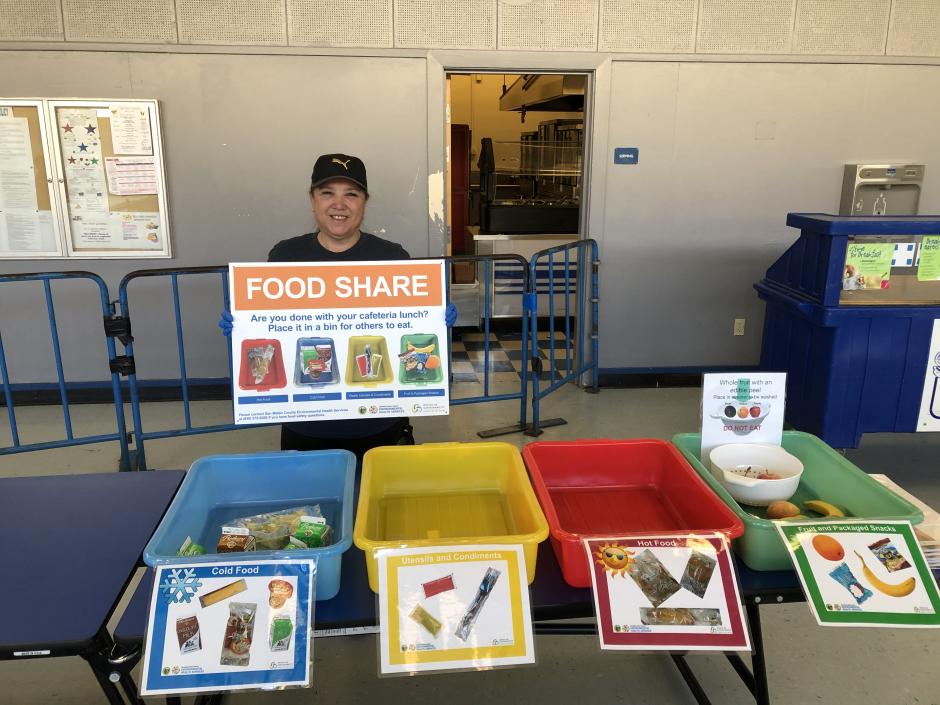 School Share Table Program Overview
The School Share Table Program is a statewide initiative to help feed students who may not have access to well-balanced meals and to reduce the amount of edible food that ends up in landfills.

Share Tables allow leftover sealed, unopened, and uneaten cafeteria food and beverages, that would normally be thrown away, to be placed on a communal table for individuals to have additional helpings or supplement meals brought from home.

Additionally, the Share Table Program helps reduce food waste by assisting schools in participating in SB 1383 and educates school communities about food waste reduction.
Environmental Health Services, in partnership with the Office of Sustainability and RethinkWaste, offers assistance to San Mateo County schools interested in participating, implementing, and maintaining the School Share Table Program on their campuses. Environmental Health Services will provide schools with staff training, student education, and a starter toolkit to help launch and maintain share tables at local schools.
Interested in Having a Share Table at Your School?
Are you a staff member, community member, or student champion interested in having a share table at your school?

Before applying to have a share table on your campus, review the School Share Table Guide and School Share Table Application & Management Plan to prepare your campus staff for adoption of the program. You may also use this slide deck to provide an overview of the purpose and scope of the School Share Table Program.
After determining the program is the right fit for your school, review the School Share Table Program launch process:
Complete a
for your campus.
Schedule an Environmental Health Services (EHS) mealtime waste audit and staff introduction meeting.
Schedule an EHS-led staff training.
Schedule a School Share Table launch.
After two weeks, schedule a follow up School Share Table check-in.
When you're ready to begin the process of launching a share table, book an appointment or contact Emilie Dirck, the School Share Table Program Coordinator, at (650) 464-7079 or edirck@smcgov.org.
Partnerships
Environmental Health Services is a part of the Sustainable and Climate Ready Schools (SCRS) Partnership Network which helps address the climate crisis and incorporates sustainability practices into local schools. Learn more about the initiative and how the School Share Table Program is participating here.