2017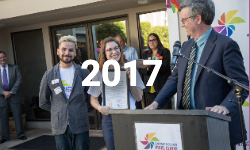 ​
Outreach Worker Program Launched (Chinese, Pacific Islander and LGBTQ+ Community)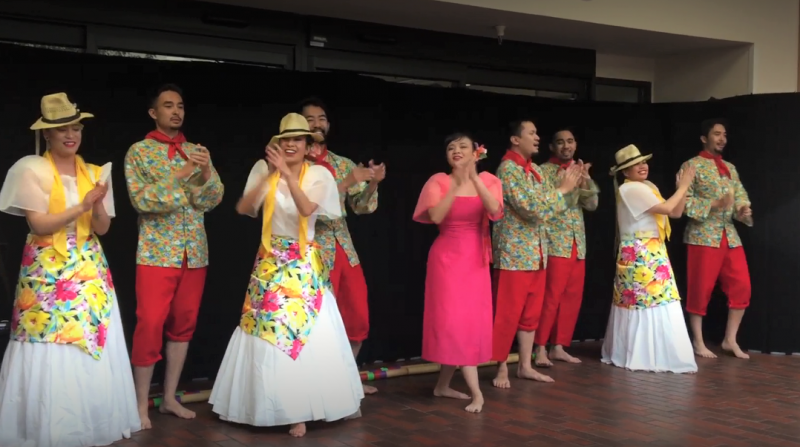 The United States Office of Minority Health informs us that mental health issues are a leading form of disability and that people from historically marginalized, and certain racial and ethnic, groups are less likely to get help for those issues. As a majority minority county, San Mateo County (SMC) is made up of people who may be more likely to experience gaps in service when they most need them. In 2017, Behavioral Health & Recovery Services (BHRS) Office of Diversity and Equity (ODE) was expanded and enriched by the addition of an enthusiastic team of community outreach workers who are dedicated to eliminating mental health stigma, reducing health inequities, amplifying community voice, and engaging with community members from the Pacific Islander, LGBTQ+, and Chinese populations within San Mateo County. As a resource, their responsibilities include creating better pathways of communication for behavioral health and recovery information, understanding community concerns and needs, and identifying gaps in services by collaborating with existing community-based entities and other agencies. Additionally, they support developing targeted outreach plans, implementing a work plan for a multi-pronged approach to create awareness, and facilitating evaluation and events.
San Mateo County Pride Center Opens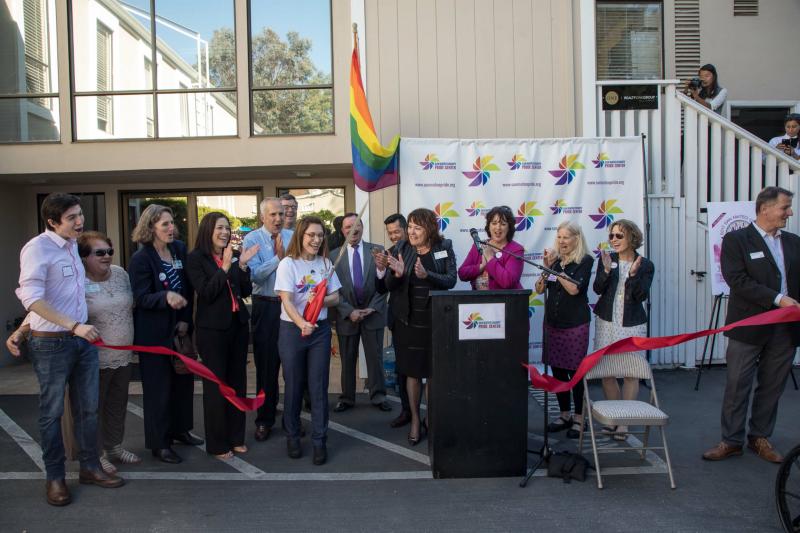 In June of 2017, for the first time, and after a decade of dedication, organizing, advocacy, and strategic partnership, the Lesbian Gay Bisexual Transgender Queer (LGBTQ+) Pride flag billowed over El Camino Real, and the people of San Mateo County at the San Mateo County Pride Center. A sense of community, joy and hope was palpable among the 500 people from multiple cultures and generations who had gathered in the parking lot of the new Pride Center. The concerted efforts of the Office of Diversity and Equity (ODE) and PRIDE Initiative members and other individuals who recognized the gaps in services and health inequities of the LGBTQ+ community made it happen. Ultimately, StarVista, Peninsula Family Service, Outlet of Adolescent Counseling Services, Daly City Partnership, and Pyramid Alternatives partnered to open the doors to provide mental health, community, and advocacy services. The opening demonstrated that the health and wellbeing of the LGBTQ+ population is a priority for San Mateo County. "Together, we are powerful, and have the ability to overcome hate and oppression as long as we are bold, take risks and stand in solidarity, centering the voices of the most harmed amongst us until each one of us is honored, seen, heard, valued and loved," said former San Mateo County Pride Center Program Director Lisa Putkey.
See https://sanmateopride.org/ for more information.
Implementation of Sexual Orientation and Gender Identity Training (SOGI)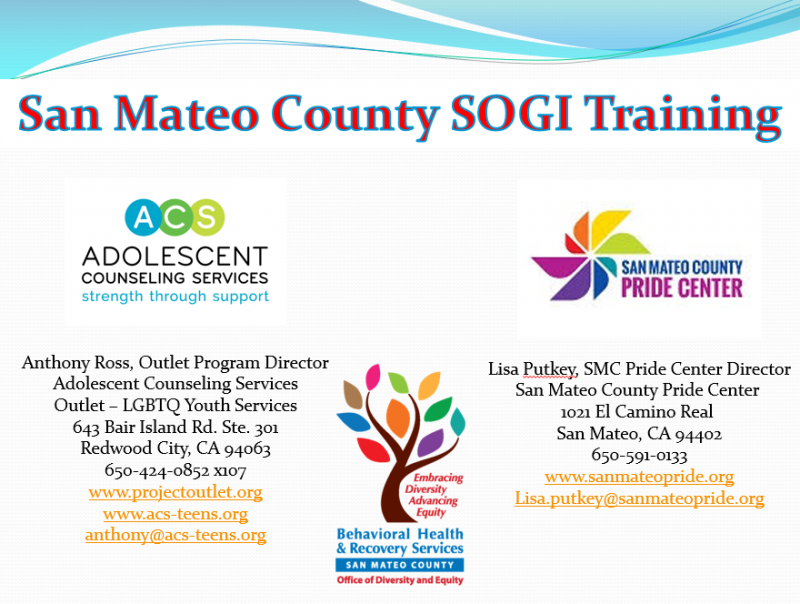 In 2017 Behavioral Health & Recovery Services (BHRS) Office of Diversity & Equity (ODE) rolled out the Sexual Orientation and Gender Identity (SOGI) training and data collection tools. The implementation process was led by the PRIDE SOGI Workgroup, that consisted of members from ODE, BHRS, San Mateo Pride Initiative, San Mateo Medical Center, Adolescent Counseling Services-Outlet Program, and the San Mateo County Pride Center. Pride Initiative members participated in not only advocating for this, but also contributed to creating the training curriculum based on how to appropriately serve LGBTQ+ clients and ask SOGI questions with cultural humility. Over a years' time 20, three-hour trainings were completed and over 600 BHRS Staff, providers and community members had been trained. This important work supported the reduction of health inequities experienced by LGBTQ+ folks by normalizing conversations about aspects of our identities that have a direct impact on our health. Currently this work is supporting the standardization of how information is collected to better serve our LGBTQ+ community and our SOGI work has been shared nationally and internationally.
ODE receives the STAR Award in the Area of Diversity and Inclusion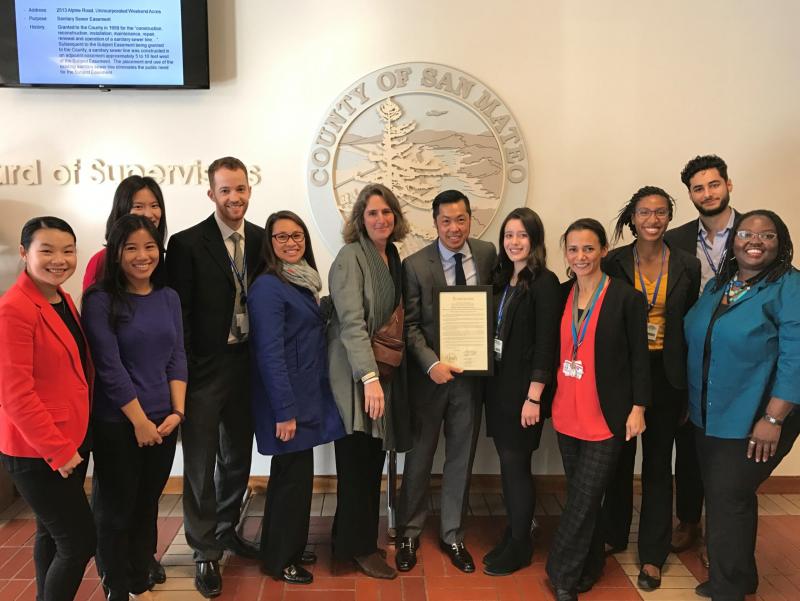 In 2006, the San Mateo County Board of Supervisors approved the implementation of the STARS Program to recognize County programs that demonstrate outstanding customer service and program performance in alignment with the County's Shared Vision. In 2016 the Behavioral Health and Recovery Services (BHRS) Office of Diversity and Equity (ODE) was awarded this illustrious honor in the category of Diversity and Inclusion. ODE was established in 2009 primarily as an information and resources hub for data sharing, training, dialogue, and collaboration in BHRS. The beginnings of ODE can be traced back to when a few Behavioral Health and Recovery Services (BHRS) staff members informally met at lunchtime to discuss diversity issues in their clinical case work. This group is now the Diversity and Equity Council, one of the key initiatives of ODE to address institutional barriers and inequities. ODE quickly grew into much more than a resources hub and now includes programs that directly address stigma, engage and empower underserved communities and provide education and other opportunities to the community to prevent untreated and inappropriately treated mental illness and substance abuse issues. Some of our services currently include Community Education, Engagement and Empowerment, Youth/Mental Health First Aid, Parent Project®, Health Ambassador Programs, stigma reduction efforts, Consultation and Facilitation, Cultural and Linguistic Accessible Services (CLAS) Planning and Provision, Diversity & Equity Council and 9 Health Equity Initiatives, Suicide Prevention, Workforce Education and Training, Residency and Intern Training, Career Pathways Program, etc.
Other key events in 2017:
Office of Diversity and Equity (ODE) starts its Government Alliance on Race and Equity (GARE) work with San Mateo County Health, hosts Cultural Humility Training with our Board and Care providers, holds Multicultural Organizational Development (MCOD) Brown Bay events, and creates Dealing with Community Stress Cards. Our Native and Indigenous Peoples Initiative holds the first San Mateo County Indigenous Peoples' Day Celebration, Youth Mental Health First Aid hosts its 100th Class, the 2017-2020 San Mateo County Suicide Prevention Roadmap is published, the Health Equity Initiatives' 10-year Impact Report is published and ODE begins its Theory of Change process.