9-1-1 Ambulance Transport Service Charges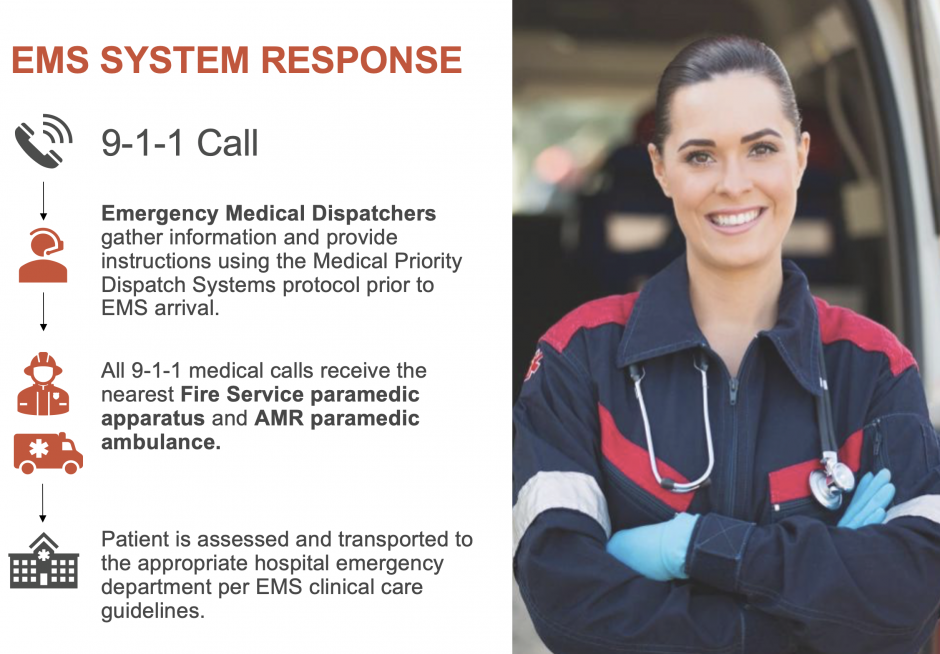 San Mateo County Emergency Medical Services Agency (EMS Agency) contracts with local fire departments (Fire Service) and American Medical Response (AMR) to provide Advanced Life Support (ALS)/Paramedic first response and ambulance transport services for all 9-1-1 emergency medical calls.
What Happens When You Call 9-1-1?
When you dial 9-1-1, your call first reaches your local law enforcement dispatch before being directed to San Mateo County Public Safety Communications (PSC) in Redwood City.
PSC's trained Emergency Medical Dispatchers (EMD) gather essential information and provide medical guidance following the Medical Priority Dispatch Systems protocol.
Simultaneously, PSC dispatches the closest Fire Service paramedic first response and AMR paramedic transport units for all 9-1-1 emergency medical calls. By design, the Fire Service paramedic(s) are generally the first on-scene and provide initial assessment and care. The AMR paramedic(s) then join, collaborating with the Fire Service to further evaluate and care for the patient. Ultimately, AMR assumes care and transports the patient to the appropriate hospital emergency department for definitive care, allowing Fire Service resources to reset.
This coordinated approach to care benefits patients and the community by ensuring faster response times – resulting in better/more effective care – while maximizing system readiness.
Performance Monitoring and Oversight
AMR and Fire Service providers abide by stringent response time standards as defined in the agreements with the County. For example, AMR is mandated to respond to 90% of urban-located emergency calls in 12:59 minutes or better for each zone. Response time and clinical performance standards for all providers are independently monitored and enforced by EMS Agency on a continuous basis.
Ambulance Service Charge
AMR charges for services in accordance with the fee schedule below. The AMR service charge covers the complete EMS system response for a given 9-1-1 medical call, including but not limited to:
Emergency medical dispatching by PSC
Fire Service paramedic first response
AMR paramedic ambulance response and transport to the appropriate hospital emergency department
EMS system clinical review and oversight by the EMS Agency
Information and technology maintenance and support
Upgrades to EMS system equipment and infrastructure
| | | |
| --- | --- | --- |
| User Fees – 9-1-1 EMS System | Jul 1, 2022 – Jun 30, 2023 | Jul 1, 2023 – Jun 30, 2024 |
| Base Rate | $3,106.25 | $3,413.77 |
| Per Mile | $77.52 | $85.19 |
| Night | $299.94 | $329.63 |
| Oxygen | $299.94 | $329.63 |
| 12 Lead Cardiac Monitor | $309.14 | $339.74 |
| Clinical Care EMS Technology Fee | $1.91/mile | $2.10/mile |
| Treat, Non-transport rate | $0.00 | $0,00 |
| Medical Supplies | | |
| Glucometer Supplies | $61.58 | $67.68 |
| IV Intravenous Supplies | $91.06 | $100.07 |
| ECG Electrodes | $65.77 | $72.28 |
| Universal Precautions | $121.47 | $133.50 |
What does Insurance Cover?
Insurance payments for ambulance transportation vary from policy to policy. Ambulance charges may not be covered if deemed by your insurance to be medically unnecessary. It is important to review your insurance policy so that you understand what your insurance will cover in your benefits plan.
Information on Medicare
Medicare will only reimburse for ambulance service deemed "medically necessary". Occasionally, seniors are surprised to find payment denied by Medicare, making the patient responsible for the ambulance bill. HICAP is an advocacy group that can assist seniors dealing with Medicare. Contact the San Mateo County Health Insurance Counseling and Advocacy Program (HICAP) at (650) 627-9350.
Who do I contact with a complaint or compliment?
Questions, concerns, or compliments regarding service or billing may be directed to the local AMR Office at (650) 235-1249.
For general insurance, billing, or payment questions please contact the main billing office first at:
AMR Patient Business Service Office Attention Customer Service
4701 Stoddard Ave. Modesto, CA 95356
Link to AMR Patient Billing Portal
You may also contact the San Mateo County EMS Agency with any question, concern or compliment at: