Senior Scams
How to protect yourself from fraud and resources for victims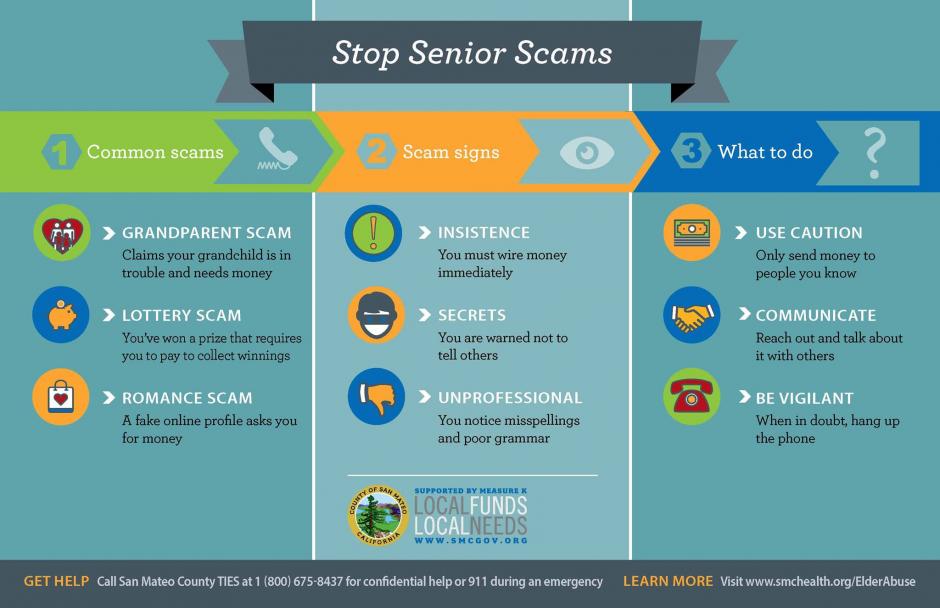 Did you know that a recent report from TrueLink Financial revealed that seniors lose almost $13 billion dollars a year to financial fraud? Much of this comes from cons, scams and identity theft.
San Mateo County wants to help you protect your money from fraudsters! Explore this page to learn more about common scams and resources for victims.
If you suspect someone you love is being abused, financially exploited or neglected, please call San Mateo County's TIES Line at 1-800-675-8437 to speak to a trained staff member 24 hours a day, 7 days a week. All calls are confidential.
Safety Highlight: DNA Test Kits + Medicare
The Federal Trade Commission recently notified us about a new scam where fraudsters are promising seniors DNA test kits paid for by Medicare in exchange for their Medicare billing information. See the FTC notice below:
"The FTC is getting reports that callers claiming to be from Medicare are asking people for their Medicare numbers, Social Security numbers, and other personal information…in exchange for DNA testing kits. The callers might say the test is a free way to get early diagnoses for diseases like cancer, or just that it's a free test, so why not take it? But the truth is, Medicare does not market DNA testing kits to the general public.
This is yet another government imposter scam. In this example, as in others, scammers may give what seems like a believable explanation for needing your information. But before you give anyone your personal information or a swab from your cheek, consider these tips to help you spot and avoid these kinds of scams:
Government agencies will rarely, if ever, call you. If they do, it will be after they send you a letter – or to return a call you made to them. But anytime the "government" caller demands information (or payment by wire transfer or gift card), that's a scam.
Don't trust caller ID. Scammers use technology to hide their real number, but show one that seems legit. So if the caller ID shows a 202 area code, or says "government" or "Washington, DC," don't take that at face value. It could be anyone calling from anywhere.
Never give anyone who calls or approaches you out of the blue information like your Medicare, bank account, credit card or Social Security number. Scammers can use your information, steal your identity, get credit in your name and take your money."
If you have been a victim of a scam, please call San Mateo County's Adult Protective Services at 1-800-675-8437 or your local law enforcement.
Common Scams
Technology Scams
One of the most popular scams affecting seniors in San Mateo County involves fraudsters acting as computer techs reaching out to consumers claiming that their devices are infected with viruses – and for a small fee paid immediately, the fraudsters can remove those viruses.
Most commonly, the fraudsters reach out to consumers by calling them over the telephone, but sometimes, this scam involves a pop-up window when surfing the internet or an email from a sender that looks trustworthy.
If you are in receipt of an urgent phone call about removal of a virus on your computer, do not believe them! Do not share any personal information with the caller, including your social security number, credit card number or checking account number. Be wary if the "computer tech" wants payment via a wiring service (like Western Union or Moneygram) or through the purchase of gift cards (usually Apple Music/iTunes or Amazon.com).
If you receive a pop-up message on your computer, ignore the message and close the browser if you can. Be sure to run your antivirus software.
If you receive an email, do not click on any links embedded in the email and delete it immediately.
Reach out to law enforcement or Adult Protective Services (1-800-675-8437) if you have been a victim of this scam.
Government Representative Scams
Another common scam affecting San Mateo County's seniors involves fraudsters posing as representatives of legitimate government agencies or business entities, and asking for outstanding fees or payments to be paid immediately.
These scammers commonly represent themselves as employees of government agencies like the Internal Revenue Service, Social Security Administration, immigration services, or the local county courts. There have been other cases when the fraudsters have claimed associations with local utility companies or other well-known businesses.
It is a scam if the person on the other end of the phone asks you to pay a fee or bill via credit card, gift card or money wire urgently in order to resolve an outstanding debt.
Do not answer the phone unless you know who is on the other line.
Be suspicious if a person reaches out to you via a phone call claiming that they are conducting government business on behalf of a federal agency – these entities will frequently reach out via a letter from the United States Postal Service or other legitimate mail delivery service.
A legitimate government agency will never ask you to make a payment immediately via a gift card or money wire. Hang up on these calls immediately.
Reach out to law enforcement or Adult Protective Services (1-800-675-8437) if you have been a victim of this scam.
Grandparent Scam
A popular scam often attempted on San Mateo County's seniors involves contact from a person claiming to be a younger relative who is stuck abroad and needs money immediately in order to get home. Often referred to as the "grandparent scam" or the "stuck abroad" scam, seniors are contacted via phone, email or social media from a loved one claiming to be in jail in a foreign country (and in need of bail money), or recently robbed of their wallets and personal items or otherwise unable to access funds (and in need of money to travel home).
They ask the senior to wire money or buy gift cards in large amounts in order to help them get home.
It is scary whenever someone claims a loved one is danger – and that is exactly why this scam is so successful. Our first instinct is often to send money immediately in order to help our relative, friend or loved one.
If you receive a phone call, social media message or email, stop and breathe for a moment.
Do not make available any of your personal information to the caller, including credit card number, checking account number or social security number.
Be very suspicious if the person on the other end of the phone immediately asks you for money or if they do not identify themselves by name (for example, calling themselves "your grandson" vs. "William").
Make contact with your relative as soon as possible or reach out to another relative to straighten out facts.
If you feel a threat persists, call the police.
Reach out to law enforcement or Adult Protective Services (1-800-675-8437) if you have been a victim of this scam.
Charity Scams
In light of recent natural disasters, there have been a flood of donations to help the victims. Unfortunately, scammers have also been trying to take advantage of good people who want to assist in recovery efforts.
Do your research before donating to any organization that claims to assist victims of natural disasters by checking them out on reputable charity watchdog sites like Charity Navigator or GuideStar.
Do not donate to any organization that reaches out to you first via social media, email, a phone call or mail.
Be wary of fundraising via crowd funding websites because it is difficult to ensure that the money goes to the named charity or person in need.
Reach out to law enforcement or Adult Protective Services (1-800-675-8437) if you have been a victim of this scam.
Resources
Stop Telemarketers
Some solicitation calls are more a nuisance than an attempted theft or scam. Here are some ways to stop junk calls.
(Note: Many scams are conducted via telephone conversations with seniors. Scammers are trained in using the right language so that they come off as trusting and knowledgeable. These tips help with solicitors calling on behalf of legitimate business entities.)
The best way to stop telemarketing calls is to not answer the phone.
Let any phone calls from blocked or unidentified numbers roll to voicemail. If the message is from someone you know, call them back at the phone number you know you can reach them.
Make sure all of your phone numbers (landline, cell phone, business line, fax line, etc.) are registered on the Do Not Call List administered by the Federal Trade Commission.
Hang up on anybody that claims to be from a government entity and asks you pay a fee or debt immediately.
Hang up on anybody who claims that you have won a lottery prize or sweepstakes, or asks for a charitable contribution.
For more information on telemarketing fraud, please visit the Federal Bureau of Investigations' Telemarketing Fraud Safety Page.
AARP Fraud Watch Network
This arm of the legendary AARP provides information on steps that you can take to protect yourself from fraudsters, while keeping you notified about scams happening in your backyard courtesy of their Scam-Tracking Map. Additionally, AARP's Fraud Watch Helpline (877-908-3360) is available for seniors who have questions about potential scams, and provide advice if you have been victimized.
Check them out at this link and sign up for their Watchdog Alerts via email to learn about the latest in scam prevention strategies.
US Senate Special Committee on Aging Hotline
Did you know that the United States Senate Special Committee on Aging has a fraud hotline where you can report if you or a loved one has been a victim of fraud?
Call 1-855-303-9470 to talk to their staff of trained investigators weekdays from 9am to 5pm Eastern Standard Time. You can also make a report online via this online form.
Click here to read the United States Senate Committee on Aging's 2018 Fraud Book to learn more about the top 10 common scams affecting our nation's seniors.