Upcoming AACI Events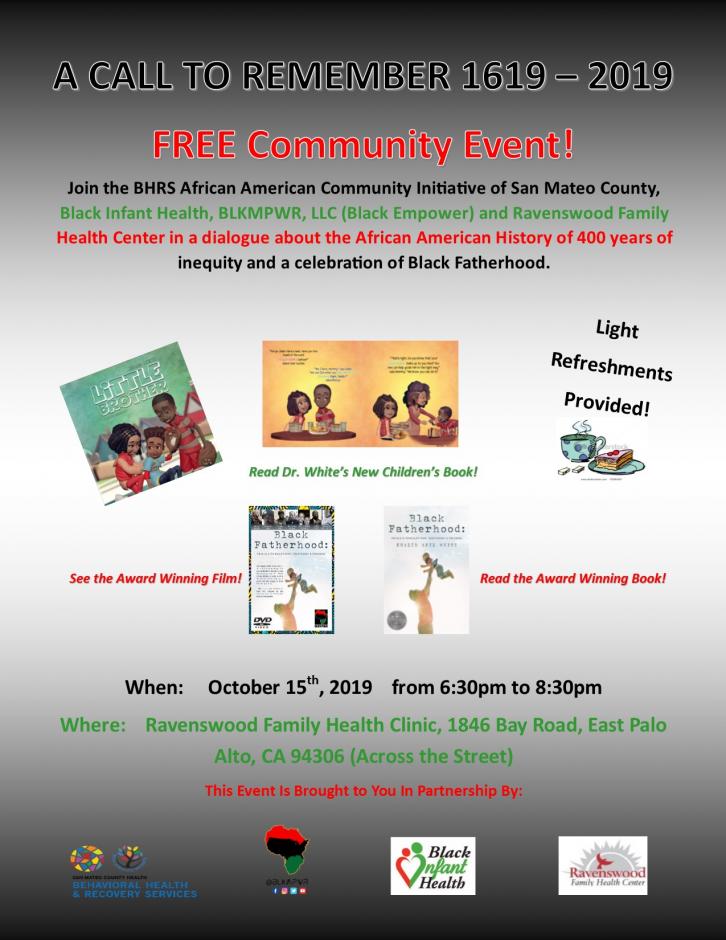 African Americans and the Vote – 02/15/2020
Please join the Behavioral Health and Recovery Services' African American Community Initiative (AACI) of San Mateo County and the City of Daly City On Saturday, February 15, 2020 at Doelger Café – 101 Lake Merced Blvd, Daly City from 12:00pm to 3:00pm This year, 2020, we stop to focus on the national theme "Black Americans & the Vote" which marks the sesquicentennial of the 15th Amendment (1870) and the right of Black men to the ballot after the Civil War. This year, 2020 also marks the centennial of the 19th Amendment and the culmination of the women's suffrage movement. This is a free event for all, lunch will be provided.
Intergenerational Community Dinner – Black Queer Pride
In honor of Black History Month The African American Community Initiative & San Mateo County Pride Center are hosting an Intergenerational Community Dinner where you will have a chance to learn how present day pop culture and other historical moments have been influenced by Black Queer Pride. This is a free event and Light refreshments will be provided. Wednesday February 26th, 2020 from 6:00pm to 8:00pm at the San Mateo County Pride Center, 1021 S. El Camino Real, San Mateo, CA 94402. Please RSVP at https://tinyurl.com/BHMdinner2020 to ensure we have enough food.
Black Queer Identities
Have you ever thought about who coined the term "Slay", "Black Girl Magic" and other urban phrases? Join us for this two hour workshop where you will learn about these phrases, have some discussion about racism, systemic Issues, culture, stigma and Black Queer Identities. Thursday, February 20th, 2020 from 12:00pm to 2:00pm at the Barbara E. Mouton Center, 903 Weeks St., East Palo Alto, CA 94303
Redwood City Parks Black History Month Event
"Together We Rise" A cultural experience with entertainment provided by Diamano Coura West African Dance Company and enjoy Waffle Amore and Gorilla Zillas food trucks. Get information about college, housing, internships, job opportunities and more! Friday February 21st, 2020 from 6:00pm to 9:00pm at the Veterans Memorial Senior Center, 1455 Madison Ave., Redwood City, CA 94063. Please visit www.redwoodcity.org for more info.
The African American Community Initiative has established a partnership with the African American Community Health Advisory Council (AACHAC). Since 1995 the African-American Community Health Advisory Committee has been working with businesses, corporations, community-based organizations, health educators and the faith community to create an awareness of the major health concerns affecting African-Americans and to actively seek and promote a more healthful lifestyle.