Safe Medicine Disposal Sites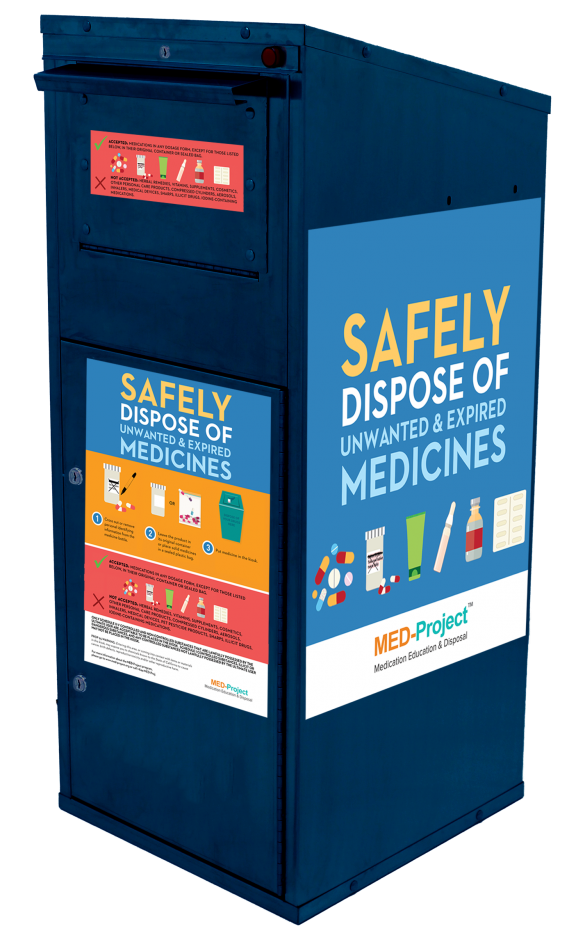 San Mateo County has new medicine disposal locations! These new sites will take most medicines in any dosage form including prescription, nonprescription, brand name and generic drugs at no cost to residents. Vitamins do not need to be put in the disposal bins and can be placed in the trash. The requirements of San Mateo County's Safe Medicine Ordinance are operated by MED-Project, a producer-funded organization dedicated to responsible medicine disposal and implementation of the Ordinance.
By taking your old medicines to one of the following kiosk drop-off locations, you'll protect the environment, prevent overdoses and errors, and help keep drugs away from kids and teens.
How to Prepare Medicine for Disposal
Dump unneeded pills into plastic baggies. It's OK to use one bag for different types of pills.
Peel off or black out the labels on pill containers and recycle the containers at home.
Keep liquids, creams and gels in original packaging.
If you have sharps, please dispose of them at a designated sharps drop off location.
See below for a list of current safe medicine disposal sites. Please contact locations for hours of operation.
Belmont
Belmont Police Department
One Twin Pines Lane
(650) 595-7400
Brisbane
Brisbane Police Department
50 Park Place
(415) 467-1212
Broadmoor
Broadmoor Police Department
388 88th Street
(650) 755-3838
Burlingame
Burlingame Police Department
1111 Trousdale Drive
(650) 777-4100
Walgreens*
260 El Camino Real
(650)–342–2977
Daly City
Chinese Hospital Pharmacy
386 Gellert Boulevard
(650) 761-3500
Daly City Police Department
333 90th Street
(650) 991-8119
Kaiser Pharmacy
395 Hickey Blvd, 1st Floor
(650) 301-5788
NEMS-Eastmoor
211 Eastmoor Avenue
(650) 550-3923
East Palo Alto
Probation Department – East Palo Alto
2415 University Avenue
(650) 363-4243
Drew Pharmacy
2111B University Avenue
(650) 321-1449
East Palo Alto Police Department
141 Demeter Street
(650) 853-3160
Half Moon Bay
Half Moon Bay Sheriff Substation
537 Kelly Avenue
(650) 726-8288
Half Moon Bay Pharmacy
40 Stone Pine Road
(650) 726-5542
Hillsborough
Hillsborough Police Department
1600 Floribunda Avenue
(650) 375-7400
Menlo Park
Menlo Park Police Department
701 Laurel Street
(650) 330-6300
Millbrae
Millbrae Police Department
581 Magnolia Avenue
(650) 259-2300
Walgreens (NEW!)*
45 S. El Camino Real
650-697-3970
Moss Beach
North Coast Moss Beach Sub-Station
500 California Avenue
(650) 573-2801
Pacifica
Pacifica Police Department
2075 Coast Highway
(650) 738-7314
Redwood City
Kaiser Birch Building Pharmacy
910 Marshall Street
(650) 299-2478
San Mateo County Sheriff's Office
400 County Center, 3rd Floor
(650) 216-7676
Probation Department – County Center
400 County Center, 5th Floor
(650) 363-4244
Redwood City Police Department
1301 Maple Street
(650) 780-7100
San Bruno
Kaiser Bayhill Pharmacy
801 Traeger Avenue
(650) 742-2000
Kaiser Pharmacy
901 El Camino Real
(650) 742-1388
San Bruno Police Department
1117 Huntington Avenue
(650) 616-7100
San Carlos
San Carlos Police Department
600 Elm Street
(650) 802-4277
San Mateo
Kaiser Pharmacy
1000 Franklin Pkwy W, Floor 1
(650) 358-7114
Probation Department – Youth Services
222 Paul Scannell Drive
San Mateo Medical Center Pharmacy
222 W 39th Ave
(650) 573-2222
San Mateo Neighborhood Pharmacy
9 37th Avenue
(650) 827-5277
San Mateo Police Department
200 Franklin Parkway
(650) 522-7710
Walgreens (NEW!)*
4070 S. El Camino Real
650-212-4600
South San Francisco
Kaiser Pharmacy
1200 El Camino Real
(650) 742-2000
Probation Department – SSF
1024 Mission Road
(650) 877-5411
South San Francisco Police Department
33 Arroyo Drive
(650) 877-8900
Sunshine Center Pharmacy
1166 Mission Road
(650) 589-4133
Walgreens (NEW!)*
399 El Camino Real
(650)-697-3970
Up-to-date list of drop-off kiosk sites and mail-back envelope distribution locations can be found here.
*These collection kiosks are operated independently and are not part of the MED-Project medicine collection program.
updated 8/1/2017