Our Residents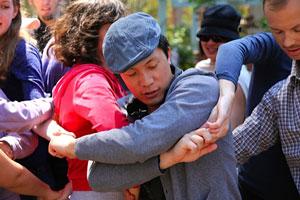 Our community of residents is the heart and soul of our program. We see our residency not only as a communal forum for learning but also as the spring board for each resident's individual professional growth. We care about the well-being of our residents, and do our best to ensure they are heard and respected. Residents learn together through small work groups and, as they become more senior, in sharing their knowledge by teaching junior residents. Ultimately, we hope to foster a bond between residents that will continue long after their training days in San Mateo are over.
The residents who enter our program are committed to public psychiatry and to making a positive impact on the lives of their patients, on our system, and on the field of psychiatry. They are self-starters and have had diverse life experiences that have led some to pursue advanced degrees such as MPH, MBA, and MA among others.
While in training, our residents are often involved in organizational psychiatry and attend a variety of psychiatry conferences. In addition, several residents have held fellowships from the APA. In the 2019-2020 academic year, three residents were awarded Funded APA/SAMHSA Minority Fellowships. In the 2020-2021 academic year, one resident was awarded a Funded APA/SAMHSA Minority Fellowship and in the 2021-2022 year, one resident was awarded the single, inaugural APA Edwin Valdiserri Correctional Public Psychiatry Fellowship. This academic year, 2022-2023, two residents were awarded Funded APA/SAMHSA Minority Fellowships for community projects addressing health inequities.
Our program aims to graduate residents who will work in public psychiatry settings and with underserved communities. Many of our residents have gone on to fellowships in Public Psychiatry, Child and Adolescent Psychiatry, Forensics and Addiction among others. Many of our residents continue to be involved in the residency program community as mentors and supervisors. Of the class of 2022, two of our residents fast-tracked into Child and Adolescent Psychiatry Fellowship at Stanford, one resident matched into the UCSF Addiction Psychiatry Fellowship, and one resident was hired by the Whiting Forensic Service in Connecticut.
Current Residents