2023 Native American Heritage Month Gathering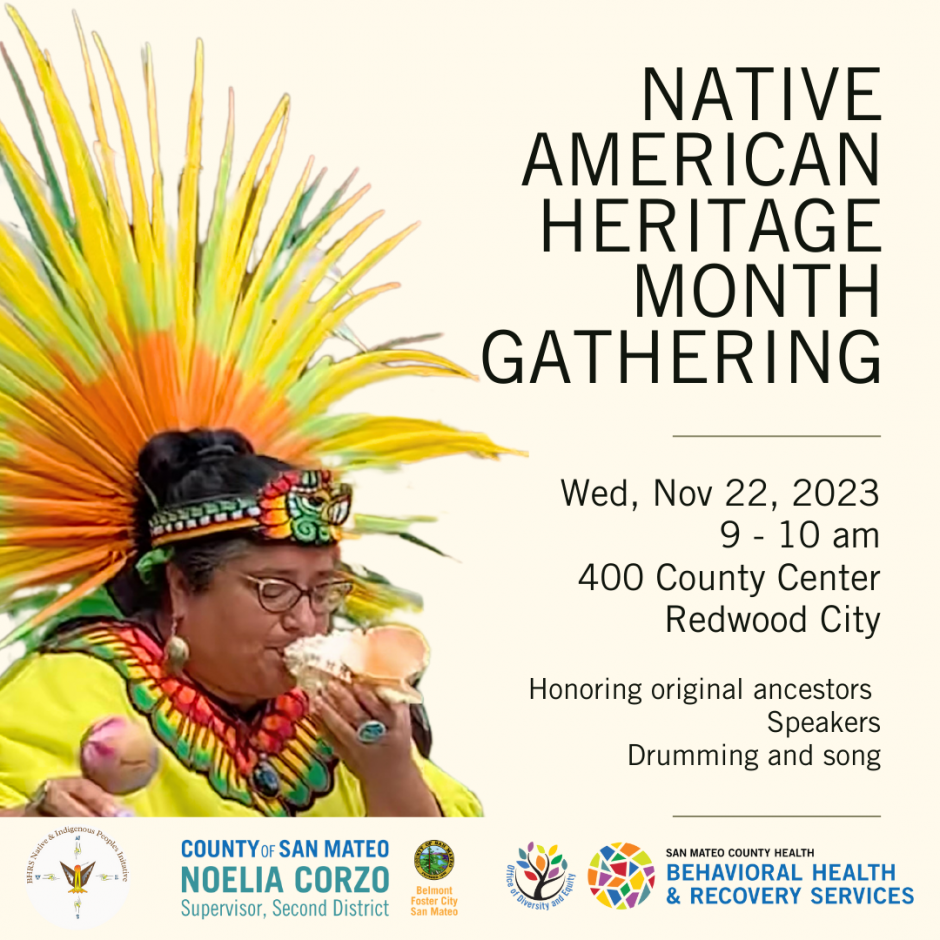 BHRS' Native & Indigenous People Initiative (NIPI) is honored to welcome each of you and announce that November is San Mateo County Native American Heritage Month! This observance commemorates our native peoples' histories and cultures; it leads to a deeper understanding and appreciation for us to learn and value all parts of our communities. Recognizing and celebrating Native Heritage Month allows San Mateo County to be an ally, acting in solidarity with Native Americans and Indigenous communities throughout the Bay Area.
NIPI is one of nine Health Equity Initiatives within the Behavioral Health & Recovery Services Office of Diversity & Equity, NIPI's mission is to bring about a comprehensive revival of the Native American & Indigenous community in San Mateo County through awareness, health education, and outreach which honors culturally appropriate traditional and healing practices. Their work focuses on those who identify as Native American and Indigenous and increases cultural competence and awareness with the non-native individuals who may interact or work with Native Americans.
Native Americans face unique health challenges, from having the highest rates of asthma, diabetes & heart disease among any ethnic group to persistent barriers to health care and insurance. Additionally, many suffer from a scarcity of resources and data on a broad range of health topics including cancer, suicide and mental health issues.
NIPI is committed to promoting the respect for, and well-being of its Indigenous and Native American community in San Mateo County and to honoring its rich history and significant impact.

NIPI also honors and acknowledges the Muwekma Ohlone, Ramaytush Ohlone and Tamien Nation and people who were the first to inhabit and care for our San Mateo County lands.
Join the monthly NIPI meetings on the 3rd Thursday of every month, 8:30 am – 10:00 am.   Please contact Gloria Gutierrez at ggutierrez@smcgov.org for details.
For NIPI's meeting schedule visit here.