Working Together to Prevent Suicide
70 percent of suicides are among working age adults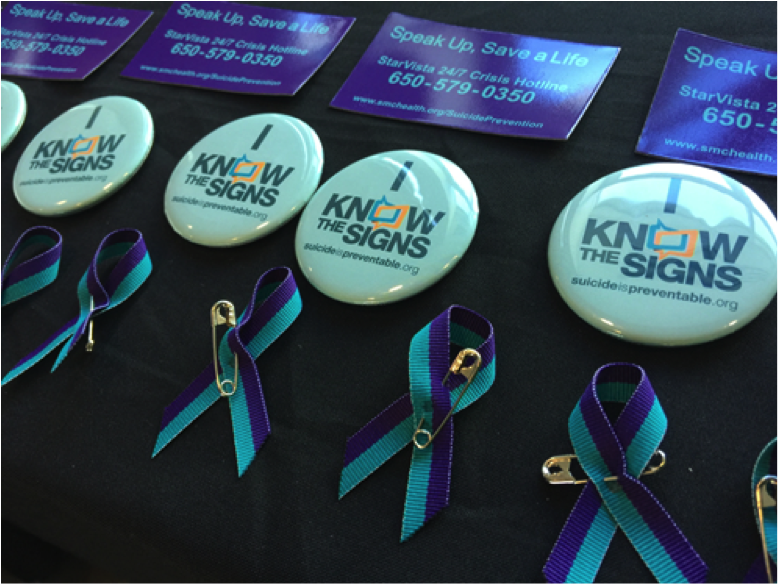 As we were preparing for this important issue of Wellness Matters, highlighting our Suicide Prevention efforts here at BHRS, we lost a dear colleague to an apparent suicide. We struggled, given this tragic event, with whether to cover suicide prevention and the work that continues in San Mateo County in this issue. We made the decision to run the articles to ensure that the important information in this issue is distributed widely throughout San Mateo County. As we are dealing with the aftermath of the loss of our colleague, we trust that you will help spread the word about what we are doing by engaging with your friends and family and encouraging everyone to take part in our efforts. Thank you.
September is Suicide Prevention Month (SPM), which includes Suicide Prevention Week, from September 9 to September 15, and World Suicide Prevention Day on September 10. This month, individuals and organizations around the country join their voices to broadcast the message that suicide can be prevented, and to reach as many people as possible with the tools and resources to support themselves and those around them. This year's theme is "Working Together to Prevent Suicide."
Approximately 70 percent of suicides are among the "sandwich generation," working age adults. They are so busy taking care of children and often aging parents and relatives, that taking time for themselves is a luxury few feel they can afford. Concerns about finances, marital and family problems, and simple exhaustion can feel overwhelming.
It can be a challenge to reach working age adults. Where they live, play and work vary widely. However, most will spend a significant portion of their day at work. The workplace offers an excellent opportunity to offer a lifeline to those in distress.
Supportive environments make healthy choices easier. The following actions can help create a supportive environment wherever you work, live and play. These steps are geared toward workplaces, but they can broadcast a message of help and hope in any environment.

Learn How to Save a Life
You can take one of the below trainings to learn how to identify if someone is suicidal, have a conversation with them and refer them to appropriate resources. You can also learn online at suicideispreventable.org.
Question, Persuade, Refer (QPR) Training - Contact Sylvia Tang, 650-578-7165
Mental Health First Aid (MHFA) - For those serving adults or youth. Contact Natalie Andrade, 650-372-8548
Applied Suicide Intervention Skills Training (ASIST) - Contact Elise Cabilatazan, 650-773-2610
Share Crisis Hotline Resources
These are key crisis hotline resources that would be good to have handy (e.g. on your phone or in your wallet). These numbers are there for you whether you (or a loved one) are in a crisis or just want to talk.
StarVista Crisis Hotline (San Mateo County)​ - 650-579-0350
National Suicide Prevention Lifeline - 1-800-273-TALK (8255)
National Crisis Text Line - Text "BAY" to 741741
Promote September Suicide Prevention Month
Attend or spread the word about one of our September Suicide Prevention Month events. The more we talk about and share our experiences with suicide, the more likely those in our community are to reach out for help in times of need. For updates and details about SPM events, please visit smchealth.org/SuicidePrevention.
S-Word Film Screening & Panel - Wednesday, September 19, San Mateo High School, Performing Arts Center, 600 N Delaware St, San Mateo.
Wear Purple/Teal: Purple and teal are the national colors for SPM. If you want a ribbon for you and/or your group, please contact Sylvia Tang (650-578-7165).
Join the San Mateo County Suicide Prevention Committee
To help prevent suicide year-round, please consider joining the San Mateo County Suicide Prevention Committee. The Suicide Prevention Committee (SPC) provides oversight and direction to suicide prevention efforts in the County. The committee is comprised of County representatives, community based organizations and community members. We meet the first Tuesday of every month, ​1:30 to 3 p.m. at the Silicon Valley Community Foundation.
For more information, please contact SPC co-chairs Islam Hassanein and/or Sylvia Tang.