Voices of Recovery San Mateo County
Peer-led organization supports recovery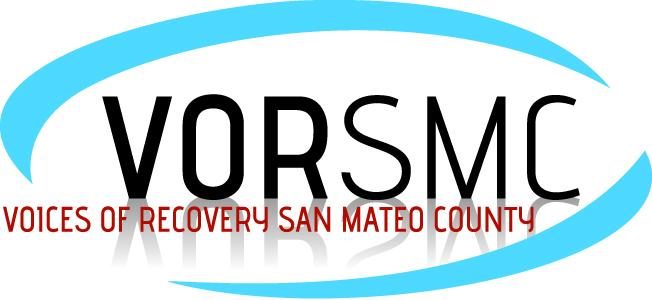 Voices of Recovery San Mateo County (VORSMC) is a nonprofit (501 c3) peer-led organization that was established in 2010, with the purpose of advocating for and supporting the recovery community, people overcoming drug and/or alcohol addictions. We recognize that hope is a powerful lever for recovery that can be ignited by the leadership, peer support, and lived experience of people who have, themselves, overcome addiction.
Though small, VORSMC has achieved an outstanding success rate in helping people achieve and maintain recovery through Wellness Recovery Action Planning (WRAP), an evidence based practice that empowers people to understand, fulfill and maintain progress towards their own wellness and recovery.
"WRAP gave me safe, fun and low-cost ways to have fun sober, because we all collectively brainstorm and share what has worked for us," said one VORSMC member. "Everything in WRAP is voluntary, I never got called on, and nobody ever told me what to do. We allow the space for one another to find their own wellness, whatever that may look like to them.
"Thanks to WRAP, I'm discovering the best me. It was in AA & NA that I found my recovery and it was in WRAP that I found my Wellness."
VORSMC has a staff of certified WRAP facilitators, 6 full time and 6 part-time employees, who offer support in preventing relapse, sustaining long-term recovery and support to family members affected by others' addictions. Voices of Recovery offers hope to over 3500 people, annually, and helps build employment opportunities for people in recovery community.
"I work at Voices of Recovery San Mateo County and I am a WRAP Facilitator and recently celebrated two years of sobriety," said MG, VORSMC Wrap Facilitator. "I am grateful that I am able to go back to Hope House, the program I went through and now facilitate the WRAP groups for women who are going through what I went through."
VOR performs outreach to promote addiction free lifestyles, participates in health fairs, presentations, agency partnerships, social media, and prevention and education around drugs and alcohol. VOR enjoys stable partnerships with San Mateo County's Health System Behavioral Health and Recovery Services, other public agencies and nonprofit organizations and is an active partner in local and national initiatives.
VORSMC provides three community groups during the week and will soon expand to offer five groups. We have partnerships with Health Right 360, San Mateo County Service Connect, the San Mateo County Drug Court and The Latino Commission. Voices provide services to residential treatment centers and continues to grow and seek partnerships throughout the community. With the help of the community we continue to strive to increase our services in the county of San Mateo.
Be sure to stop by the VORSMC Open House on September 14, from 5 to 7 p.m. at 1842 Bay Road, East Palo Alto, to learn more about our services and hear from from special guest speakers, San Mateo County Health Chief Louise Rogers and HealthRight360 Vice President of Programs, Wayne Garcia.