Join the Voices of Recovery: Together We Are Stronger
Celebrating National Recovery Month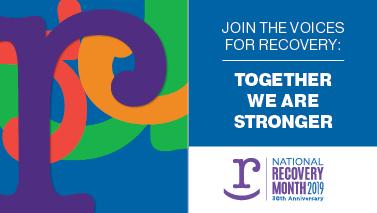 This year marks the 30th Anniversary of National Recovery Month, which celebrates the millions of Americans who have reclaimed their lives through recovery from substance use and mental health conditions, reminding us that treatment is effective and people can and do recover. The observance serves to help reduce the stigma and misconceptions that cloud public understanding of mental health and substance use disorders, potentially discouraging others from seeking help.
This year's theme, "Join the Voice of Recovery: Together We Are Stronger," emphasizes the need to share resources and build networks across the country to support the many paths to recovery—engaging passionate community members along the way. It reminds us that mental health and substance use disorders affect all of us and that we are all part of the solution.
During Recovery Month, we highlight the work being done to combat substance use and mental health disorders, the emergence of a strong and proud recovery community, and the dedication of providers and community members across the nation who make recovery in all its forms possible.
"Treatment services can help people find their way to sustained recovery, allowing them to lead active and meaningful lives while contributing to their communities" said BHRS Director Scott Gilman, MSA, CBHE. "By engaging individuals with substance use disorders, helping them access the treatment, support, and other services they need, and by welcoming them back to the community as they embark upon their recovery journey, we can build healthier, more resilient communities and reduce the public health and public safety costs of unchecked addiction."
Real Recovery, Real Solutions: It takes a Village
Despite significant progress, the addiction epidemic continues as more than 700,000 people in the U.S. died from a drug overdose between 1999 and 2017, according to the Centers for Disease Prevention and Control. And, around 68% of the more than 70,200 drug overdose deaths in 2017 involved an opioid – in San Mateo County, approximately two residents died from a drug-related death each week in 2017 and this number is climbing – signaling the overwhelming challenge we still face in helping individuals find not only effective treatments but also mental health resources and social services and supports to aid in longer term recovery.
In San Mateo County alone, approximately two residents die from a drug-related death each week
In San Mateo County we believe substance use should be treated like any other medical condition. Our integrated approach to treating alcohol and opioid use disorders continues to expand with the recent collaboration between our Integrated Medication Assisted Treatment team and the emergency department staff at the San Mateo Medical Center, who together, are now reaching more patients with opioid use disorders at a critical crisis point (read story).
To stay the course and have an even larger impact, we must continue spreading the word that substance misuse and addiction are solvable problems and people can and do recover. Check out our local stories of hope, recovery and resilience. We highlight these inspiring stories to help people from all walks of life find the path to hope, health, and overall wellness, and to help the community at large gain an even better understanding of behavioral health issues.
Recognizing Community Supports – David Lewis Award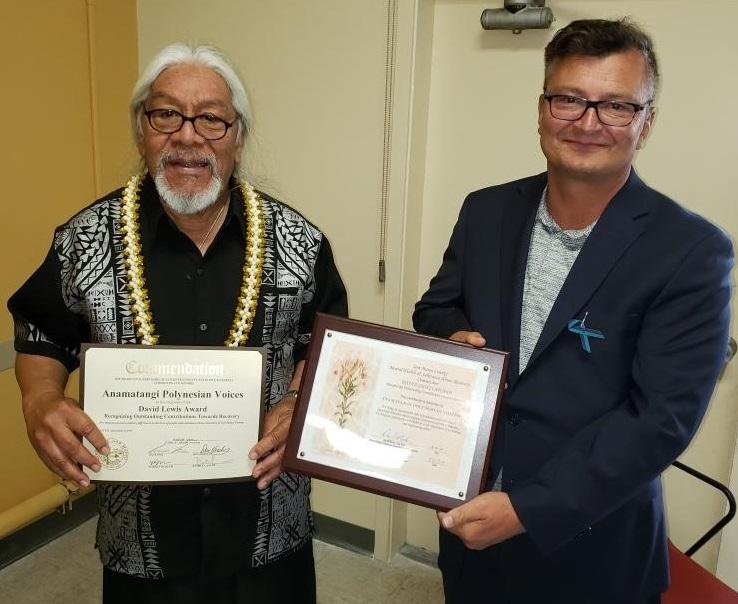 On September 4th, the Mental Health and Substance Abuse Recovery Commission presented the David Lewis service award to the Anamatangi Polynesian Voices (APV) organization. This award is given to individual(s) who have made a significant contribution to substance use recovery through successful programs, community education, stigma reduction or client advocacy. APV has built a solid reputation in the East Palo Alto community for serving Asian Pacific Islander youth and families and helping build resiliency with their cultural sensitivity and support for over a decade. As advocates for social justice, the group tirelessly works to reduce recidivism, assist juveniles who have records with re-acclimating into their communities, combat substance abuse among youth and support many of the programs offered at One East Palo Alto, a BHRS sponsored organization dedicated to creating comprehensive, resident-driven, renewal and quality of life improvements in the City of East Palo Alto.
Be Part of the Celebration
More than 35 community organizations, local businesses, providers and over 600 people in the recovery community will come together this month to celebrate the resiliency of residents successfully reclaiming their lives through long term recovery and the tireless efforts of the numerous providers, family members and the broader community supporting them.
Join us throughout September as we celebrate Recovery Month. Keynote celebrations will include a recovery breakfast followed by a ceremony held with San Mateo County Board of Supervisors on September 17 to officially adopt a proclamation honoring recovery month and the popular BBQ Picnic on September 24.
Go to www.smchealth.org/recoverymonth for information on all the Recovery Month activities and other events happening throughout September. And for information about local treatment and recovery resources, visit  www.smchealth.org/aod.