Health Ambassador Making a Difference
Learning, Recovery & Service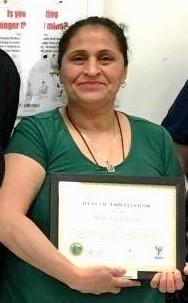 Nearly 30 people have graduated from the BHRS Health Ambassador Program (HAP) since its inception in 2014. The program, dedicated to offering public education workshops geared towards empowering the community, provides residents with the ability to take the skills they learn and become a voice and support for their community. Health Ambassadors help link individuals to care by spreading awareness about BHRS resources and services and in turn helps BHRS better understand the community's needs.
In 2016, Maria Cuellar became a BHRS Health Ambassador. An immigrant from El Salvador, Maria made the difficult decision of leaving her country and family to escape poverty and violence. Having not seen her daughters for the past 26 years, last year Maria prepared herself mentally and emotionally to reconcile with her past. "I hugged them with all my heart and we spent hours talking. One of my daughters has a bachelor's degree in language and the other became a doctor this year," Maria stated proudly. While working in the U.S., Maria provided financial support for her daughter's education.
Sustaining a maintenance position has allowed Maria to provide for her other two children in the U.S. – ages 13 and 23.
It was very hard to raise them because I didn't have patience and screaming was my way of communicating. All the trainings I took to become a Health Ambassador equipped my life with the tools to deal with my child's depression, and in general with adolescence changes.
A resident of Redwood City, Maria recently participated in the Community Collaboration for Children's Success Initiative (CCCSI), gathering community input from the North Fair Oaks community. The surveys collected will put together an actionable community plan to help young people be more successful. Maria's enthusiasm, hard work and involvement in her community was key to support San Mateo County's initiative, Get Healthy, where she was offered a temporary position.
Maria is recognized as an active community liaison who teaches others the tools to wellness. Her goal for this year is to become involved with programs that help preserve the Spanish language. "I'd love reading to children," she said.
Learn more about Health Ambassador Program or contact Maria "Charo" Martinez at mmartinezresendiz@smcgov.org or (650) 372-6136 with any questions.