Group Therapy Services at Board and Care Homes
Services launch at four homes
In early 2019, the idea of bringing group therapy directly to BHRS clients residing in board and care homes in San Mateo County became a reality.
Group therapy helps those who suffer from mental illness to cope with the symptoms they struggle with on a regular basis. Isolation, lack of energy and disorganized thinking are just some of those common challenges which make it very difficult for many BHRS clients to engage in treatment and maintain their housing.
With these concerns in mind, Clinical Services Manager Talisha Racy recruited BHRS clinicians from Adult Resource Management and Collaborative Care Teams to travel to board and care homes in San Mateo County and bring group therapy directly to BHRS clients.
Four clinicians—Zach Comtois, Kimberly Kang, Star Baird, and Akiko Lipton—began offering therapy groups at board and care homes located throughout San Mateo County.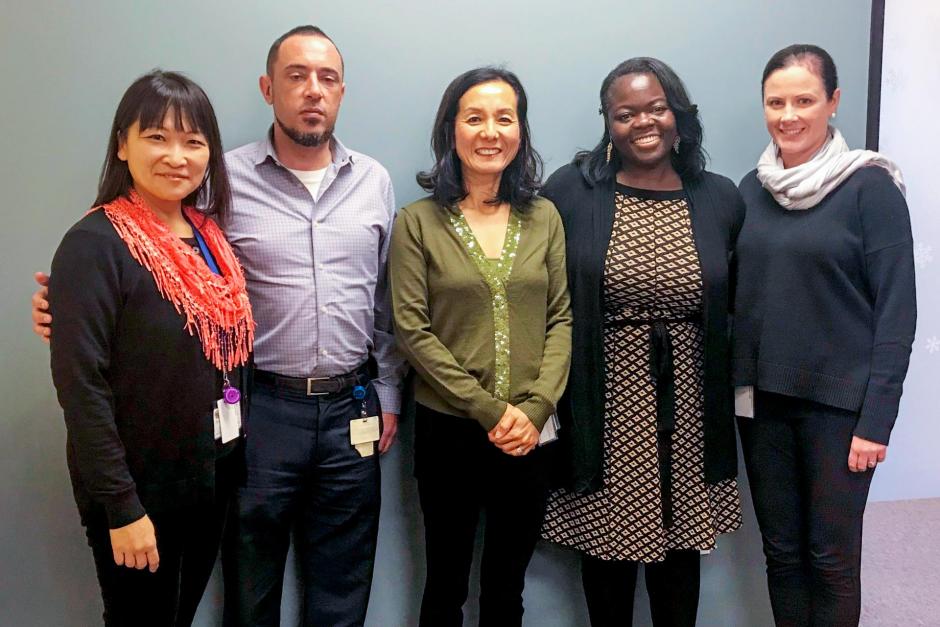 Bruce Badilla's Board and Care Home, Daly City (6 clients). This group consists of male clients with co-occurring disorders and follows the evidence-based curriculum, Seeking Safety, which supports those who have a history of trauma and/or substance abuse and focuses on coping skills, grounding techniques and psychosocial education. The group is offered on an ongoing basis.
Mariah's Board and Care, San Bruno (3 clients). The homes' older adult clients receive group therapy services based on the Seeking Safety curriculum adapted to accommodate their needs and interests. The group also uses several sensory activities such as art, music, movement and bingo to introduce and support the process of recovery. The group ran for eight months and another session is planned for 2020.
Portobello Board and Care, San Mateo (8 clients). This therapy group follows the Illness Management Recovery curriculum, another evidence-based plan, emphasizing personal goal setting, relapse prevention, and ways to cope with stress and persistent symptoms. Many clients in this group have resided in this same board and care for several years. This eight-week therapy group began in March and a second eight-week group session is currently being offered.
Hillcrest Manor Board and Care, Redwood City (8 clients). This 8-week group launched in July for the elderly in this facility and follows the Illness Management Recovery curriculum, along with various sensory activities to help engage with the participants. A second 8-week session is currently being offered.
The clients have consistently expressed positive feedback to these groups. Participant John H. stated that the group "helps him with his thoughts and goes over interesting topics."
New resident Matthew W. says, "The group has been a good way to meet and get to know people here."
Board and Care operators, Perrine Salariosa, said, "This group has helped our clients communicate better in a positive way," and Minerva Salariosa stated, "Our residents look forward to their group each week and look forward to having someone visit and connect with them."
Program Expansion Planned
Several exciting developments are underway for this year. Besides continuing the existing therapy groups, we plan to increase the number of groups offered and expand the program to additional board and care homes throughout the County.
A Wellness Recovery Action Plan (WRAP) group will also be offered this year.
In addition, the clinicians will be hosting a larger event for all board and care group participants on January 28 to support clients' social engagement with the larger community and with each other.