Funding for San Mateo County Pride Center Extended
1st of its Kind Center to Continue as an Innovation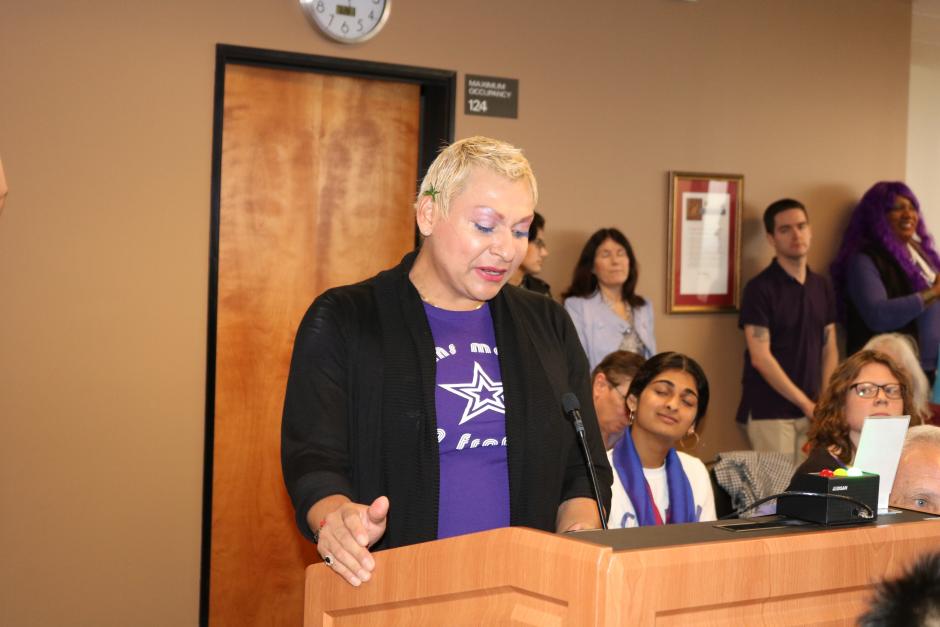 On March 28, 2019, San Mateo County Pride Center was approved for a two-year Innovation funding extension by the State of California Mental Health Services Oversight and Accountability Commission (MHSOAC). Thanks to the unanimous support of the MHSA Steering Committee, the San Mateo County Board of Supervisors and the MHSOAC, the Pride Center will continue as an innovation pilot program through June 30, 2021. The two-year funding extension will allow the Pride Center to strengthen its collaboration efforts; measure clinical outcomes of clients; and develop a replicable best practice model to share statewide and nationally.
Over 30 community members and leaders wearing purple in solidarity and support of the Pride Center, caravanned to Sacramento to attend the presentation to the MHSOAC. Board of Supervisor Dave Pine, Pride Center Program Director Lisa Putkey, Pride Center Peer Support Worker Andres Loyola, Resource Development Associates, Research Associate Ryan Fukumori, and BHRS Director Scott Gilman presented passionately about the wide support for the Pride Center, the LGBTQ+ needs, the Pride Center innovation accomplishments, evaluation findings and the two-year extension goals.
This is an excellent example of how we want to see MHSA making an impact in the community… the voters in California voted for this and we want them to know the impact of this funding source and how great it is to see MHSA funding programs that have never existed in our system" said Khatera Tamplen, MHSOAC Chair as she congratulated the presenters.
She went on to acknowledge all individuals in attendance wearing purple by asking them to stand and saying, "…a lot to be proud of."
The MHSOAC commissioners asked thoughtful questions about culturally responsive services to people of color, undocumented, parents and school administrators. "What types of future collaborations do you envision?" asked the Transition Age Youth representative, Marisol Beas. Many ideas were shared by the panel of presenters. "We would love to eventually get into the elementary schools…there's a new transgender policy for employees, we are working closely with County HR to do trainings. We would love to do more trainings and connections to look at how we create gender neutral spaces in such binary worlds," stated Lisa Putkey.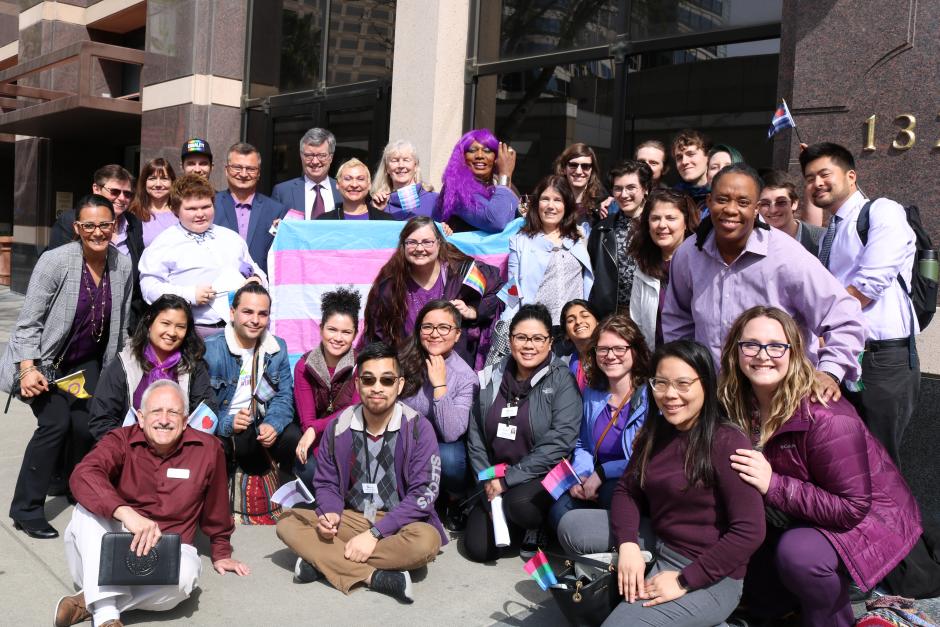 The presentation concluded with public comments from clients, a mother and son, community supporters and others. One Spanish-speaking client said, "I am an immigrant woman, I am Salvadorean, I am a trans Latina woman, I do not speak English. These are some of the labels and obstacles that people who work in health, housing, work, education use to disqualify me and keep me away from accessing the basic programs and services." She went on to share how she was able to find hope and support at the Pride Center.
The Pride Center is an MHSA Innovation project, approved as a three-year pilot in July 2016. There is no prior model of a coordinated, "one-stop shop" approach for the LGBTQ+ community. It is a formal collaboration of community-based organizations including StarVista as the lead agency, Daly City Partnership, Peninsula Family Service and Adolescent Counseling Services. (Learn how community input shapes MHSA funds spent in San Mateo County.)
Center Services
Services offered by the Center include:
Psycho-educational and social/community activities
Mental health clinical services
Resource hub for local, county and national LGBTQ+ services.
In the first year of implementation, the Pride Center demonstrated improved access to mental health services and reduced stigma. Therapists and staff identify as LGBTQ+, are bilingual/bicultural, provide a welcoming environment and culturally responsive services. The coordinated service approach has allowed for a wide range of support services and increased capacity. "It's a one-stop shop….[which is important] when you're homeless and have to get everywhere on foot. There's only so many places you can go in a day" said an adult participant.
Community Engagement & Participation
In FY 2017-18, 2,045 people attended offsite events or trainings and 1,092 people dropped in onsite or attended a peer group at the Pride Center. Fifteen percent of those who dropped in accessed therapy services and 4% used case management services. The Pride Center attracted a diverse participant base:
Key Accomplishments
Clinical services became fully operational including obtaining Medi-Cal certification and hiring multilingual clinical trainees to serve Spanish- and Cantonese-speaking communities.
A wide array of programs were implemented including: peer support groups, community events, movie nights, arts and crafts gatherings, and community forums.
Volunteers have taken active roles in expanding the Centers' programming including working with staff to create a job network, employment search program, and a support group for people on the autism spectrum.
A Community Advisory Board (CAB) and a Youth Advisory Board (YAB) were launched. CAB members have engaged in outreach, building partnerships and seeking potential private sponsorships. YAB have increased youth attendance to Pride Center events and have supported youth in running their own school clubs.
Over 60 trainings on Sexual Orientation and Gender Identity have been conducted to organizations from the public, private, and nonprofit sectors.
Over 20 local middle schools, high schools, and colleges have been engaged including trainings for teachers and staff at six high schools, as well as the San Mateo Union School District.
7th Annual Pride Celebration – June 15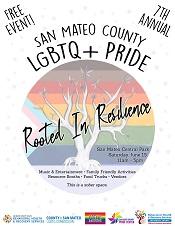 Join us for a family-friendly, inclusive, free event to celebrate and recognize the LGBTQ+ community through entertainment, education, connection and fun. The 7th annual San Mateo County Pride Celebration, "Rooted in Resilience" will be held on Saturday, June 15, from 11 am to 5 pm at the San Mateo Central Park. The festival includes live music, food trucks, performances, family friendly activities, local art and merchandise, entertainment, and local resources for mental and physical wellness. Download the event flyer.
The PRIDE Initiative is looking for vendors and resource booths! Serious inquires…please inbox/messenger your contact information, business/agency, and email address to the PRIDE facebook page and an application form will be sent to you.