Fostering Outstanding Community Psychiatrists
Psychiatry Residency Training Program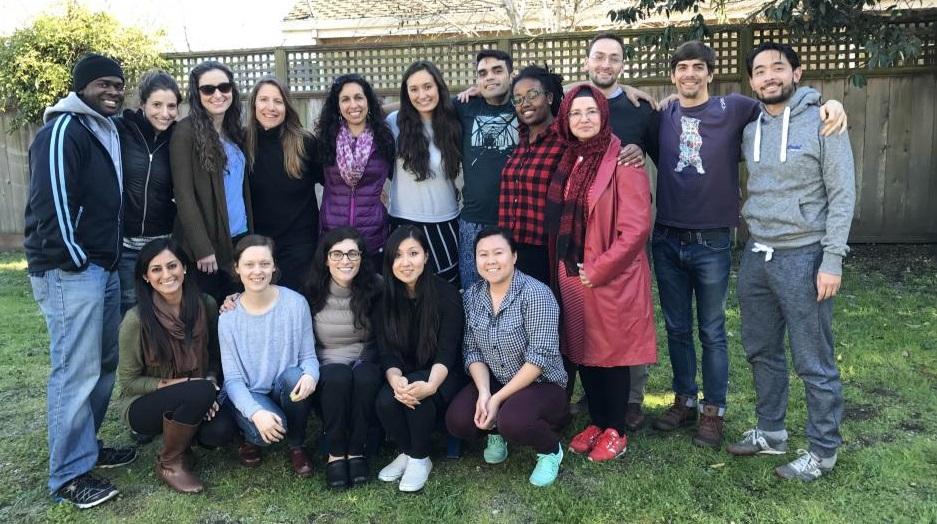 The San Mateo County BHRS Psychiatry Residency Program is a comprehensive four-year psychiatry residency program, with an emphasis on community psychiatry. Each year, four medical students from around the country match into our program and begin their residency training journey.
Thanks to many BHRS staff who collaborate with, mentor and teach psychiatry residents, they graduate after four years as licensed, outstanding psychiatrists who excel in clinical skills and have deep commitment to our community and system of care.
As the program director, there has been a lot to celebrate this year. We will welcome a very strong class of graduating medical students to join us on July 1. In addition, several of our current residents have been recognized for their outstanding achievements as well. Please join me in congratulating the following distinguished residents for their accomplishments:
Second Year Residents
Tram Nguyen: Tram was selected for the 2018-2019 APA/APAF SAMHSA Minority Fellowship Award. The goal of this fellowship is to support racial and ethnic minority psychiatry residents in their career development and their provision of culturally sensitive mental health services to minority or underserved populations. Tram hopes to use a portion of this funding to develop a partnership with Bay Area school districts to develop a course to teach mindfulness skills to refugee and immigrant populations.
Tatiana Ramage: Tatiana was selected as a National Neuroscience Curriculum Initiative (NNCI) Scholar for the 2017-2018 academic training year. This is a very prestigious and competitive scholar program initiated by faculty at Columbia and Yale to support residents interested in teaching neuroscience. Tatiana worked closely with a mentor to develop new neuroscience teaching materials, which she presented at a national conference in March and were published on the NNCI website.
Third Year Residents
Lauren Fiske: Lauren was selected for the Jung Institute Internship for the 2018-2019 training year. She will rotate at the Whitney Clinic at the Carl Jung Institute in San Francisco for an intensive elective in psychotherapy during her fourth year of residency. This will be a great opportunity to deepen psychotherapy technique and practice.
Robertino Lim: Robertino was selected as a 2018-2019 UCSF Public Psychiatry Fellow. He will complete the UCSF Fellowship and his fourth year in the San Mateo County BHRS residency program simultaneously. The UCSF Public Psychiatry Fellowship fosters training for fellows committed to caring for people with severe mental illness. Fellows learn about the history of public psychiatry, recovery, psychosocial rehabilitation, homelessness, and advocacy. Robertino was also selected by his peers to serve as Co-Chief Resident in the 2018-2019 year.
Armando Leon: Armando was selected by his psychiatry resident peers to serve as Co-Chief Resident in the 2018-2019 training year. Co-Chief Residents serve an important liaison role between the resident trainees and program leadership.
Siya Mehtani: Siya matched into the UCSF Child and Adolescent Psychiatry Fellowship for the 2018-2019 training year. She will leave our residency program one year early to "fast-track" into the well regarded UCSF fellowship for special training. Siya was also selected to receive a second year of funding through her APA/APAF SAMHSA Minority Fellowship award, which she received last year. She will apply this additional funding to her first year of training at UCSF.
Fourth Year Residents
Anna Jung: Anna matched into the Oregon Health and Science University Geriatric Psychiatry Fellowship for the 2018-2019 training year (after she graduates from our program). This additional year of sub-specialty training will no doubt make her a very highly sought after geriatric psychiatrist and we hope she will return to San Mateo County in the future!
Arter Biggs: Art is completing his UCSF Public Psychiatry Fellowship year, simultaneously with his fourth year in the psychiatry residency program. Through the Fellowship-Residency program partnership, he has conducted a quality improvement project at National Center for Mental Health regarding same day assistance, which he will at the Annual American Psychiatric Association conference this month.
Congratulations to all!