Finding Housing in Recovery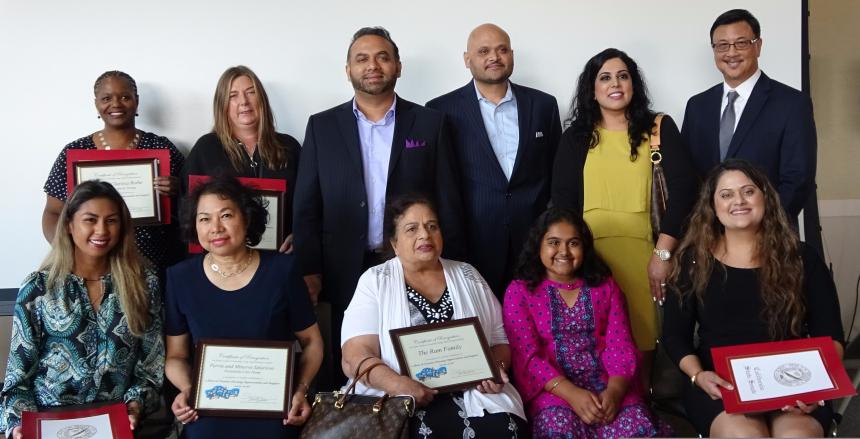 For those who are recovering from mental health and/or substance use issues, the journey can be deeply humbling and sometimes harrowing. Unfortunately, for many in recovery, the journey does not end there. The task of finding a safe, affordable home to heal and to thrive in can feel like an impossible task, especially in San Mateo County, where the housing market is one of the most costly and competitive in the Bay Area.
On average, households in San Mateo County earning half of the median income or less, are only left with 31% of their monthly income for other necessities such as food, transportation, health care and other needs, after spending 69% on rent.
The lack of safe and affordable housing is one of the most challenging barriers to someone in recovery, according to the National Alliance on Mental Illness. Without the stability of a place to come home to every night, maintaining recovery can be incredibly difficult.
Many do not have the capacity or opportunity to secure employment that could finance the cost of living in San Mateo County. While BHRS is working to reduce stigma, some still see those with behavioral health issues as undesirable candidates for available housing. All too often, a client's hold on their recovery suffers as a result of the stress that often accompanies the search for safe and affordable housing.
At community housing forums held by the Mental Health and Substance Abuse Recovery Commission (MHSARC) in early 2016, clients and community members shared their stories.
Veronica Lopez, a case worker with Mateo Lodge and her client, Julie, spoke about their experiences. After Julie was evicted from her home of 15 years, the constant bouncing between hotels and shelters began taking a toll on her mental health. She scoured newspaper ads and spent her free time learning how to use a computer at the public library to search for housing, but her efforts came up short.
"[Clinicians] go out in the community with the recovery model, and we can't make it happen without housing and the support of the Board of Supervisors and the community to make that more of a reality," said Veronica. "Without the housing component, both the clinicians and clients are impacted. It's nearly impossible to help someone see the hope at the end of the tunnel without the resources being there."
Many at these housing forums echoed the concerns of Veronica and Julie, feeling dejected after exhausting every opportunity to find shelter and maintain wellness. After holding the forums, MHSARC released the 2016 Housing Forum Report, summarizing their findings and offering recommendations for tackling the issue.
Recognizing Local Housing Heroes
BHRS recognizes the important role of those who go above and beyond to help people with mental health and substance use issues find and keep stable housing.
The 3rd Annual San Mateo County Property Owner and Manager Appreciation Breakfast was recently hosted by the San Mateo County Housing and Operations and Policy Committee, a collaborative consisting of county and community partners including BHRS, the Department of Housing, California Apartment Association (CAA Tri-County), Mental Health Association, Abode services, Caminar, HIP Housing, CORA, and individuals with lived experience. A major focus at the event was partnership.
Service providers, housing providers and BHRS staff were joined by former BHRS director, Steve Kaplan, and Board of Supervisor Don Horsley to commend those who provide housing to clients and participate in the county's housing program.
In a service provider panel, attendees discussed the services and incentives available to those who participate in the county's housing programs, which offer housing to those who are financially challenged. Barriers to participation in these programs are not always monetary. Housing providers want an arrangement that will run smoothly, with tenants that are housing ready.
Service providers throughout the county who work tirelessly with clients to make sure that happens. They are helping to combat the narrative that providing housing to individuals with behavioral health issues is a risky and burdensome endeavor. Instead, they say, standing behind these individuals who have reclaimed their lives – and have a team behind them, rooting for their success and stability – is a partnership that benefits all parties involved.
One of the lesser known benefits of these partnerships are the friendships that often emerge between housing providers and clients. This has been true for Jereme-Jason Burruss and the Ram family, who were recognized at the County's 10th Annual Housing Heroes ceremony on October 18.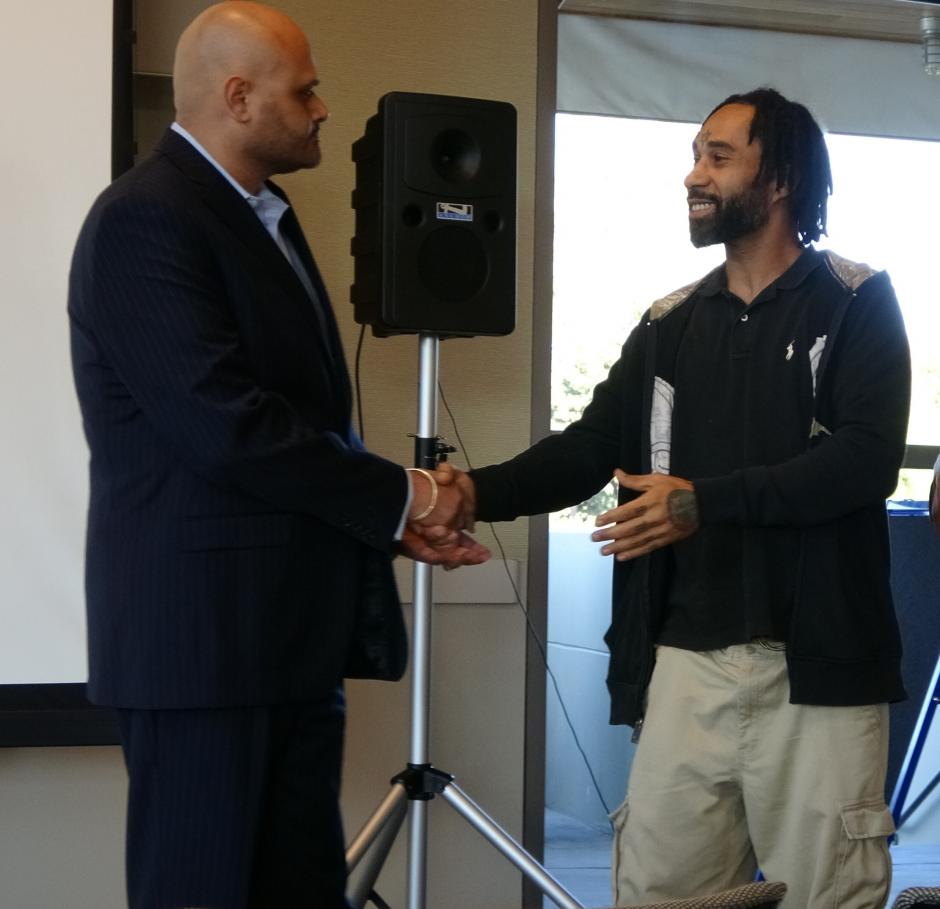 Jereme spent much of his life battling behavioral health issues and was homeless for over 20 years. The lack of stability in his mental health and his appearance, (he has tattoos, some of which are on his face), were major barriers to him securing housing. When a member of the San Mateo County Change Agent Housing Committee introduced Jereme to housing owned by the Ram family, things began to turn around.
"They're the best landlords. I feel very safe. Suffering from the issues that I suffer from, this is a very important thing – for me to be comfortable," said Jereme. "I could ask them for anything and they would help me."
The arrangement has been immensely rewarding to both Jereme and the Ram family.
"There is no community without unity," said Jack Ram. "We can't do things on our own. I've seen [Jereme] grow over the past year as a person and become part of society. He's happy. It's an inspiration to myself as well as to my family."
From his front porch, Jereme can see one of the homeless encampments he used to frequent. It's a constant reminder of just how far he's come.
"You have to survive on the streets," said Jereme. "It's tough, but when you take that person off of the streets, he gets to become who he was. Now I can be me and it's all thanks to property owners like this, who are willing to work with people like me."
"In the 10 years we've honored Housing Heroes in our community, people are facing more challenges than ever in finding safe and affordable housing," said BHRS Director, David A. Young. "Housing is an essential component in the recovery process and maintaining good health. However, people with mental health and substance use conditions are profoundly represented in the housing crisis. The work of our Housing Heroes is more important than ever."
2017 Housing Heroes Award recipients:
Jo Ellen Chu, Property Owner and Manager
Lisa Collins, Society of St. Vincent de Paul
Julia Parmer, Case Manager, HealthRIGHT 360
Craig and Clarissa Rothe, Prodesse Property Management
Perrine and Minerva Salariosa, Portobello Care Home
The Ram Family, Property Owners
"There's nothing more warming and comforting when you've had a tough day…than to go home at night and put the key in the door…knowing that this is your perfect place," said Supervisor Groom as she addressed the room. "It's such dignity to have that kind of place to go home to at night, and those of you who are being awarded today create that."
A Community Effort
You don't need to be a property owner or a policy maker to be a part of the solution. Combatting the stigma around mental health and substance use issues in the community plays a huge role in tackling the behavioral health housing crisis. When an individual's community is accepting and supportive, they are much more likely to find success in recovery. We all have the power to help create communities where those with behavioral health issues are welcomed as friends, coworkers and neighbors.