Dignity on Wheels Rolls into South County
Basic Necessities Restore Dignity to Homeless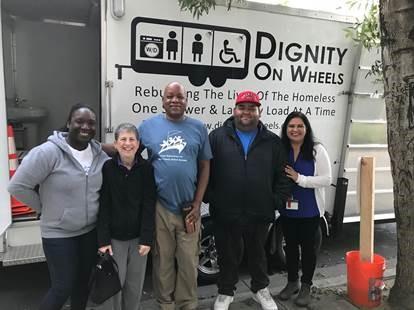 Since its November launch at the South County Adult Clinic in Redwood City, Dignity on Wheels (DOW) has been providing the homeless with warm showers and laundry services every Friday from 8 a.m. to 12 p.m. DOW, an initiative created by Project WeHope (We Help Other People Excel), provides free showers, toilet use and laundry services to homeless and at-risk individuals in San Mateo County. To date, they have provided more than 141 showers and 98 loads of laundry.
Lack of safe, affordable housing is one of the greatest barriers to care for those with behavioral health issues in the county. 2,253 homeless people were counted in San Mateo County's 2017 One Day Homeless Count. Lack of showers and toilets is a key reason many do not seek employment, housing assistance or social services.
There are a limited number of facilities that provide showers or laundry services. The ordeal of identifying these shelters, securing transportation and travelling to them in an unclean state can be demoralizing for the homeless. With a warm shower and some clean clothes, DOW strives to restore a sense of dignity to these individuals.
On Friday mornings, South County staff Carlos Rocha and Cyd Reyes set up a conference room with snacks, coffee and clean, donated clothes and wait for the WOC unit to show up. A few minutes before 8 a.m., people start gathering outside and are ready to take showers and do their laundry. While they wait, they chat with Carlos and Cyd and learn about mental health and substance use services and other community resources.
"For me, [DOW] has made the difference in making it in survival," said one DOW client. "They turned survival into thrival!"
DOW can also be accessed at Fair Oaks Community Center every Monday and Wednesday, from 2 to 6 p.m.
A special thanks to Project We Hope, Mental Health Association, Fair Oaks Community Center, Heart and Soul, Inc, and other community partners for making this happen!