Crisis Intervention Training Program
First Responders Trained to Support People in a Mental Health Crisis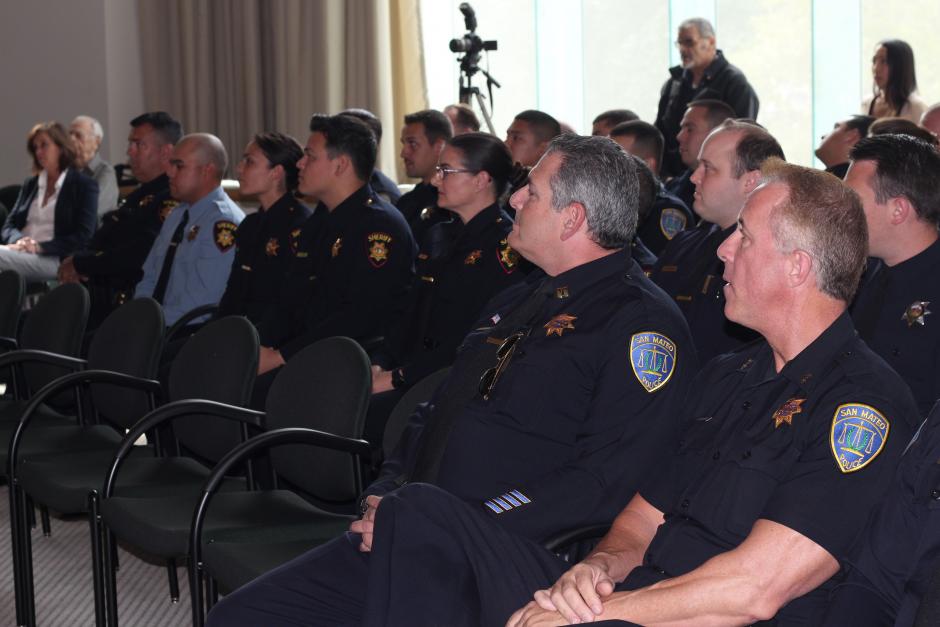 Introduced in 2005, San Mateo County's crisis intervention training (CIT) is part of a continuum of crisis services which aim to safely provide the best support possible to those in a behavioral health crisis.
In 1988, Memphis introduced the first crisis intervention team as a response to the community's demand for safer, first responder crisis services. CIT partnerships throughout the U.S. led to changes in existing systems and stimulated the development of new infrastructure for services. Today there are almost 3,000 CIT programs nationally.
San Mateo County's CIT program is a partnership between the National Alliance on Mental Illness San Mateo County (NAMI), the Sheriff's Office and BHRS. We began the program with two trainings a year and now offer four trainings each year. Today, over 170 first responders (police officers, deputies, medics and dispatchers) in the county complete the training program each year.
CIT used to be a voluntary training to enhance officers' skills to interact with individuals experiencing a behavioral health crisis due to mental illness, substance use, dementia, intellectual disabilities or other challenges. CIT proved to be very helpful to first responders and recently became mandatory for all officers in California.
Overview
Our 40-hour CIT trainings are comprised of classroom lectures on topics such as mental illness and substance use (and the relationship between the two), youth concerns/interventions, post-traumatic stress disorder, veteran's issues, trauma, suicide, implicit bias, intellectual disabilities, Alzheimer's and dementia, conservatorship, legal issues, writing 5150s and county resources including the use of the San Mateo County Mental Health Assessment and Referral Team (SMART).
In addition to the classroom didactics presented by a panel of police chiefs, a panel of consumers and family members share their experiences with law enforcement. Students also participate in the countywide Field Crisis Collaborative Committee (FCCC), where they experience firsthand the work done by various entities in San Mateo County to support individuals struggling in the community. Finally, they visit different behavioral health facilities and roleplay to practice their new skills.
How Family Members Can Help
Also covered in the training is how family and supportive friends can share information with police to help an individual get the appropriate care. Law enforcement can consider third party information to determine if an individual meets the criteria for a 5150. Friends and family members can use the Information from Family Member or Other Concerned Party form to provide information about a loved one.
The safest outcome in a behavioral health crisis can be achieved when law enforcement has the appropriate skills and the community clearly communicates its needs.
It takes a village to ensure safety in the community, and crisis intervention training is one of our crisis services helping to do just that.
Resources
Check out these helpful resources: Guidelines for calling 911 in a mental health emergency and Where to Find Help for Your Child. See the Office of Consumer and Family Affairs webpage for additional resources.