Census 2020: What's at Stake
The next national census is less than 60 days away. Every 10 years, the federal government is required to count each and every person living in the country — regardless of citizenship status, age, or criminal history.
Why it's Important that Everyone Participates
Ensuring a complete and accurate count in Census 2020 is critical for many reasons​. The decennial census serves as the cornerstone of our democracy and is written into the U.S. Constitution. It was included to ensure that everyone is equally represented in our political system and government resources are allocated fairly.
It is also used to make important community decisions, like where to build homes, parks, schools, and roads and where to offer health, childcare, and transportation services. And businesses rely on census data to determine where to open facilities, what products to develop, and how to market their services.
There is a lot at stake for San Mateo County residents in the upcoming Census 2020. If we don't have an accurate count, we won't have adequate representation in state and national government or get our fair share of funding for services that residents rely on. It is estimated that the potential impact of an undercount in CA is up to $1000 per person per year.
This will affect critical community programs, like public libraries, early childhood education, school lunch programs, health services, and affordable housing. Traffic will get worse and public transportation will fall short of demand. Planning for natural disasters and emergencies will miss their mark.
Participating in the census is one of the most powerful tools for civic engagement. It helps ensure that the diverse voices across the county are heard, growing needs are met, and the right programs and services are provided. It is also legally required.
Your Information is Confidential
Census 2020 will only ask for very basic information, like age, sex, and race/ethnicity. Citizenship or immigration status will NOT be asked.
The information provided to the Census Bureau will be confidential (protected by law) and only reported out as statistics. They CANNOT share your answers with anyone, not even the FBI, ICE, Welfare, or local code enforcement agencies. No household or individual details can be shared for 72 years.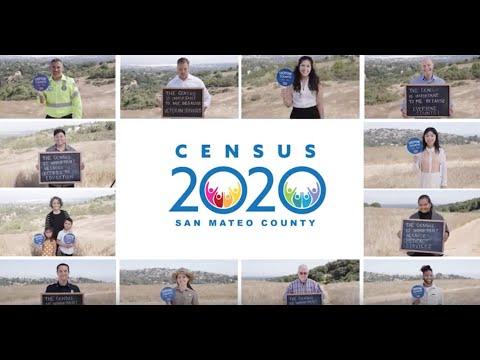 What to Expect
Invitations to respond to the census online will be mailed March 12-20 and should be received by April 1. You can completed the questionnaire online, by phone or by mail. There will be support for those that need digital, language, or disability access. If your household does not respond, the Census Bureau will send workers (called enumerators) to visit your residence and collect the information in person starting in May 2020.
Take the Pledge
Join San Mateo County: Everyone Counts + Bay Area Counts 2020 texting campaign. Text the start word COUNT to 650-200-2743, and you can opt-in to receive timely information such as local events happening near you, or a reminder to complete the survey. The pledge is offered in multiple languages, for more information visit our Pledge Page.
To learn more about Census 2020, visit: smccensus.org or 2020census.gov.