Aurora Pena Recognized by Women in County Government
2018 Development Champion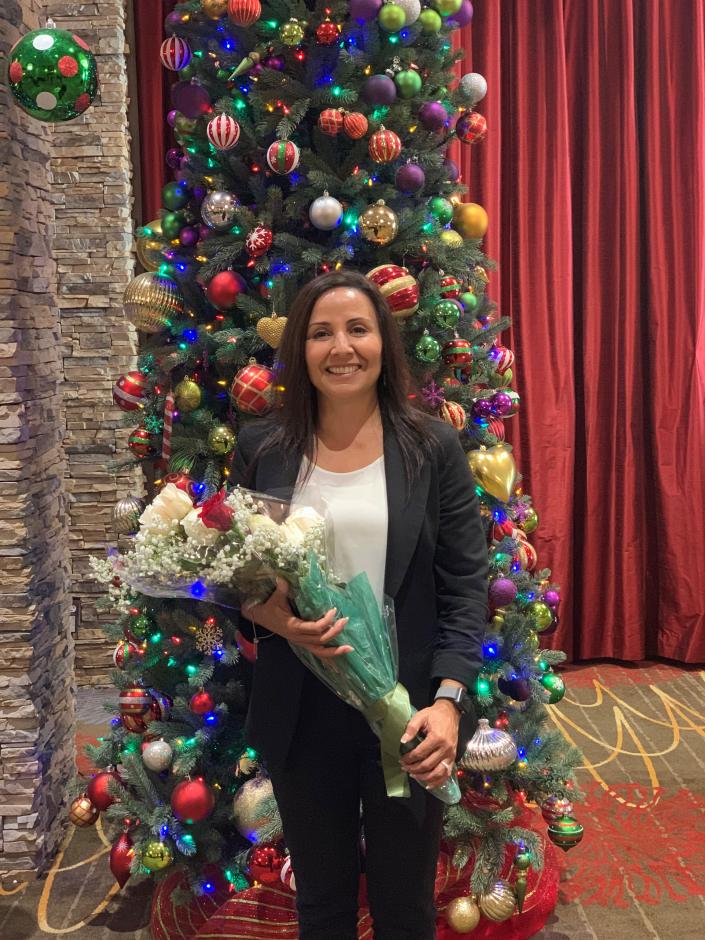 Aurora Pena, BHRS Unit Supervisor at the Youth Services Center was recently honored with the Women in County Government Development Champion Award in recognition of her outstanding leadership and tireless efforts in addressing and raising awareness about the mental health needs of incarcerated youth and their families in our community. Aurora was presented the award at the Women in County Government annual holiday luncheon and awards ceremony last month.
Aurora has been a clinician at Youth Services Center since 2005, providing mental health services to detained youth and their families at Camp Glenwood and the Juvenile Hall who are often marginalized, involved in gangs, have experienced community violence, trauma and other adverse experiences. She has been deeply committed to and involved in collaborating with our partners, including the schools and probation officers to improve the experiences of youth in their care.
"As a colleague, I have witnessed the impact that she has made in the life of many youth," said mental health clinician Marcos Chacon. Many of the youth who most people would consider 'difficult' or 'hard to reach,' Aurora has been able to establish rapport and connect with. Aurora's therapeutic work has always reflected compassion, kindness, inclusion, and presence."
Aurora has a stellar leadership style that fosters engagement, innovation and collaboration. She is always looking for ways to improve how mental health services are provided, especially with new treatment techniques, that are culturally appropriate and responsive as well as trauma-informed. Aurora advocates for her staff and continues to push even when met with adversity. She remains calm, collected and unafraid of shaking up her approach in order to meet clients where they are.
As Unit Supervisor, she continues to impact the service delivery of mental health services as trainer and mentor in the Neurosequential Model of Therapeutics program. During times of crisis, Aurora has stepped in to coordinate crisis response for the community, providing hands-on assistance. One of the most profound aspects of her leadership is how Aurora is always working at breaking down the barriers that prevent youth and families from accessing services and achieving their potential.
Aurora provides a safe, respectful, and culturally competent work environment. She promotes self-care and camaraderie among co-workers, encouraging them to take walks and planning activities during staff meetings and trainings. She provides a safe space for team members to openly voice concerns and works with them to find solutions. Aurora encourages team member's indigenous practices and incorporates these in meeting and trainings to help inform all members of the team and so they can also use these as interventions with clients and their families when appropriate.
She can often be found spending her lunch hour returning phone calls, checking emails and providing support to any staff member that may stop by. Aurora's rare ability to serve in both management and leadership positions, while remaining humble and involved is respected and appreciated by her team.
Aurora embodies what the Development Champion award represents and much more. Her love for the field of mental health and the betterment of the community is demonstrated every day in her work.