ODE Director, Jei Africa Honored
Immigrant Recognition Award and BAYMEC Legislator Award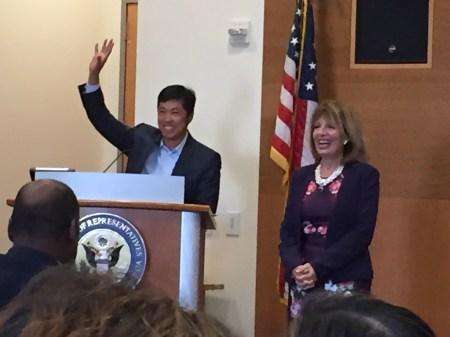 On October 20, Dr. Jei Africa, Director of the BHRS Office of Diversity and Equity, received the Immigrant Recognition Award for California's 14th Congressional District from Congresswoman Jackie Speier.
During a time of community divisiveness and uncertainty for immigrant families, Congresswoman Speier sought to highlight the contributions of first generation immigrants in San Mateo County, one of the most diverse counties in California.
Dr. Africa was one of eleven recognized for their contributions to San Mateo County. He was honored for his work in helping immigrant families live physically and emotionally healthy lives and for being instrumental in the creation of nine Health Equity Initiatives, collaboratives of County staff, community partners and clients and family members to improve access to behavioral health care for marginalized cultural and ethnic communities throughout San Mateo County.
Other notable achievements that Congresswoman Speier commemorated Dr. Africa for include work with Asian American Recovery Services, Community Overcoming Relationship Abuse (CORA), San Mateo County Commission on the Status of Women, Alliance for Community Empowerment (ALLICE) and much more. Dr. Africa also recently received the BAYMEC Legislator Award for the Pride Center.
Congresswoman Jackie Speier stated in her recognition speech that Dr. Africa is a "mental health professional, a local hero, and an immigrant worthy of recognition."
Dr. Africa accepted his award stating:
"I have been given the opportunity to be in this country to make a better life for not just my family but also for other people . . . eventually if we are kinder, more supportive, and loving to other people, that can come back to us".
He concluded his speech by thanking his staff who inspire him every day to be a better person.