County Data Dashboard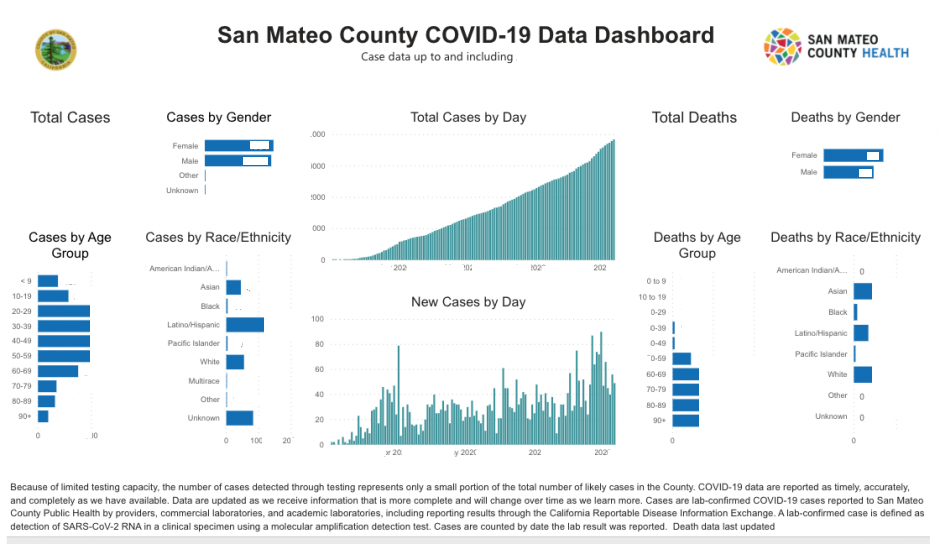 Please note that the dashboards displayed as of 11/22/20 reflect improvements aimed at aligning what the public can see from our County-level details with the State Blueprint metrics. The COVID-19 cases reflected on the COVID-19 Data Dashboard are now shown by episode date, which places cases at the earliest date available based on either the date the lab result was collected, the resident's date of death, the date an individual was diagnosed with COVID-19, the date the sample was collected, or the date symptoms were reported by a contact tracer or healthcare provider. This shift in data reporting should NOT in any way be interpreted as reflecting a decrease in cases in the last week. Displaying cases by episode date shows the progression of illnesses over time. San Mateo County is experiencing among the highest level of cases we have seen since the pandemic's beginning and the epidemiological curve you will see on the dashboard clearly shows a third wave of cases for which all our collective actions are necessary. You can see the specific trend for the past 30 days, distinct from the historical totals, by clicking on the applicable button on the Case dashboard.
Recent data are incomplete, and may lag as San Mateo County Health transitions to a new system for reporting to the State.
This dashboard details the number of COVID-19 cases and deaths within San Mateo County, including by day, age, race/ethnicity and sex of patients. A case is someone who tests positive for COVID-19 using viral testing performed in a lab.