Vaccine Clinic Calendar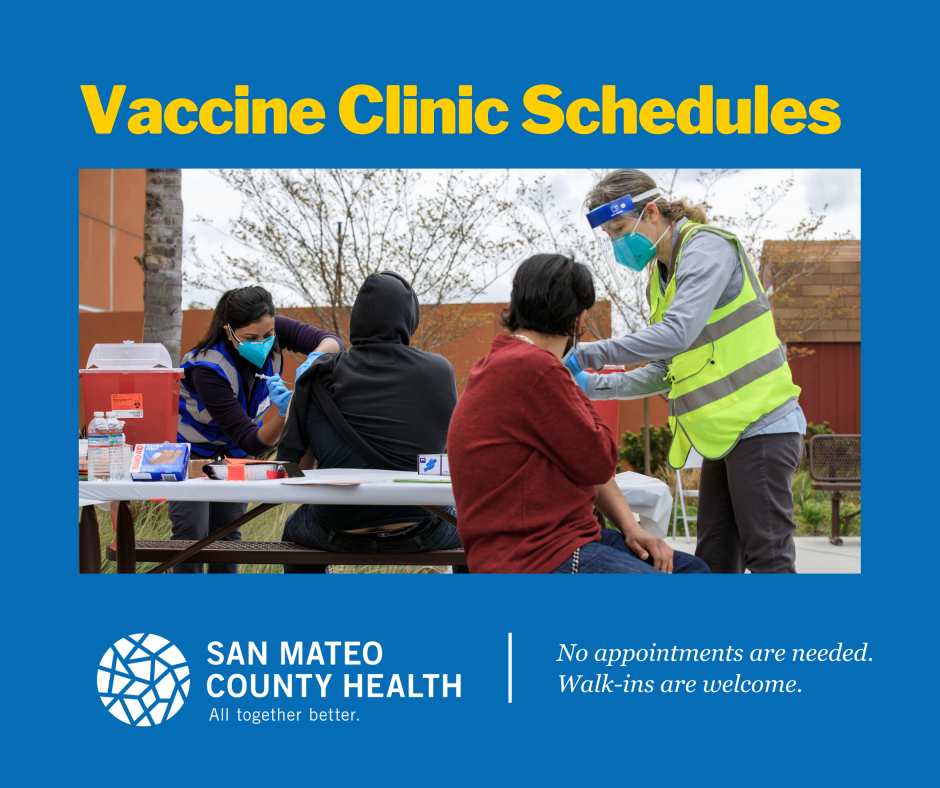 The clinics below are operated or supported by San Mateo County Health and may be scheduled through MyTurn.
Eligible for a second COVID-19 booster?
Your first option is your primary health care provider or a pharmacy. You can also book an appointment through the state's MyTurn system.
County Health's community clinics will provide boosters for walk-ins now, but we recommend booking an appointment to avoid long waits.
Pediatric Vaccine Clinic Days
DALY CITY
Sundays, 10-2 p.m. – Daly City Government Center
350 90th Street, Daly City, CA 94015
SAN MATEO
Mondays, 4:30-7:30 p.m. – San Mateo Medical Center (Main Campus) – Second Floor Education Classrooms
222 W 39th Ave, San Mateo, CA 94403
EAST PALO ALTO
Tuesdays, 3-7 p.m. – Lewis and Joan Platt East Palo Alto Family YMCA
2180 Euclid Ave, East Palo Alto, CA 94303
SOUTH SAN FRANCISCO
Thursdays, 5-8 p.m. – South San Francisco Clinic – San Mateo Medical Center
306 Spruce Avenue, South San Francisco, CA 94080
REDWOOD CITY / NORTH FAIR OAKS
Fridays, 3:30-7 p.m. – Fair Oaks Health Center
2710 Middlefield Road, Redwood City, CA 94063
COASTSIDE
Saturdays, 10-2 p.m. – Coastside Clinic – San Mateo Medical Center
225 South Cabrillo Hwy, Half Moon Bay, CA 94019
EAST PALO ALTO
Saturdays, 11-6 p.m. – Woodland Apartments
2021 Euclid Ave, East Palo Alto, CA 94303
Appointments in MyTurn are encouraged, though participants without appointments will be accepted. Clinics may adjust ending times based on vaccine supply, demand, and other factors.
MyTurn displays County-operated and -supported clinics four or more days in advance, along with vaccination opportunities from other health care providers, pharmacies, and local organizations.
San Mateo County Health is also providing in-home COVID-19 vaccinations to residents unable to leave home due to age, disability, or medical reason. Click here to learn more and schedule an in-home vaccination appointment.
San Mateo County Health strongly urges to everyone to get vaccinated immediately wherever the vaccine is available to you.
Interested in Bringing a Vaccine Event at Your Site?
Complete this form to partner with San Mateo County to bring a COVID-19 vaccination clinic to your neighborhood or event.