Vaccine Clinic Calendar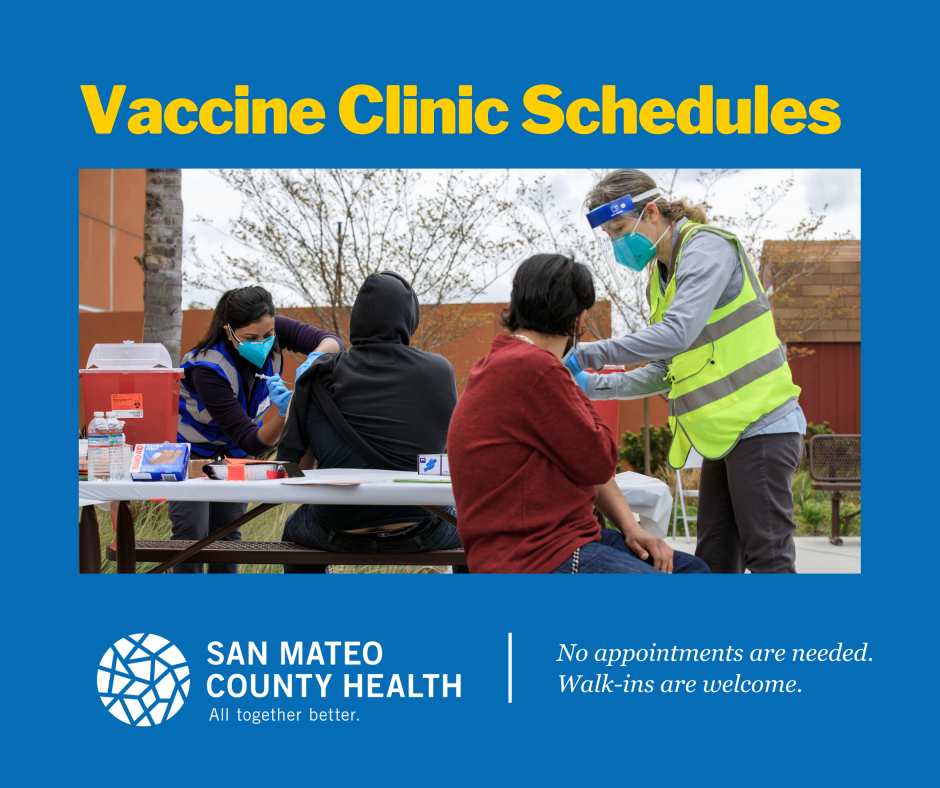 The clinics below are operated or supported by San Mateo County Health. All are open to residents who live or work in San Mateo County and may be scheduled through MyTurn, though appointments are not required. Residents may register on site. Clinics may adjust ending times based on vaccine supply, demand, and other factors.
The clinics listed below are first-dose clinics. Residents receiving a first dose are automatically scheduled in MyTurn to receive a second dose at a clinic 21 days ahead for Pfizer and 28 days for Moderna. (Residents needing a second dose may attend a first-dose clinic if they bring their vaccine card to validate that the timing is appropriate for their second dose.)
Moderna clinics are open to residents 18+.
Pfizer clinics are available to residents age 12 and older. For residents 12-17 to be vaccinated, they must either be accompanied by a parent or guardian at the vaccination clinic or bring a signed copy of the vaccination consent form to the clinic.
MyTurn displays County-operated and -supported clinics four or more days in advance, along with vaccination opportunities from other health care providers, pharmacies, and local organizations.
San Mateo County Health is also providing in-home COVID-19 vaccinations to residents unable to leave home due to age, disability, or medical reason. Click here to learn more and schedule an in-home vaccination appointment.
Download Daily Clinic Schedules by Day & Location
Regular clinic schedules through Sept. 30 – flyers for download:
San Mateo County Health strongly urges to everyone to get vaccinated immediately wherever the vaccine is available to you.
Interested in Bringing a Vaccine Event at Your Site?
Complete this form to partner with San Mateo County to bring the COVID-19 vaccine to your neighborhood!