Vaccine Clinic Calendar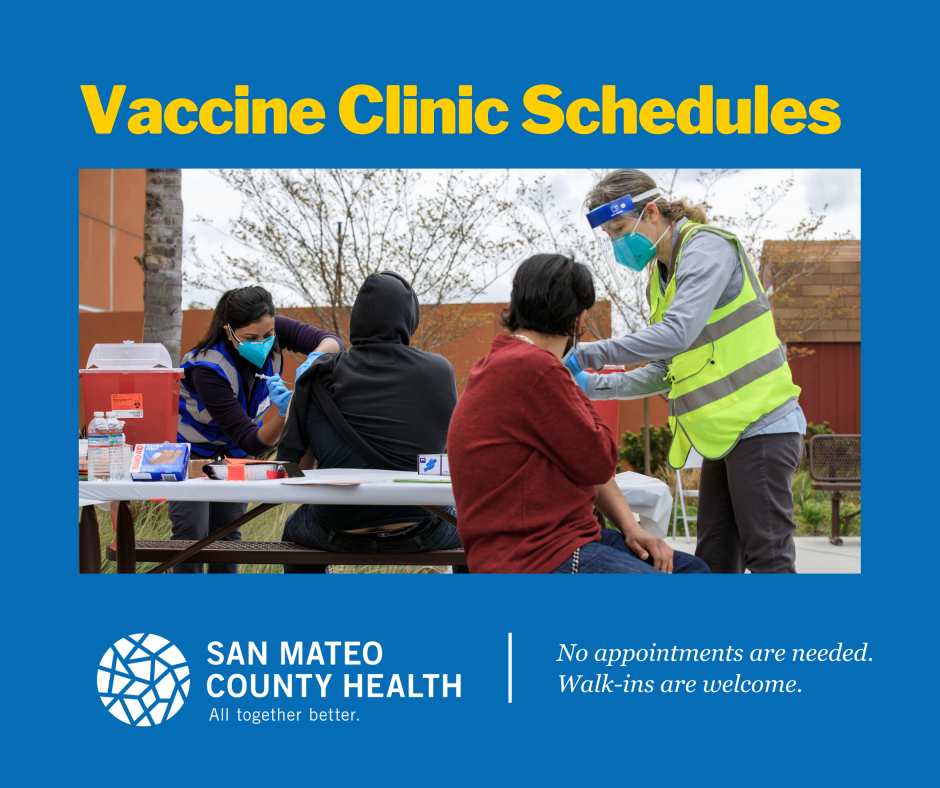 See below for clinics operated or supported by San Mateo County Health and scheduled through MyTurn.
San Mateo County Health strongly urges to everyone to get vaccinated immediately wherever the vaccine is available to you.
Vaccines for Children Under 5
Believing that the best place for young children to receive the vaccines is in the care of a pediatric provider, San Mateo County Health will not offer large-scale vaccine clinics to children under 5 or at its community clinics but will instead provide small-scale clinics at Early Head Start sites and staffing and administrative support to interested pediatric providers that serve publicly insured families.
Families seeking vaccines for children under 5 should contact their pediatric care provider to schedule an appointment. Other options include Walgreens (for ages 3 and up) and CVS (for 18 months and older). Information is also available on MyTurn.
Eligible for a Second Booster?
Your first option is your primary health care provider or a pharmacy. You can also book an appointment through the state's MyTurn system.
County Health's community clinics will provide boosters for walk-ins now, but we recommend booking an appointment on MyTurn to avoid long waits.
In-Home COVID-19 Vaccinations and Boosters
In-home COVID-19 vaccinations and boosters are available to residents unable to leave home due to age, disability, or medical reason. Use MyTurn to schedule an in-home vaccination appointment (see "Request an in-home visit or transportation" half way down the page at the MyTurn site).
Interested in Bringing a Vaccine Event at Your Site?
Complete this form to partner with San Mateo County to bring a COVID-19 vaccination clinic to your neighborhood or event.