San Mateo County Parks & Events
San Mateo County is home to twenty-one amazing parks and open spaces!  Whether exploring the tide pools at the coast, sitting in an ancient redwood forest or strolling along native grasslands, our parks provide outdoor experiences for all to discover.
Check out local events from San Mateo County's Parks Department, and join others in the natural beauty of the county: Parks Department Event Calendar
 
Upcoming Events 
Community Nature Day-Huddart Park-April 20, 2019 
1100 Kings Mountain Rd, Woodside, CA 94062
Meeting Place: Oak Area
Modes of Transportation
Drive to the park
Parking is free for event attendees, just say "I'm here for Community Nature Day", or show your Parks Prescription  
Take a shuttle
King Center (725 Monte Diablo, San Mateo, CA 94401)
Departure: 12:30pm & 12:45pm
Returns: 3:30pm & 3:45pm
Fair Oaks Health Center (2710 Middlefield Rd, Redwood City, CA 94063)
Departure: 12:30pm & 12:45pm
Returns: 3:30pm & 3:45pm
Directions
Huddart Park is located at 1100 Kings Mountain Road. Take Highway 280 to the Woodside/CA-84 W exit. Turn westbound towards Woodside. Proceed through the town of Woodside approximately 1 mile on Woodside Road/Hwy84. Turn right at Kings Mountain Road. Proceed up the hill to the park main entrance for about 2 miles. Enter the park on the right. After the gatehouse there is a stop sign. Turn right and follow signs to the Oak Area at the end of the road.
Direcciones
Huddart Park está ubicado en 1100 Kings Mountain Road. Tome la autopista 280 hasta la salida de Woodside / CA-84 W. Gire hacia el oeste hacia Woodside. Continúe por la ciudad de Woodside aproximadamente 1 milla en Woodside Road / Hwy84. Gire a la derecha en Kings Mountain Road. Continúe por la colina hasta la entrada principal del parque por aproximadamente 2 millas. Entrada al parque a la derecha. Después de la entrada hay un Alto (Stop). Gire a la derecha y siga las indicaciones hacia Oak Area al final de la carretera.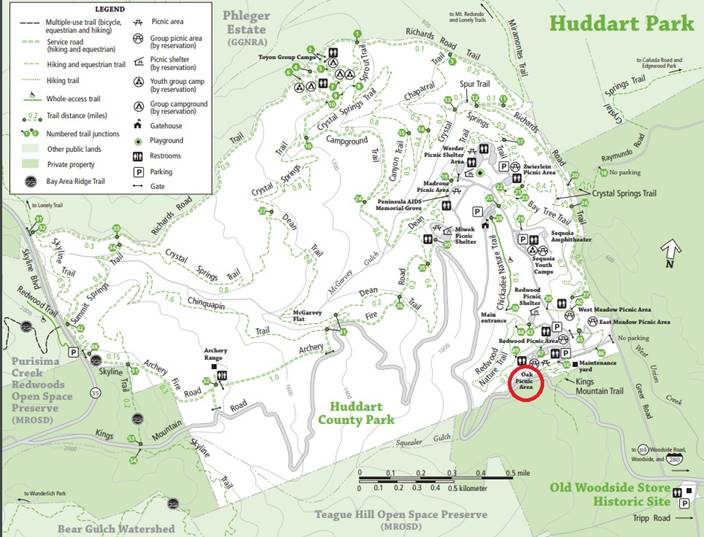 Activities
Walk with the Doc
Join your doctors Rachel Borovina,Sharon DiPierro, and Yousef Turshani on a leisurely hike while taking in the breathtaking views of the park.
Meditation
Join Martha Vasquez as she leads mindfulness meditation for self-care in the beauty of nature. 
San Mateo County Libraries Bookmobile
Check out some books and find a nice shady spot to enjoy some reading. Participate in Story Time in Nature.
Games
Diversion/ Actividades: 
Camine con su Doctor
Acompañe a los doctors: Rachel Borovina, Sharon DiPierro, y Yousef Turshani a una caminata tranquila y lijera mientras contemplas las impresionantes vistas del parque.
Meditación Guiada
Únete a Martha Vasquez para una meditación de atención plena para el bienestar personal. Aprende a conectarte con la belleza de la naturaleza.
Librería de Bibliotecas del Condado de San Mateo: / El Bibliobús del la Biblioteca del Condado de San Mateo
Echa un vistazo a algunos libros y encuentra un lugar con sombra agradable para disfrutar de la lectura. Participa en Tiempo de Cuentos en la Naturaleza
Juegos
Vamos a Jugar! Ensenale a tus hijos juegos de tu niñez como, "Doña Blanca" y "A la Rueda de San Miguel"