Past Events
AACI & VorSMC Juneteenth Celebration 2023
6/16/23- The African American Community Initiative (AACI) and Voices of Recovery San Mateo County (VORSMC) are proud to co-host our second Juneteenth Celebration on Friday, June 16, 2023.
The theme of this year's Celebration is: Discovering-Recovering Our Roots: The Continued Journey of Black Struggle
The event will be held in-person and streamed via Facebook Live and Zoom.
As our country's newest National Holiday, Juneteenth acknowledges and celebrates the final end of institutional slavery in the United States.
This year's event promises to be inspirational, fun and educational, with a program that includes presentations from San Mateo County Supervisor Noelia Corzo, a Proclamation presented by City of East Palo Alto Mayor Lisa Gauthier, African drumming and storytelling, a panel discussion, cultural performances, health checks (blood pressure and glucose), a photo booth, music and dinner.
AACI Black History Month Event 2023
2/11/23 – AACI Presents: A Black History Month Celebration
The event was on Saturday, February 11th, 2023 from 10am to 2pm. In-person location was at Cooley Landing Center (2100 Bay Rd, East Palo Alto, CA 94303). This event was hybrid with an in-person limited capacity of 75 people.
Scheduled presentations and activities included Black Mental Health, COVID-19 and Health Care in the Black Community, raffle prizes, live musical performances and poetry.
AACI Black History Month Event 2022
A virtual event on February 26th celebrating African American wellness, resiliency, and cultural strengths. Presentations about Covid-19 and the impact on the African American Community, a presentation about Healing Centered Engagement, plus a cultural performance Art presentation, trivia games, community resources, support, and raffle prizes.
African Americans and the Vote – 02/15/2020
Please join the Behavioral Health and Recovery Services' African American Community Initiative (AACI) of San Mateo County and the City of Daly City On Saturday, February 15, 2020 at Doelger Café – 101 Lake Merced Blvd, Daly City from 12:00pm to 3:00pm This year, 2020, we stop to focus on the national theme "Black Americans & the Vote" which marks the sesquicentennial of the 15th Amendment (1870) and the right of Black men to the ballot after the Civil War. This year, 2020 also marks the centennial of the 19th Amendment and the culmination of the women's suffrage movement. This is a free event for all, lunch will be provided.
Intergenerational Community Dinner – Black Queer Pride
In honor of Black History Month The African American Community Initiative & San Mateo County Pride Center are hosting an Intergenerational Community Dinner where you will have a chance to learn how present day pop culture and other historical moments have been influenced by Black Queer Pride. This is a free event and Light refreshments will be provided. Wednesday February 26th, 2020 from 6:00pm to 8:00pm at the San Mateo County Pride Center, 1021 S. El Camino Real, San Mateo, CA 94402. Please RSVP at https://tinyurl.com/BHMdinner2020 to ensure we have enough food.
Black Queer Identities
Have you ever thought about who coined the term "Slay", "Black Girl Magic" and other urban phrases? Join us for this two hour workshop where you will learn about these phrases, have some discussion about racism, systemic Issues, culture, stigma and Black Queer Identities. Thursday, February 20th, 2020 from 12:00pm to 2:00pm at the Barbara E. Mouton Center, 903 Weeks St., East Palo Alto, CA 94303
Redwood City Parks Black History Month Event
"Together We Rise" A cultural experience with entertainment provided by Diamano Coura West African Dance Company and enjoy Waffle Amore and Gorilla Zillas food trucks. Get information about college, housing, internships, job opportunities and more! Friday February 21st, 2020 from 6:00pm to 9:00pm at the Veterans Memorial Senior Center, 1455 Madison Ave., Redwood City, CA 94063. Please visit www.redwoodcity.org for more info.
The African American Community Initiative has established a partnership with the African American Community Health Advisory Council (AACHAC). Since 1995 the African-American Community Health Advisory Committee has been working with businesses, corporations, community-based organizations, health educators and the faith community to create an awareness of the major health concerns affecting African-Americans and to actively seek and promote a more healthful lifestyle.
Healthy Minds Make for a Healthy Community
While behavioral health issues effect people of all races and socioeconomic backgrounds, African Americans are more likely to experience certain factors that lead to these issues, and less likely to seek or receive treatment. In recent years, 12% of people in treatment for substance use disorders identified as African American, compared to 3% of the total San Mateo County population. African Americans are also more likely to experience symptoms of depression than their white counterparts – but half as likely to receive counseling.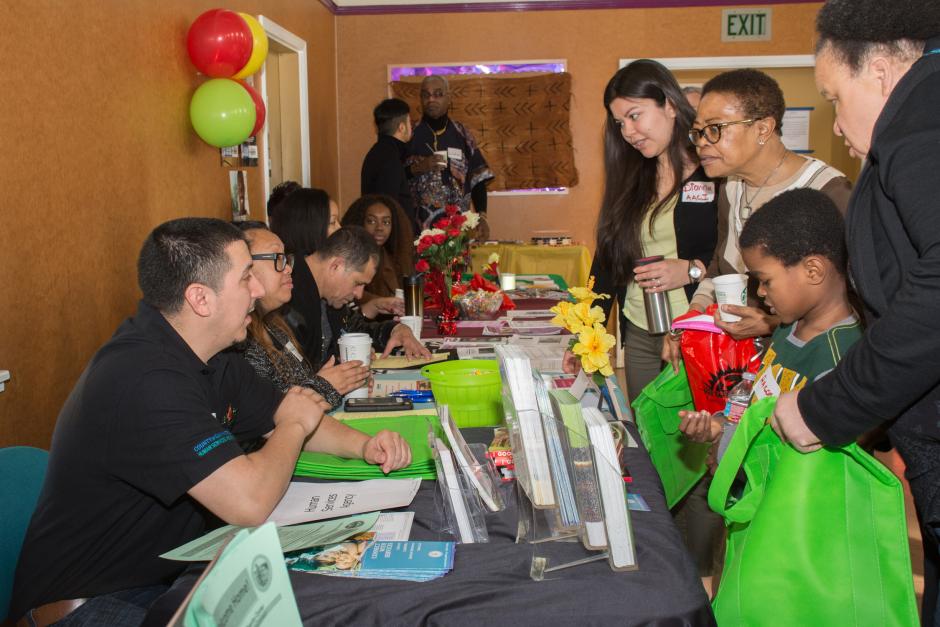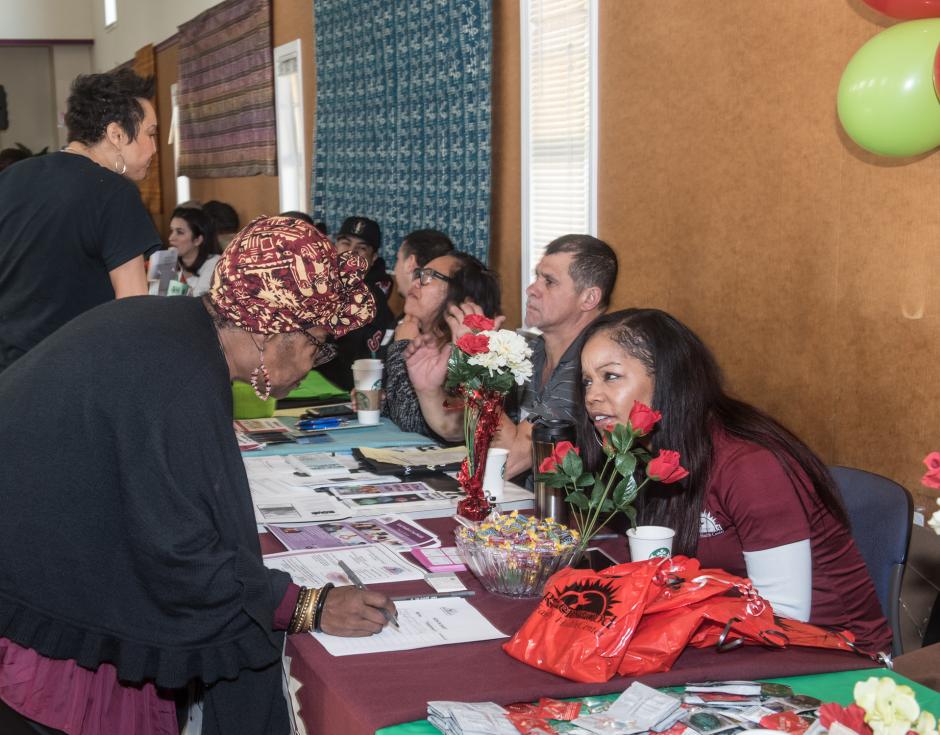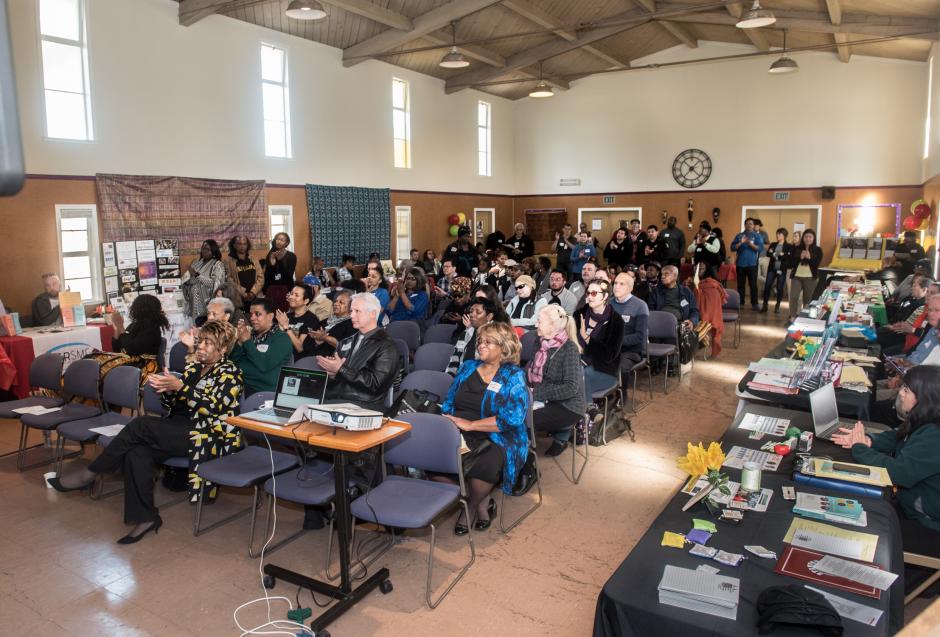 Black History Month 2018 with the San Mateo County African American Community Initiative (AACI).
A Call To Remember – 10/15/2019
2019 marks the 400th anniversary of the arrival of more than 20 Africans in Jamestown, Virginia. Please join the Behavioral Health and Recovery Services' African American Community Initiative (AACI) of San Mateo County's commemoration of this historical moment. On October 15th, 2019 from 6:30pm to 8:30pm at the Ravenswood Family Health Clinic, 1846 Bay Road (Across the Street), East Palo Alto, CA 94306; we will take time out to observe and discuss historical information and view a portion of Dr. Khalid White's award winning documentary Black Fatherhood in celebration of our triumphs.