5 Easy Ways to Make Your Holidays Healthier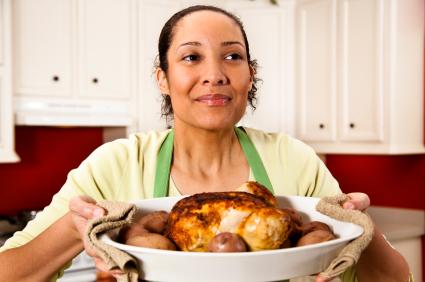 ​The average American gains a pound every holiday season, according to a National Institutes of Health study. That might not seem like much, but most people never lose it, so it adds up over the years.
It doesn't have to be that way. Make holiday weight gain a thing of the past by following these healthy tips.
1. Rethink your plate
The average American plate size has increased 22% since 1960. Try eating off a 9- or 10-inch plate to help reduce portion sizes. It will take less food to fill the plate, and since the plate will look full, you'll still feel like you're eating the same amount.
2. Go green
At big holiday meals, make sure half of your plate is full of green vegetables like steamed or roasted broccoli, green beans, spinach or asparagus. Filling up on veggies will make you less tempted to go back for seconds or binge on high-calorie options like pie, stuffing and mashed potatoes.
3. Make the switch
By making a few simple switches to your holiday meals, you can cut out hundreds of calories without sacrificing taste:
Use fat-free chicken broth to baste the turkey and make gravy.
Use fruit purees, like applesauce, instead of oil in baked goods.
Reduce oil and butter wherever you can—try cutting the suggested amount in half. We bet you won't be able to taste the difference.
Try fat-free plain yogurt or fat-free sour cream in creamy dips, mashed potatoes, and casseroles.​
4. Get healthy with your family
After enjoying a big meal, go for a walk with the whole family—including Fido—or play a friendly game of football.
5. Give the gift of good health
Consider giving healthy gifts like fitness trackers, scales, cookbooks, gym bags or gym equipment (think yoga mats and weights), or even interactive video games that get your family up and moving.