Where Older Adults Can Go for Nutritious Meals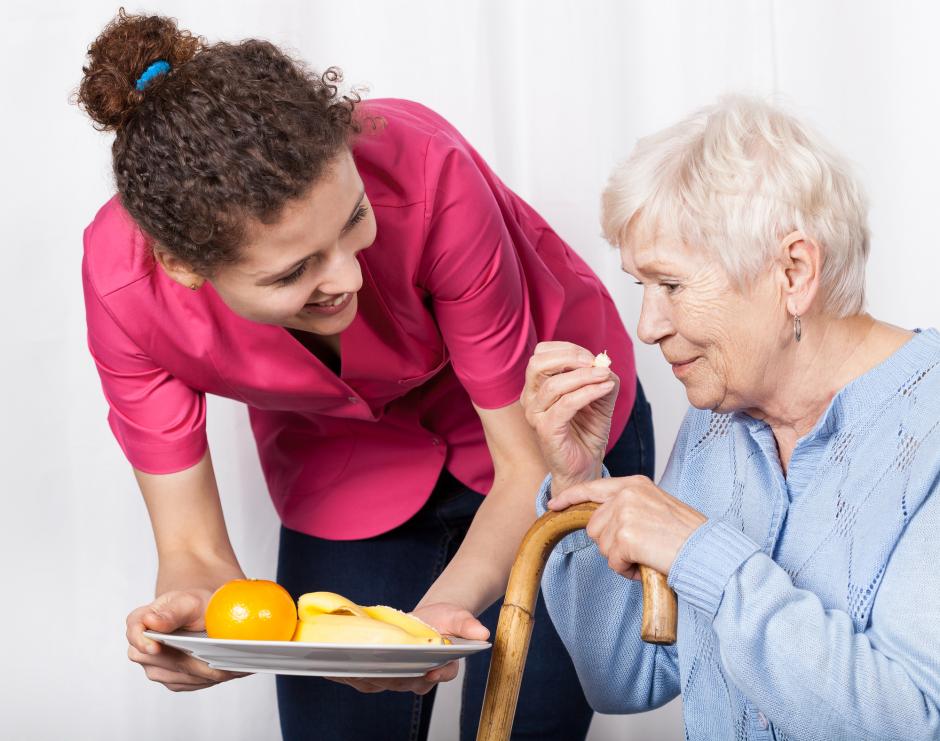 San Mateo County's Nutrition Programs for Older Adults provide nutritious meals at group dining sites, such as senior centers, and through home delivery to people who are homebound. There are a number of group dining sites throughout the County, and current sites are listed below. Older Americans Act (OAA) funded sites are indicated with an asterisk (*). Contact the San Mateo County Aging and Adult Services (1-800-675-8437) for information regarding home-delivered meals.
Where Older Adults Can Go for Nutritious Meals in San Mateo County
*OAA funded sites (marked with an *asterisk below) follow specific service delivery guidelines. The menus at the OAA sites are approved by Registered Dietitians to meet the U.S. Dietary Reference Intakes and are low in fat, sodium and cholesterol.
Services are available to individuals who are age 60 or over and the spouse of an eligible participant regardless of age. Services may be available to a limited number of individuals who are:
Individuals with disabilities under the age of 60 who reside in housing facilities occupied primarily by older individuals at which congregate nutrition services are provided
A volunteer under the age of 60, if doing so will not deprive an older individual of a meal, and a disabled individual who resides at home with and accompanies an older individual who participates in the program.
The sites identified with an asterisk(*) are funded in part by the OAA, voluntary donations from program participants, fees from non-participants, and funding support from the host organization. Suggested donation amounts for participants and guest fees are posted at each OAA site.
Contact each location for an up-to-date menu, days and hours of service, and general information about their programs.
Belmont
Twin Pines Senior and Community Center*
20 Twin Pines Lane
(650) 595-7441
Daly City
Doelger Senior Center*
101 Lake Merced Boulevard
(650) 991-8012
Lincoln Park Community Center*
901 Brunswick Street
(650) 991-8018
East Palo Alto
East Palo Alto Senior Center*
560 Bell Street
(650) 329-5900
Foster City
Foster City Recreation Program
650 Shell Boulevard
(650) 286-2585
Half Moon Bay
Senior Coastsiders*
925 Main Street
(650) 726-9056
Menlo Park
Peninsula Volunteers, Inc. Little House
800 Middle Avenue
(650) 326-2025
Menlo Park Senior Center
110 Terminal Avenue
(650) 330-2280
Pacifica
Pacifica Senior Services*
540 Crespi Drive, Highway 1
(650) 738-7350
Redwood City
Fair Oaks Adult Activities Center*
2600 Middlefield Road
(650) 780-7525
Redwood City Veterans Memorial Senior Center
1455 Madison Avenue
(650) 780-7259
San Bruno
San Bruno Senior Center*
1555 Crystal Springs Road
(650) 616-7150
San Carlos
San Carlos Adult Community Center
601 Chestnut Street
(650) 802-4384
San Mateo
City of San Mateo Senior Center
2645 Alameda de las Pulgas
(650) 522-7490
City of San Mateo Martin Luther King Center*
725 Monte Diablo
(650) 522-7490
Self Help for the Elderly*
50 East 5th Avenue
(650) 342-0822
South San Francisco
Magnolia Senior Center
601 Grand Avenue
(650) 829-3820